Transfer Applicants
If you have completed at least 16 credits at an accredited postsecondary institution, you must apply to Denison as a transfer applicant, and if you are admitted, your credits will be evaluated according to our transfer credit policy. In evaluating your application to Denison, we take a number of things into consideration about you as an individual. We are seeking students who have demonstrated a seriousness toward their academic life and who, in addition, would bring a variety of interests, characteristics, and personal qualities to our dynamic campus community. Our admission committee gives careful attention to the following components of your application:
| Required Items | Additional Information |
| --- | --- |
| Transfer Common Application or Coalition Application | Once you submit your application, you will be emailed a confirmation that includes login information for your online portal (where you can keep track of your other application materials). A personal essay is included in this application. |
| College Report | This form should come from a representative at the college or university you most recently attended. |
| Official College Transcript | We will use this to recalculate your GPA and evaluate your most recent academic performance and course selection. |
| Official Final High School Transcript | We will use this to contextualize your most recent academic performance in college. |
| Teacher Evaluation | At least one teacher of a core course must submit a teacher evaluation form for you. You can invite your teachers to do this online, which is how they will submit the evaluation to us. |
| Optional Items | Additional Information |
| --- | --- |
| Interview (on campus with an admission counselor or senior interviewer, or off campus with an alumnus/alumna) | Interviews are optional but recommended when logistically possible. |
| | Students interested in creative writing, dance, music, studio art, or theatre may submit supplementary arts materials for evaluation. This is done through the Denison Applicant Portal, which is available once the Common or Coalition Application has been submitted. |
| Application Round | Submission Deadline | Decision Notification Sent By | Reply Deadline |
| --- | --- | --- | --- |
| January (Spring Semester) Admission | November 15 | December 15 | Specified in offer of admission |
| August (Fall Semester) Admission | April 15 | May 15 | Specified in offer of admission |
Denison University is committed to a policy of nondiscrimination in matters of admission, employment, and housing, and in access to and participation in its education programs, services, and activities. No person shall be discriminated against on the basis of race, national or ethnic origin, age, gender, sexual orientation, gender identity and expression, marital status, religion, creed, or disability.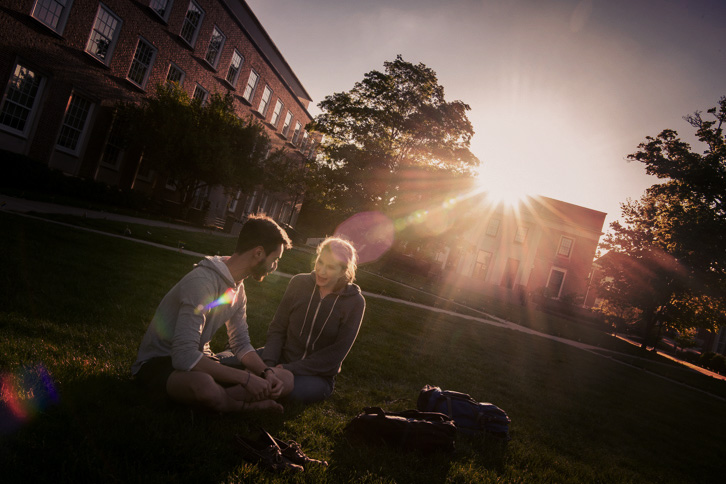 Contact Us
Admission
Mail
Admission
100 West College Street
Granville, OH 43023
Financial Aid
Mail
Financial Aid
100 West College Street
Granville, OH 43023