Admission & Financial Aid
A beautiful campus in a quintessential college town. A thriving city just 25 minutes away. Academic programs preparing students for the world that awaits them. A best-in-class career center. Opportunities in athletics and the arts to elevate your talents. And an extensive alumni network that spans the globe.
Denisonians come to campus to hone in on the kind of professional and personal lives they want to lead, and outstanding faculty and staff help them develop the skills, habits, and networks to get them there.
There are two primary advantages to applying as an Early Decision applicant.
First, a higher percentage of students are admitted in Early Decision—as the pool of applicants is smaller than in Regular Decision. If you are confident that Denison is the right fit for you, we encourage you to consider applying as an Early Decision applicant.
Second, you find out if you've been admitted sooner! ED applicants typically receive their admission decisions about 1 month after each ED deadline (RD applicants receive decisions in mid-March). The ED1 deadline is November 15 and ED2 deadline is January 15. There is no difference in how applicants are reviewed between the ED1 and ED2 rounds.
Perfection... just kidding.
In evaluating your application to Denison, we take a number of things into consideration about you as an individual. We are seeking students who have demonstrated a seriousness toward their academic lives and who, in addition, would bring a variety of interests, characteristics, and personal qualities to our dynamic campus community.
Typically, applicants who are admitted to Denison take challenging courses in their high schools and have done well in those courses. We also consider test scores, if you choose to submit them (see our test optional policy).
Denison's community is largely characterized as a highly engaged one with many opportunities. As such, we are looking for students who have demonstrated that they are involved in their passions and have taken advantage of the opportunities they've been provided thus far. It is important to note: Quality over quantity is valued here. Taking on a high level of involvement in one or two passions is much more impactful than involvement in 100 activities that you simply "show up" for.
Think of this as synonymous to when your crushes passed you notes in elementary school asking you if you liked them (we know, no one passes notes anymore). College admission kind of works the same way. We provide a lot of ways for you to learn more about us and for us to learn more about you. When you engage with us, we get the hint that you might like us. And of course, we want to admit people who like us. Again, there are so many ways to engage: visiting campus, participating in one of our many virtual offerings, completing an admission interview, reading our emails, submitting an arts supplement...the list goes on. And don't forget, the best way to tell us you like us is to APPLY!
Nope. We have a test-optional admission policy. If you do not submit a test-score, that's a-okay with us. Our admission committee will simply focus on the other components of your application (transcripts, curriculum rigor, etc.) when evaluating your academic ability and potential.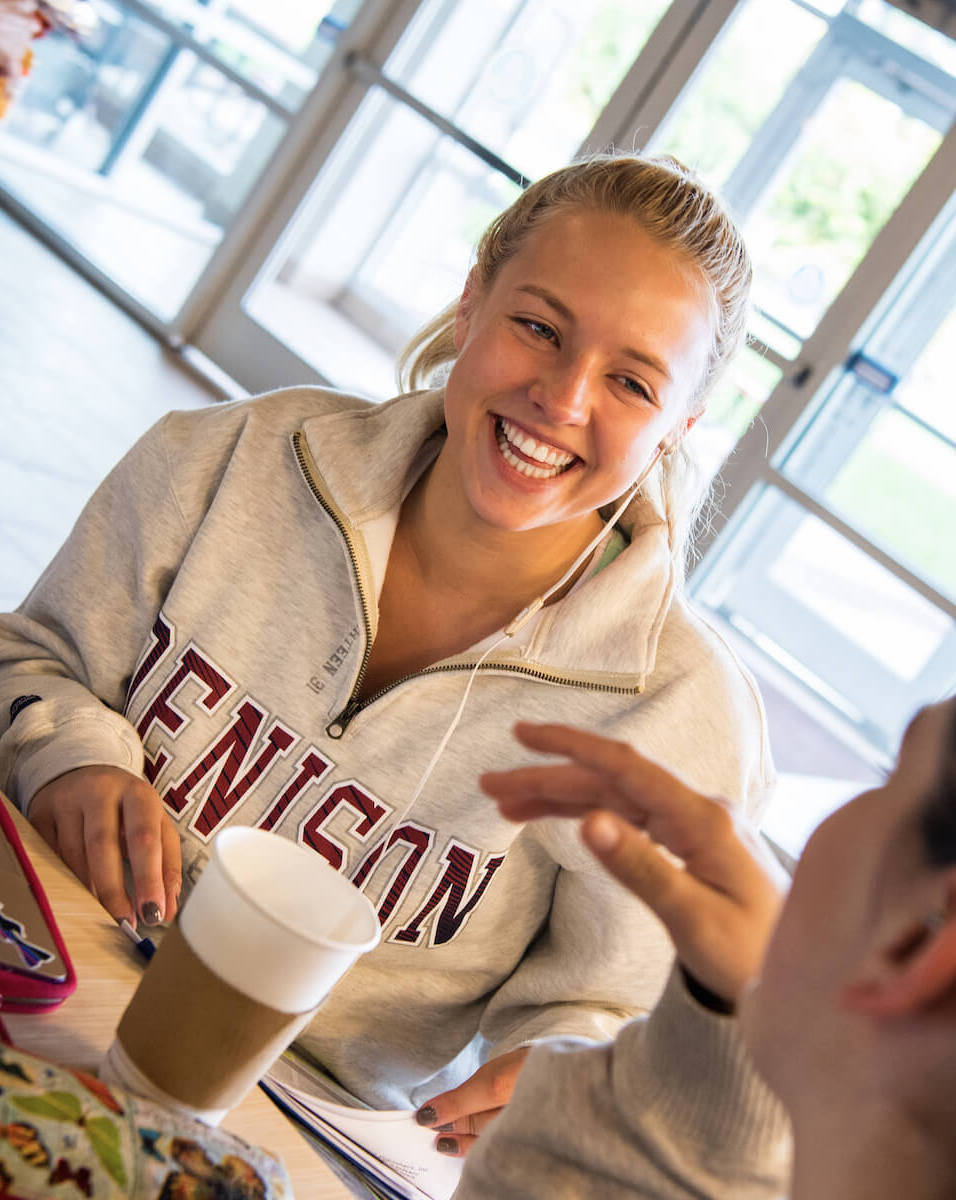 ---
The
Denison

Advantage

Explore

You will build an understanding of the professional world and career opportunities. With our 16 career coaches, you will develop, test, and refine your career ambitions.

Experience

You will acquire a range of real-world experiences—from internships and research to one-on-one workshops with industry experts to hands-on consulting projects—that will build your resume before you even graduate.

Learn

For every field of study, your academic curriculum will complement the knowledge and skills employers seek. Our programs offer knowledge and in-demand skills that are critical to jobs now — and in the future.

Connect

You will be part of a network — peers, faculty, mentors, partner organizations, and alumni — that advances the next generation of Denisonians.
Where will you
go from here?