Here are just a few notable speakers from past years:
Itzhak Perlman
Yo-Yo Ma
Renée Fleming
Wynton Marsalis
Jessye Norman
Chris Thile and Edgar Meyer
About the Series
It is such a pleasure to invite you to the 41st edition of Denison University's highly regarded Vail Series. Over the course of the past four decades, it has been our privilege to bring world- class artists and ensembles to our community. We have enjoyed people who are "household names," and equally as exciting, Vail Series patrons have discovered rising stars – many of who have gone on to exceptional careers. Along the way, we have explored a variety of musical genres from all corners of the globe. With a variety of well-known and emerging artists and mix of musical styles and origins, the Vail Series is both refreshing and enduring. And this year, born of necessity but nonetheless exciting, we present our first Vail Virtual concert. We're 41 years old, and still brand new!
So, sure it's a new season of highly diverse concerts, performed by world-class musicians. But the Vail Series is so much more. It's seeing Béla Fleck or Yo-Yo Ma or Ladysmith Black Mambazo or the Czech National Symphony Orchestra featuring Isabel Leonard of the New York Metropolitan Opera. You'll see them on a small stage, six feet away from your front-row seat, knowing they'll be spending enough time here to interact with students personally and answer a question if you have one. The Vail Series joins in bringing the contemporary classical quartet ETHEL, who have been awarded honorary degrees for their impact at Denison, and Grammy-winning Third Coast Percussion to campus, each for two full weeks a year as Denison's ensembles-in-residence. They take the arts from the performance stage to classrooms. They play in a variety of surprising locations across campus, and often just grab lunch and chat with students in the student union. In other words, it's personal. Even the Vail Series' primary venue — Swasey Chapel — is known for its intimacy. There's no need to hang around stage doors to meet performers when they come to Denison; they're right there, up close and totally accessible.
And the arts are such an essential element of a liberal arts education at Denison that Vail Series tickets are free for students, faculty and staff.
The Vail Series was endowed by a generous gift from the late Mary and Foster McGaw in honor of Jeanne Vail, class of 1946. Just as it was intended to do, the Series enriches the artistic experience of the entire Denison community. Programmed creatively with the mindful pursuit of learning across traditional academic boundaries, the Vail Series was directed by Lorraine Wales from its inception in 1979 through her retirement in June of 2013. Michael Morris is currently the Director of the Vail Series.
Since 1979, more than 100 individual Vail Series artists have found their way to Denison's classrooms and stages, but that doesn't include the dozens of ensembles or full symphony orchestras that have played here over the years. And some stay for a while. Last time he was here, Bobby McFerrin presented two concerts, performing with ten student groups over the two-night engagement. Many artists arrive on campus days ahead of their concert to visit classes and student groups.
Like we said earlier…it's personal.
Read about the 40th season
Four times per academic year, Swasey Chapel has opened its doors to students, staff, community members, and artists of the highest caliber—world leaders in musical ingenuity and innovation—as part of Denison University's Vail Concert Series. The rich cultural community fostered inside Swasey's walls represents the vision of the Vail Series, an organization which seeks to bring world class musicians to Denison's campus and encourage collaboration among visiting musicians, classes, and the larger Granville community. Heading into the 2019-2020 year, Denison's Vail Concert Series looks both forward and backwards, as this year marks the 40th anniversary of the series.
Founded in 1979 under the direction of Lorraine Wales, the Vail Series was endowed by a generous gift from the late Mary and Foster McGaw in honor of Jeanne Vail, class of 1946. According to a piece written by James Hale '78 in memoriam after Wales's death, "Wales was a rare combination of presenter, manager, negotiator, planner, promoter, producer, confidante, and host, all of it packaged with a very personal flourish. She did laundry for the King's Singers, made breakfast for Maya Angelou, and stationed a Vail intern all night at the Granville Inn in case Leontyne Price needed room service."
Beginning with Itzak Perlman as the first Vail performer, Swasey Chapel's stage has been graced by artists such as Yo Yo Ma, Wynton Marsalis, Sam Bush, and Bobby McFerrin. Vail embodies the mindset and goals of the liberal arts experience, as the series extends musical engagement outside of the classroom, presenting these phenomenal artists and thrilling concerts to Denison students and staff free of charge.
Michael Morris, the current Director of the Vail Series since Wales's retirement in 2013, remarks of the anniversary, "It is entirely appropriate that we celebrate the Vail Series' 40th birthday. There have been so many 'Vail Series alums' that have impacted not only the Denison campus but the arts in general, and in fact the world. The Vail Series is unique in its longevity, student interaction with artists, and the breadth of artists that are presented. We're excited to bring back favorite artists from past years, and introduce exciting new artists in this milestone year."
To celebrate this birthday, an exhibit outlining the cultural history of Vail at Denison has been erected in Denison's Doane Library. It features artifacts such as former concert brochures, a performance time-line, photographs of visiting artists, and even a Denison "Culture Vulture" t-shirt, the former name of the Vail interns and staff.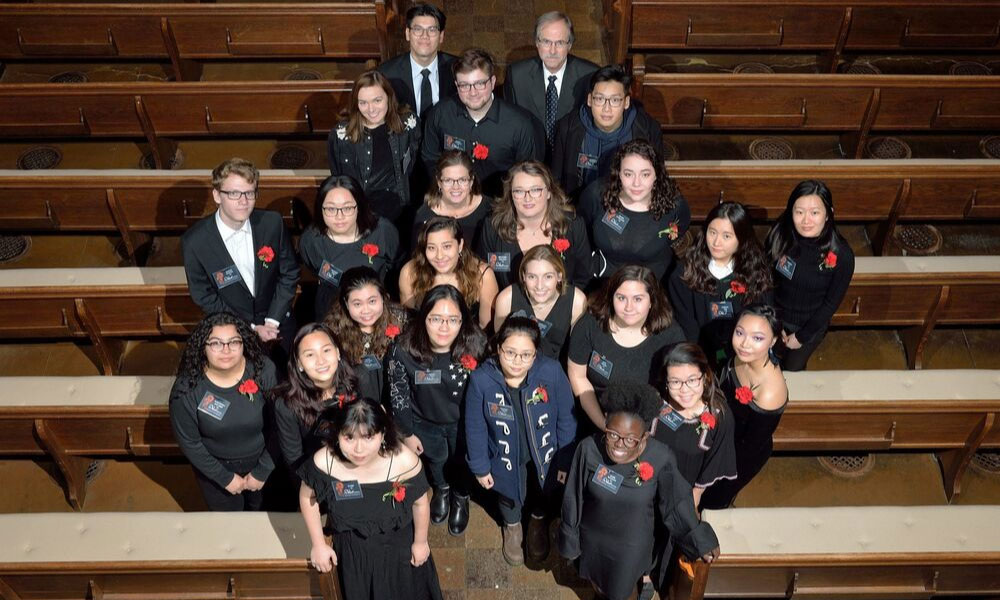 As current Vail intern Adam Frost-Venrick says of working with Vail, "I've gotten to meet so many wonderful people, had so many wonderful conversations. My favorite moment of being involved in Vail occurred my first year with Ladysmith Black Mambazo. I got to ride with them on their bus to go to the after party and show them around, where they all learned my name. Vail shows the tremendous amount of prestige that Denison carries, and I believe that our students, staff, and faculty love this series, and the artists truly love being involved."
The Vail Concert Series begins the 2019-2020 season by welcoming Béla Fleck, Zakir Hussain, and Edgar Meyer with Rakesh Chaurasia on October 3rd. The group crosses and mixes the genres of bluegrass, Indian classical, and jazz, creating an entirely unique sound. As NPR notes of the group, "Simply the best at what they do….they're world-class masters of the banjo, the bass fiddle and the tabla (who) conquered mere technical prowess long ago."
The season continues with a Baker and Tarpaga Dance Project entitled "When Birds Refused to Fly" on November 1stt, Matt Haimovitz's "A Moveable Feast" on November 21st, Brasil Guitar Duo with JIJI on February 7th, Sybarite5 on March 7th, and Roomful of Teeth on April 15th. The series brings changes this year, as Vail has expanded to include six artists and groups, rather than only four.
This exciting year also recognizes the completion of Denison's newly erected Michael D. Eisner Center for the Performing Arts, and although the rich history of Vail will always remain in Swasey's stage and pews, visiting artists will now occasionally grace the modernized stage of the new performing arts center.
Written by Rosa Canales '20
Series Archives
2020 - 2021
2019 - 2020
2018 - 2019
2017 - 2018
2016 - 2017
2015 - 2016
2014 - 2015
2013 - 2014
2012 - 2013
2011 - 2012
2010 - 2011