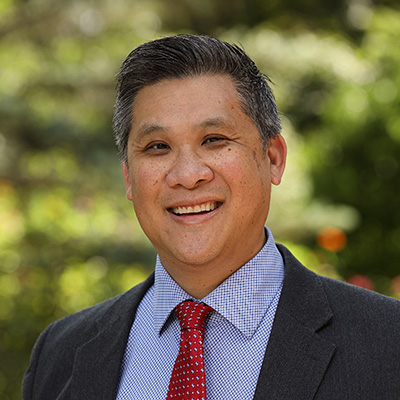 Ching-chu
Hu
Richard Lucier Endowed Professor
Professor of Music
Director of Music Theatre
Director of the Vail Series
Biography
Ching-chu Hu is an award-winning composer whose music has been performed nationally and internationally, with reviews describing his music as "breathtaking,"(allmusic) "richly textured" (Charleston Post and Currier), and "incredible" (The Columbus Dispatch). The Strad Magazine writes of his "tender luminous harmonies," and the American Record Guide describes his music as "meditative and solemn…the best work [on the CD Violinguistics]."
Honors include being named the Aaron Copland Fellow at the MacDowell Colony for the Arts, composer-in-residence at the Piccolo Spoleto Festival, guest composer at the American Music Week Festival in Sofia, Bulgaria, and winner of various competitions, including the 2018 American Prize for Chamber Music, the 2nd Annual Secret Opera competition, Fifteen Minutes of Fame Competition, and inclusion on ERM Media's "Masterworks of the New Era" CD series. His Violin Concerto No. 3: Water Spirit received the citation "Exceptional Concerto" from the American Prize. He has received performances at international festivals and venues, including the Alternativa Festival (Center "DOM") in Moscow, London's Wigmore Hall, Chicago Symphony Center's Orchestra Hall and the John F. Kennedy Center for the Performing Arts. He has been a composition Fellow at the MacDowell Colony, Yaddo, Millay Banff, Ragdale, Virginia Center for the Creative Arts, and Brush Creek artist colonies.
Born in Iowa City, Iowa, Ching-chu Hu studied at Yale University, Freiburg Musikhochschule in Freiburg, Germany, The University of Iowa, and the University of Michigan. He is active as a pianist and conductor, and wrote the scores for several short award-winning films. Recent projects include a live soundtrack to Charlie Chaplin's 1925 version of The Gold Rush for symphony orchestra and soundtrack to Loose Film's award-winning Among Other Things. Commissions include works for the opening University of Iowa Symphony concerts at the recently completed Hancher Auditorium and School of Music Voxman Music Building on the University of Iowa Campus, Walla Walla Chamber Music Festival, the Granville (Ohio) Bicentennial Committee, the University of Iowa School of Music's Centennial celebration, the Greater Columbus Community Orchestra, the Newark Granville Symphony Orchestra, the Columbus Children's Choir and the Chamber Music Connection, string duo Low and Lower, Western Springs Suzuki Talent Education Program's 30th Anniversary Concert in Chicago Symphony Center's Orchestra Hall as well as Newark Granville Youth Symphony's John F. Kennedy Center for the Performing Arts performance.
Notable performers include Conductor Donald Portnoy, the Kiev Philharmonic, the Charleston Symphony Orchestra, Moscow Conservatory's Studio New Music Ensemble, Brooklyn Rider String Quartet, ETHEL, Third Coast Percussion, NOW Ensemble, Brave New Works New Music Ensemble, Pittsburgh New Music Ensemble, and the National Dance and Opera Orchestra of China, flutists Ned McGowan and Betty Bang Mather, bassists Robert Black and Anthony Stoops, violinists Wolfgang David, Scott Conklin and Gabe Bolkosky, percussionist Chris Froh, marimbist Mayumi Hama, and pianist Minju Choi. His music can be found on iTunes and various online retailers.
Ching-chu Hu is Professor of Music at Denison University. More information can be found at: www.chingchuhu.com
Degree(s)
B.A., Yale University; M.A., M.F.A., University of Iowa; D.M.A., University of Michigan
Research
Details
My goal as a composer is to create music that is lyrical and driven by narrative. My music tends to be tonal centric, yet filtered through a contemporary lens. I write both instrumental and vocal music in many different genres for solo, chamber, and large ensembles. Currently, most of my work tends to be commissioned for specific performers or ensembles. I write for young musicians and professional artists for a variety of occasions, including solo recitals, centennial/bicentennial celebrations, festivals, and international tours. Each composition clearly expresses my "voice," reveals my "fingerprint." Being raised in an artistic Chinese family in the middle of the United States has influenced my music, just as my formal training has refined my compositional skills.
Works
Publications
Insights (contrabass and piano) and Beyond (contrabass) on Albany Records Insights: New American Music for Double Bass, recorded by bassist Anthony Stoops (Albany Records Troy 1457)
In Frozen Distance (orchestra) on Journeys, Capstone's Society of Composers, Inc. CD Series, recorded by the National Chinese Dance and Opera Orchestra (Volume 23)
The Swash of Water and Red (string) on Albany Records Spirals: American Music in Moscow, recorded by Moscow Conservatory Studio of New Music (Albany Records Troy 1095)
Snow Ash (violin and piano) on Albany Records Violinguistics, recorded by Scott Conklin and Alan Huckleberry (Albany Records Troy 1138)
A Tempered Wish (violin and chamber orchestra) on Albany Records Viva Concertante, recorded The University of Iowa Center for New Music (Troy 1110-11)
Glaciers Red: Vistas Veiled (violin and piano) on Albany Records Star of the County Down, recorded by Wolfgang David and David Gompper (Albany Records Troy 937)
In Frozen Distance (orchestra) on ERM Media's Masterworks of the New Era CD Series, vol. 4, recorded by the Kiev Philharmonic
Passions (violin and piano) on Albany Records Finnegan's Wak,e recorded by Wolfgang David and David Gompper (Albany Records Troy 680)
Performed on accompanying CD for Proof Through the Night: Music and the Great War, by Glenn Watkins (UC Berkeley Press). Ravel, "Frontispice" (Gompper, Lecuona, Hu)