Here are just a few notable speakers from past years:
Alia Malek

 Alia Malek is the author of A Country Called Amreeka, a set of profiles of Arab-Americans.  Born in Baltimore to Syrian immigrant parents, she began her legal career as a trial attorney at the U.S. Department of Justice's Civil Rights Division.

Seyla Benhabib

is the Eugene Mayer Professor of Political Science and Philosophy at Yale University and director of the program in Ethics, Politics, and Economics, and a well-known contemporary philosopher. She is the author of several books, most notably about the philosophers Hannah Arendt and Jürgen Habermas.

Joan Roughgarden

is Adjunct Professor at the Hawaii Institute of Marine Biology, University of Hawaii, and a Professor of Biology, Emerita at the School of Humanities and Sciences, Stanford.  She received her Ph.D. in Biology at Harvard University.  She has also been Associate Editor or Co-Editor since 2008 of Philosophy and Theory in Biology.

Angela Davis

is Professor of Feminist Studies and Distinguished Professor Emerita of History of Consciousness at the University of California, Santa Cruz. Well-known for her activism, especially in the Civil Rights Movement, she focuses her work on women's, gender, and racial equity and abolishing the prison-industrial complex.
About the Series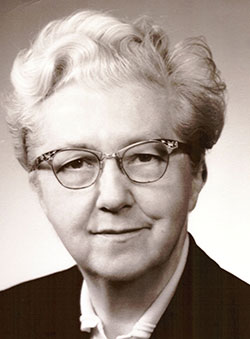 The late Dr. Laura C. Harris was a pioneer in the medical profession and the embodiment of the Denison ideal. A member of the Class of 1916 (earning the Ph.B., or Bachelor of Philosophy), Dr. Harris was the first woman ever to receive a medical degree from Syracuse University. She also did post-graduate study at the University of Pennsylvania before beginning her medical practice in New York in the 1920s.
A pioneer medical educator among women, she was appointed a clinical professor of pediatrics at the State University of New York Medical Center at Syracuse.  Her teaching career spanned more than 30 years. In 1951, Dr. Harris was honored with a Denison Alumni Citation and in 1981 with an Honorary Doctor of Humane Letters degree.  She died in 1987 at the age of 93.
The Laura C. Harris Endowment, the result of a major bequest from Dr. Harris' estate, stands as a tribute to her memory, evidence of her clear commitment to women's achievement and reinforcement of her belief in the importance of undergraduate education.  The objective of the Laura C. Harris Series is to enhance and promote the education of young women as students and as professionals and serve to promote the career opportunities and carry on the pioneering spirit of women students at Denison University.
Series Archives
2022 - 2023
2021 - 2022
2020 - 2021
2019 - 2020
2018 - 2019
2017 - 2018
2016 - 2017
2015 - 2016