Maddy Murphy '23 honored with the 2023 Kussmaul Award
Awards & Honors
Each year, Granville and Denison University recognize a Denison student who contributes to "the friendly relations between the village and college," with the Louis Kussmaul Friendship Award. Denison senior and class co-governor Madeleine "Maddy" Murphy was selected as the 2023 honoree, and her achievements were honored at the annual Friendship Award Ceremony on April 19. The ceremony was attended by many representatives of the community, including David English, Denison's vice president of Finance and Management, Steve Methany, director of the Granville Chamber of Commerce, and Kelly Mork, associate director for stewardship at Denison.
Murphy's involvement with Camp Kesem, a summer camp for children whose parents are afflicted with cancer, and with the Granville Presbyterian Church made her a stand-out candidate for the award.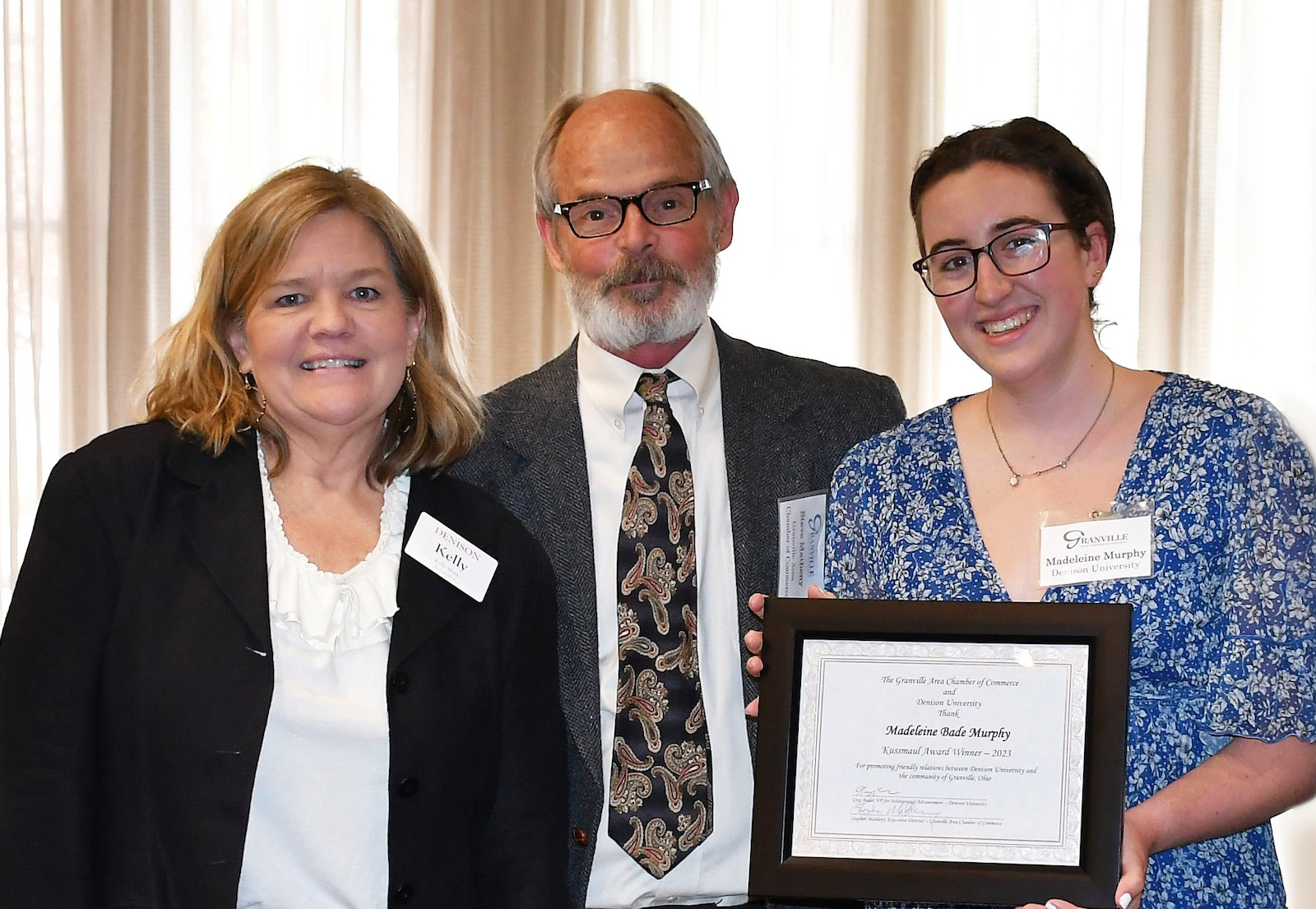 Maddy Murphy '23 receiving the 2023 Kussmaul Award.
Her nominators noted, "In her role as a director for Denison's chapter of Camp Kesem, Maddy has worked with the local Granville schools to identify students who might be likely Kesem campers and get them plugged into this free program. A previous Kesem camper herself, Maddy believes wholly in the power of connection for kids facing a parents' cancer. She works tirelessly to ensure the Denison Kesem chapter is able to run summer camp every summer."
At Granville Presbyterian, Maddy has served for two years as a leader with the youth group, meeting weekly with Granville High School students, leading them in Bible study, and on retreats. "A member of a Presbyterian church back home in DC herself, it is important to Maddy that she grow in her faith alongside others and in this way she has come alongside the high school students at GranPres as a mentor, leader, and friend."
A politics, philosophy & economics major, Murphy has served as the speaker of Denison's Campus Governance Association, is a docent in the Office of Admission, plays flute in the orchestra, and serves on various administrative committees related to student employment, student conduct, and campus life.
More about the Kussmaul Award:
The Louis Kussmaul Friendship Award honors the memory of Louis Kussmaul, a Granville printer who worked for his brother William H. Kussmaul, publisher of the Granville Times from 1890 to 1899. The Award was funded by an endowed gift to Denison University from Harry Amos, a Denison alumnus of the Class of 1899. Amos, a fellow newspaperman, was editor of the Jeffersonian of Cambridge, Ohio. The Granville Area Chamber of Commerce and Denison continue to honor the gift by presenting this award annually.
More about Camp Kesem:
Camp Kesem is a free summer camp designed for children ages 6 to 18 who have a parent with cancer or who have had a parent die from cancer. More than 100 camps across the country, operated in 42 states, are driven by college student leaders who learn life skills in communications, organization, volunteer management, and fundraising as they apply for, fund, build, and staff a weeklong camp.
The Camp Kesem in Licking County, launched in 2020, is organized by Denison students. Children in the surrounding community have a place to decompress and have fun over the five-day event. During the day, the camp has all the typical camp activities like canoeing, crafts, and hiking. In the evening, the campers have time to share their emotions in a supportive and understanding environment. The goal of the camp is to give children a place to be with others who are going through similar situations. Camp Kesem is free so that all children have the opportunity to participate and is supported by fundraising.
One Granville mother shared her response to Camp Kesem. "It was AMAZING! The boys told us about the s'mores, late nights, games, so many camp songs, and funny stories that they will remember for a lifetime. Cancer is draining for families not only emotionally but also financially. Giving families an opportunity to send their children to camp without a financial burden is also a part of the magic of Kesem."