Our alumni success story.
Students come to college to learn how to be the architects of their lives. A Denison education expands our students' knowledge, opens their horizons, and tests and refines their aspirations. We unlock our students' potential and give them the skills, values, habits, networks, and experiences needed to launch into successful lives.
The Impact of a Denison Education
How are
Denisonians
doing after graduation?
After 6 Months

Six Months After Graduation

Within six months of graduation, 94% of the most recent graduating class were employed, in graduate school completing post-graduate service (Teach for America, Fulbright, Peace Corps, AmeriCorps, Lutheran Volunteer Corps, and City Year). These charts illustrate the outcomes for students in the three most recent graduating classes. Note that the data are based on especially strong reporting rates, making this a very strong representation of the early success of Denison alumni.

Denison students' acceptance rates into law and medical school are consistently better than the national average. (Percentage of applicants accepted, compared to the national average.)

A Denison education prepares students to compete for highly selective and prestigious international and national fellowships. These awards, including Fulbright U.S. Student Program awards, Gilman (for study abroad), Truman, Goldwater, and National Science Foundation scholarships, provide opportunities for Denison students and graduates to study and work abroad. The Lisska Center for Scholarly Engagement supports students in their applications for these awards.

Since 2012-13, Denison students and alumni have received 29 Fulbright U.S. Student Program awards, 19 National Science Foundation Graduate Research Fellowships, 13 Critical Language Scholarships, 5 DAAD Research Internships in Science and Engineering (RISE) in Germany, 5 Boren Scholarships/Fellowships for language study abroad, and 1 Beinecke Fellowship for graduate study.

Other prestigious awards won by Denison students include the Truman Scholarship, the Beinecke Scholarship, the Barry M. Goldwater Scholarship, the Boren Scholarship for International Study, the Critical Language Scholarship, National Science Foundation (NSF), Graduate Research Fellowships Program (GRFP), scholarships from the German Academic Exchange Service (DAAD), Humanity in Action, and the Udall Scholarship, as well as many other fellowships.

Since 2008, Denison has been a leader among small colleges producing the greatest numbers of Peace Corps Volunteers.

In addition, Denison graduates win prestigious and highly competitive positions with Teach For America, and consistently place at the top of our peer group in national rankings.

Outcomes by Academic Major

Note: The post-Denison outcomes provided reflect aggregate data for the classes of 2013, 2014, 2015, 2016, and 2017 collected within six months of graduation for each class. These data are collected between May and November for the graduating cohort.
After 5 Years

Five Years after Graduation

What impact does a Denison degree have from the perspective of alumni five years after graduation? This survey highlights the current professional status for alumni five years after graduation and all the ways in which the Denison experience positioned alumni to lead successful lives—personally, professionally, and civically—after college.

Professional Success of Denison Alumni

At the five-year mark since commencement, nearly all alumni (99%) are currently employed or in graduate school. Alumni indicating "other" typically referred to being in a period of professional transition, articulating upcoming plans for graduate school or forthcoming entrepreneurial or artistic endeavors.

Using survey responses and professional profiles (LinkedIn), data on current status are based on an 80% knowledge rate for the members of the Class of 2010, 2011, 2012, 2013, and 2014.

95%

 

of alumni report being in their desired field or position or on their way to achieving what they hope to accomplish professionally within five years of graduation. 
94%

 

of alumni are satisfied with how well Denison prepared them for professional success after college.
An overwhelming majority (88%) of respondents indicated that Denison contributed to their ability to lead a rich and fulfilling life—professionally, personally, and/or civically "quite a bit" or "very much."

Pursuit of Advanced Studies

Since graduating from Denison, 57% of alumni went on to pursue an advanced degree.

Source: Five-Year Out Alumni Survey (Class of 2010, 2011, 2012, 2013, 2014)
Response Rate: 42%

Types of Advanced Degrees Pursued By Alumni (of those Pursuing Advanced Degree)

Note: Master's includes various types of Master's Degrees including MA, MS, MPH, M.Arch, M.Div., M.Ed, MPP, MSW, etc. MD category also includes DO, DMD, DPT, DVM, and OD.

Graduate School

90%

90% of alumni report Denison prepared them very well for graduate school.

Interpersonal Relationships

86%

86% of alumni report Denison prepared them very well for interpersonal relationships.

Civic Engagement

70%

70% of alumni report Denison prepared them very well for civic engagement.

75% - Spent time volunteering/serving
67% - Been involved with your local community
64% - Led a group of people to accomplish a goal
31% - Served on a board or committee
11% - Participated in campaign work (for candidate/issue)

Mentorship

93%

Reflecting back on their time at Denison, 93% of alumni report having close relationships with faculty and staff and 50% report having a research experience with a faculty member.

Most alumni report that these experiences were critically important to their post-Denison success.

Co-Curricular Engagement

The majority of alumni report that their co-curricular involvement (those who participated in internships, off-campus study programs, student organizations, athletics, and/or leadership positions) significantly impacted their post-collegiate success.

Professional Skills

Our alumni overwhelmingly report that Denison significantly contributed to their ability to…

96% - Think critically and analytically
95% - Write clearly and effectively
89% - Work effectively in teams
91% - Speak clearly and effectively
Personal & Professional Success
Where has a Denison education taken our alumni?
We encourage students to explore and to take full advantage of the liberal arts. The very core of the liberal arts is that we prepare students to be successful in whatever profession they choose to pursue by providing them with skills in critical thinking, effective written and oral communication, leadership and civic engagement, and individual agency. Through these core outcomes, we prepare students to live and lead in a complex, global society.
Notable Alumni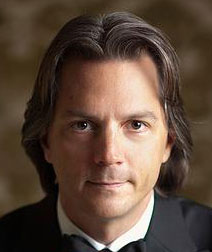 Symphony conductor and musical director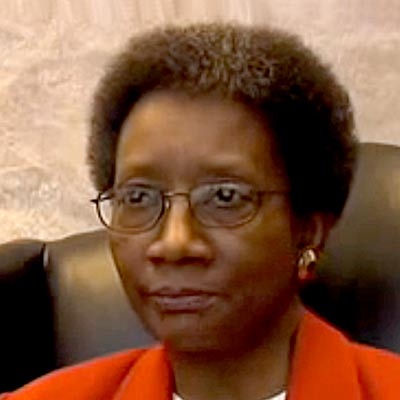 Research Scientist, Eli Lilly and Company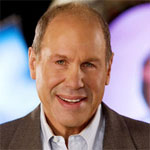 Former Chairman and CEO of the Walt Disney Company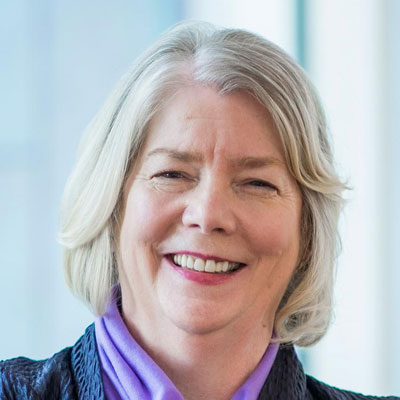 Executive director of the Columbus Museum of Art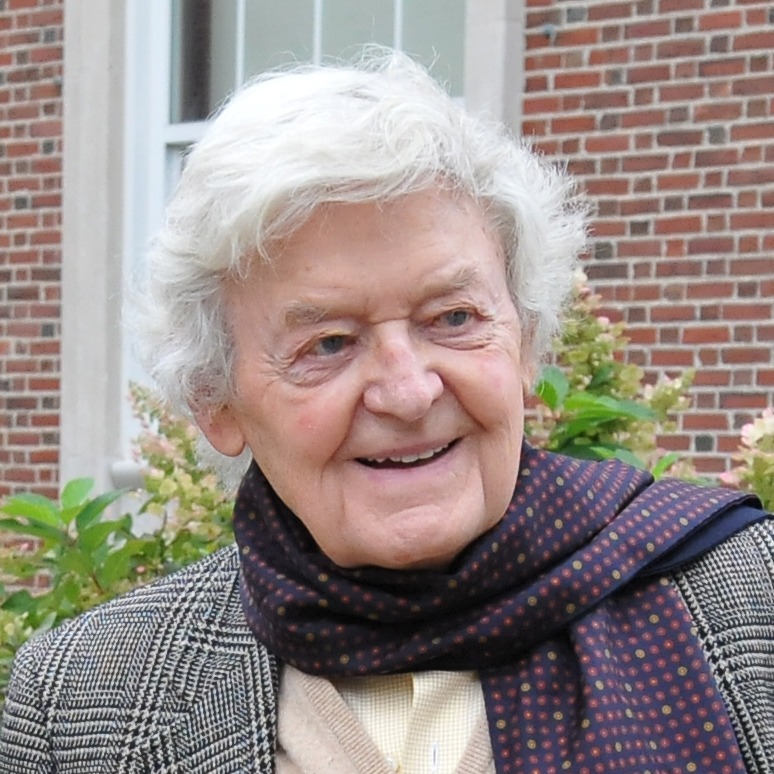 Emmy-winning and Oscar-nominated actor
Alumni Reflections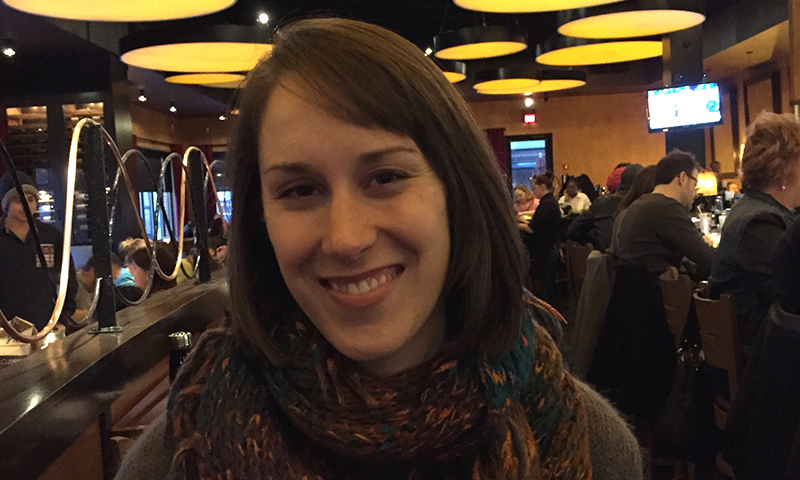 Bachelor's Degree from Denison
Associate Attorney, Friedman & Mirman Co. LPA
"My coursework at Denison heavily emphasized critical thinking, remaining objective when examining an issue, and clear communication. I can't think of anything that has been more valuable to me than just examining information with a critical eye. I can't read a news article or editorial without having 20 follow-up questions. That doesn't mean I necessarily dismiss the author's argument outright, but I try to look at it from all possible angles. Quite frankly, I think Denison has helped inoculate me against a lot of the vitriol that typifies our current media/political culture. I think that has made me a better citizen. If you're trying to look at an issue objectively, you can't get worked up into an emotional frenzy."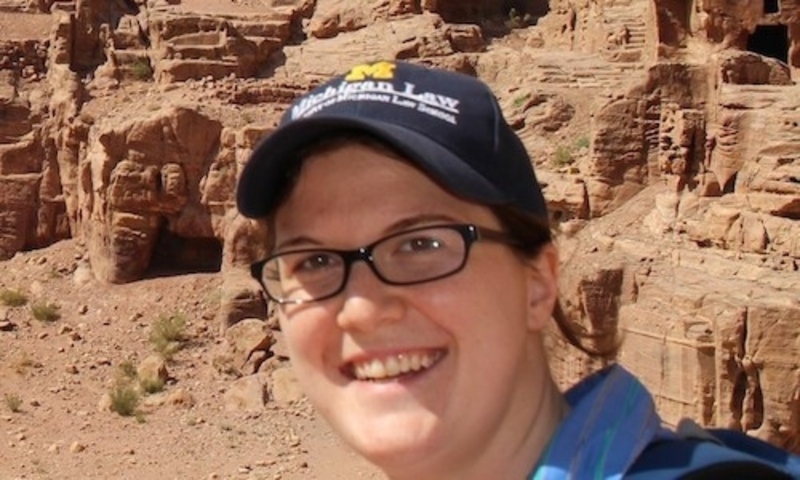 Bachelor's Degree from Denison
J.D./M.A. Candidate at the University of Michigan
Professional
"Because of Denison's small class size, interdisciplinary focus, and intensive focus on academic writing, the transition into legal writing and critical analysis in law school was fairly natural. Many of my classmates, even from prestigious Ivy League colleges, had never engaged with their professors as peers in the ways that I had been able to. All of this meant that reading legal texts critically, learning a new style of teaching, writing in a new style, and being willing to approach professors with questions were all things that came to me more easily, I think, than my to peers. In turn, that has translated to success academically and a fairly relaxed law school experience. I should add, too, though, that my network of mentors from Denison - staff, faculty, and colleagues - continue to make themselves available to me for advice and encouragement."
Personal
"At Denison, I worked very hard to excel academically, but I was also engaged in service learning and student leadership, while also maintaining outside interests and personal relationships. My three roommates and I had four different majors and sets of activities, but we always made sure we had time for family dinner at least once a week. We took road trips. Everyone came to my concerts in the Bandersnatch. I went to almost every women's basketball game. Good friends off the hill would have me over several times a month.
I learned that academics are most valuable when they stand alongside community experience — while I was studying political theory about systems of power, I was also learning about access to justice by volunteering at the Legal Aid office in Newark. Those lessons have carried through. At law school, I knew that I was there to study refugee law, but I also started a pro bono project representing refugees. Once again, in-class and out-of-class learning proved complementary. Just as importantly, though, I learned that I can do better work when I have maintained my relationships and hobbies. No one can work all day, every day for any sustained period of time, and when you're surrounded by fun and intelligent people, no one should want to. I have also carried those lessons through to my law school career. I attend as many sporting events as I can, and instead of the Bandersnatch, my friends and I go to karaoke every week. I spend time with my neighbors and roommates and let myself take breaks. Those little things keep me happier and healthier, and ultimately more successful in a high-pressure environment."
Civic
"My legal studies and practical work have focused on international refugee issues. I have been a Fellow in Michigan Law's Program in Refugee and Asylum Law, have worked for the United Nations High Commissioner for Refugees, and have overseen a pro bono project that has assisted dozens of refugees seeking resettlement to the United States. I first engaged with refugee issues as a Young Scholar at Denison during the summer of 2008 doing research with Professor Isis Nusair. Knowing that I would be studying abroad in Jordan, Professor Nusair introduced me to the international debates surrounding Iraqi refugees in Jordan and the services that the international community provided to them. I wrote an extended research paper about refugees in Jordan and have never looked back."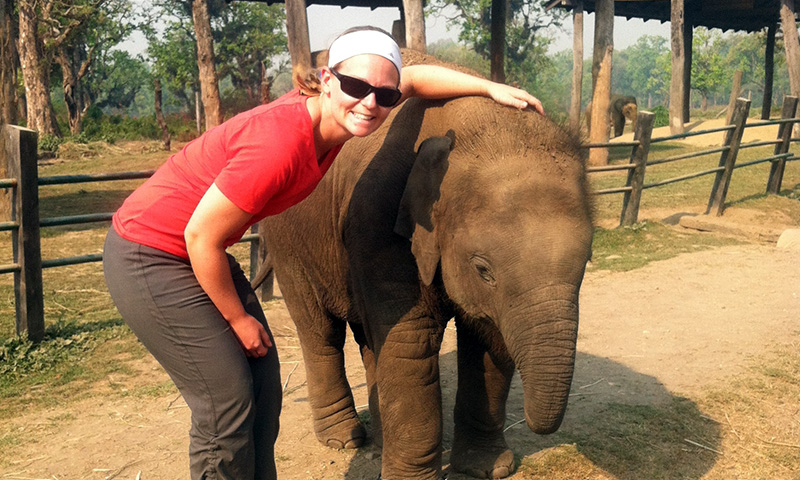 Bachelor's Degree from Denison
Multi-Intensive Special Education Teacher; Graduate Student at Miami University
Professional
"Denison taught me how to "learn how to learn", communicate effectively, problem solve, and interact with others at a professional level, thereby allowing me to feel comfortable in any situation. Denison has allowed me to be a competitive candidate for job opportunities because I learned valuable skills that I use daily in my professional life."
Civic
"I have been engaged with my local community on multiple levels, including purchasing a home in the neighborhood which I teach so I am truly a part of that community. I also have gotten more involved with Special Olympics and Habitat for Humanity on local, national, and global campaigns. I learned how to actively be a supportive member of a community at Denison and balance my time so that I am able to work full-time, get a master's degree, volunteer, and have a family all at the same time."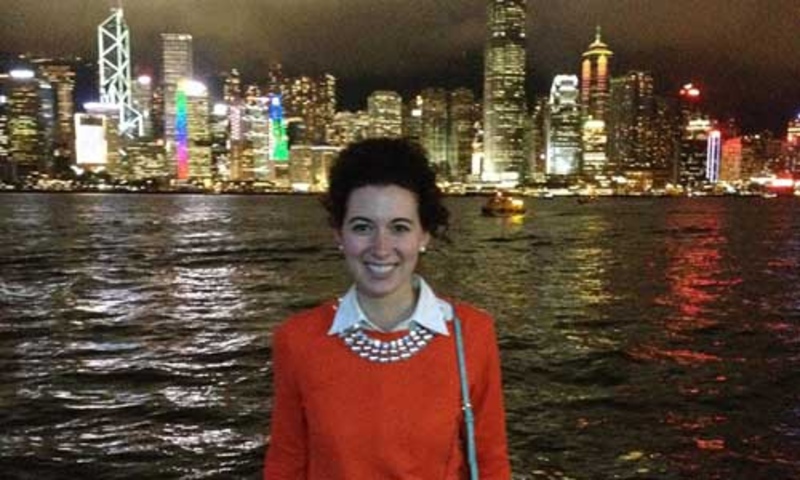 Bachelor's Degree from Denison
Sourcing Specialist, Abercrombie & Fitch
Denison formed who I was as an adult. It allowed me to cultivate social and educational experiences that led me down a path that has forever shaped what my life will become. When I started at Denison, I had a vague idea of what I wanted my future to become. It was through classes, late night conversations with my peers, and encouragement from my professors that I was able to gain enough confidence to believe that I could actually seize the future I had in my dreams. Not only did Denison provide me with the critical thinking skills and a liberal arts mindset, but it also helped me gain "real world" experience that helped me land a dream job prior to graduating. The Study Abroad office helped me be the first Denison student to enroll in a Fashion Design summer program in Florence, an experience that helped me stand out when applying to jobs with fashion companies. It was an alumnus who provided an internship with a fashion magazine at Conde Nast and it was ultimately a professor who helped connect me with my current job. Without Denison, I'm sure I would have had a fine life, but it would certainly not be the great life I'm leading now.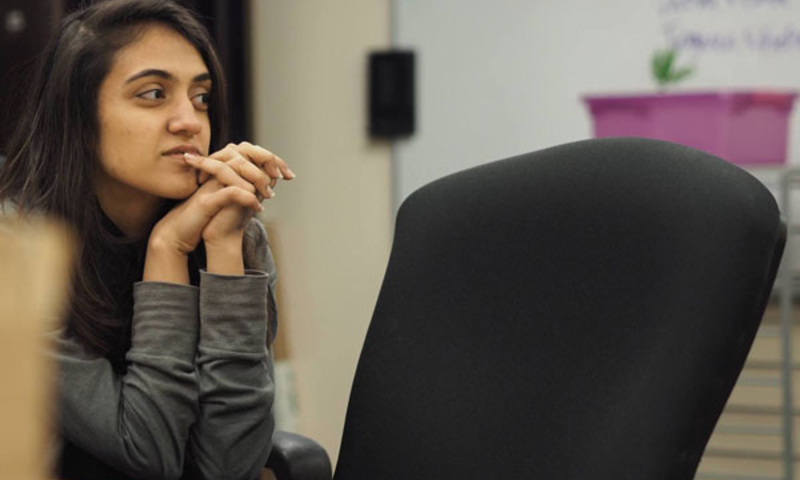 Bachelor's Degree from Denison
Philosophy, Politics, and Economics
"Who I am as a person today is tied, in no small part, to my time at Denison. My core values— justice, social responsibility, and a pursuit of knowledge— were all cultivated at Denison, and were similarly valued by my fellow Denisonians. The conversations I had at Denison instilled within me a sense of empathy that acknowledges the common humanity of individuals, which has been invaluable in divisive social climates.
The wealth of resources provided by Denison ensures that students are able to experience an extraordinary degree of personal, educational, and social growth. The kind of mentorship Denison offers is unparalleled, as is the caliber of its educators; I would not be pursuing my current educational goals if it weren't for the deep admiration I have for my professors and advisors, as well as the encouragement they provided.
The myriad of available options enables a "choose your own adventure" path of development, creating a diversity of thought, even within the same socio-political spheres. At Denison I had difficult, but necessary conversations about social divisions, economic differences, and mental health. However, I could still tap into a strong support system of peers and mentors, which empowered me to draw personal boundaries, acknowledge my limitations, and seek help, when needed."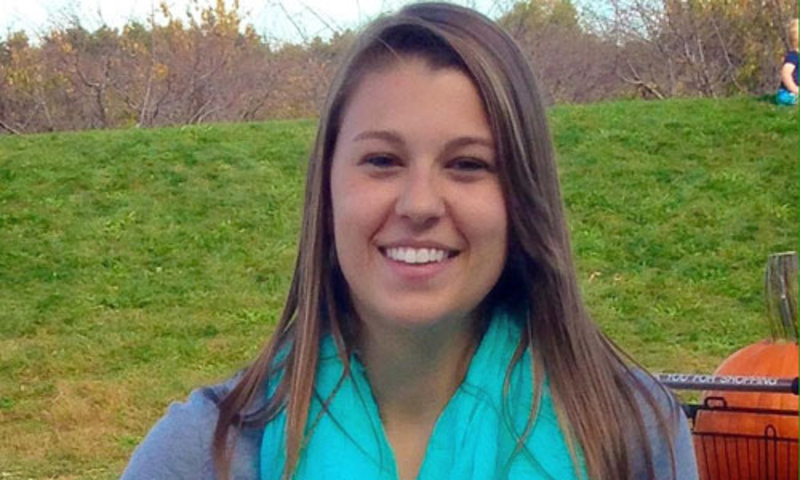 Bachelor's Degree from Denison
Political Science & Spanish
Juris Doctor Candidate at the Ohio State University Moritz College of Law
Professional:
My liberal arts experience at Denison has really helped me to adjust to law school. Denison's small classroom sizes and emphasis on student participation prepared me for the classroom demands of law school. Through my years at Denison, I learned how to articulate my thoughts and contribute to meaningful discussion, which eased the anxiety that comes with class participation at times. Moreover, the abundance of leadership opportunities at Denison provided me with the ability to feel comfortable in those types of roles at Moritz. More specifically, my time as a Resident Assistant built the foundation for a lasting commitment to leadership roles at the school that require a lot of responsibility. Not only did my Denison leadership positions make me feel prepared, but they also made my employers and advisors feel as though I am qualified for new responsibilities.
Civic:
Denison's emphasis on involvement in civic activities planted a commitment in me to work in furtherance of others and not just myself. With law school comes loads of debt, but making money has never been my end goal upon graduation. After my involvement in Legal Aid Society through Denison Community Association, I knew that I wanted to provide my services to those most in need. This was solidified even more after my time abroad in Santiago, Chile. Thanks to this wonderful opportunity provided by Denison, I learned more about my passions and decided to pursue a career in immigration law. Through connections made at Denison, I currently clerk for an immigration firm in Columbus, helping others follow their dreams in the United States. As an added bonus, I get to put my degree to good use and practice my Spanish every day.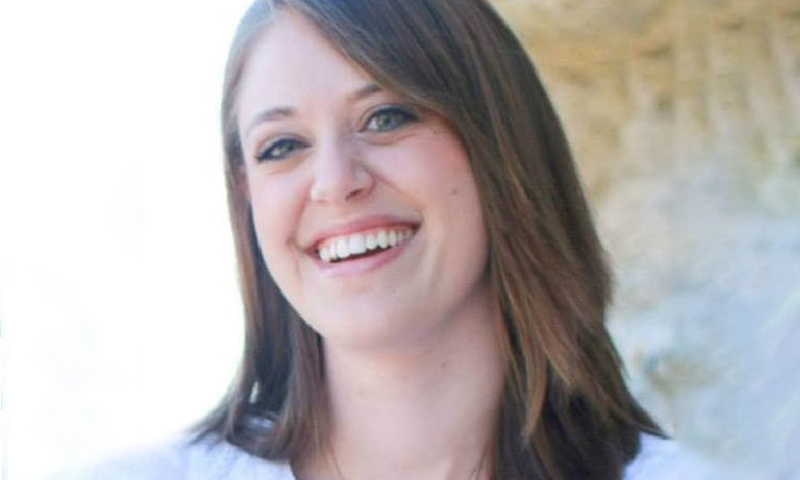 Bachelor's Degree from Denison
College & Career Counselor, Crockett High School
"I learned more about politics, religious differences, world events, racism, prejudice, pride, gay rights, and social justice during my time at Denison than I did in all of my other years combined. I felt safe enough to truly grapple with some of the world's (and my own) biggest issues while at Denison: the life altering conversations with peers and professors still stick with me today. That type of engagement and commitment — I haven't found it anywhere else."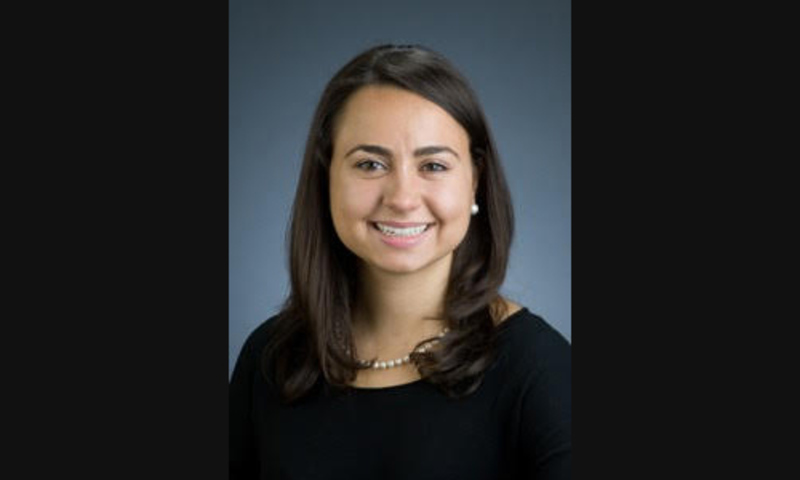 Bachelor's Degree from Denison
Marketing Leadership Program, Discover Financial Services
My Denison education has given me a breadth and depth across all subject matters, whereby I can respond and react to whatever situation I am placed in, and has given me an edge for success beyond college. My Denison education has ensured that I know not only about my Communication major, but also a little bit about Spanish, Psychology, Geology, Cinema, Accounting, and more (thanks to those GE requirements!) Therefore, a four-year Denison experience ultimately has us all prepared for moments of discomfort by having knowledge across all fields, while at the same time specializing in a field in which we are passionate.
Living on campus all four years fostered a caring community with people from different backgrounds, opinions, and beliefs, and prepared all graduates to face difficult conversations and deal with conflicting opinions. This type of experience gave me the opportunity to be in constant dialogue with others who differ from my own beliefs, to expand my knowledge, and to be open to new ideas and viewpoints. Denison has given me the tools and the passion to realize authentic communities of difference and empathy beyond the hill.
Denison's liberal arts education has allowed me to not only think holistically, to understand and solve problems, to take different opinions into consideration but to then also question. These outlooks crafted at Denison, ultimately have helped provide fresh new perspectives and business partner relationships skills within my current fast paced rotational program at Discover card.
---
Design Your Future
How does Denison prepare students for life after college?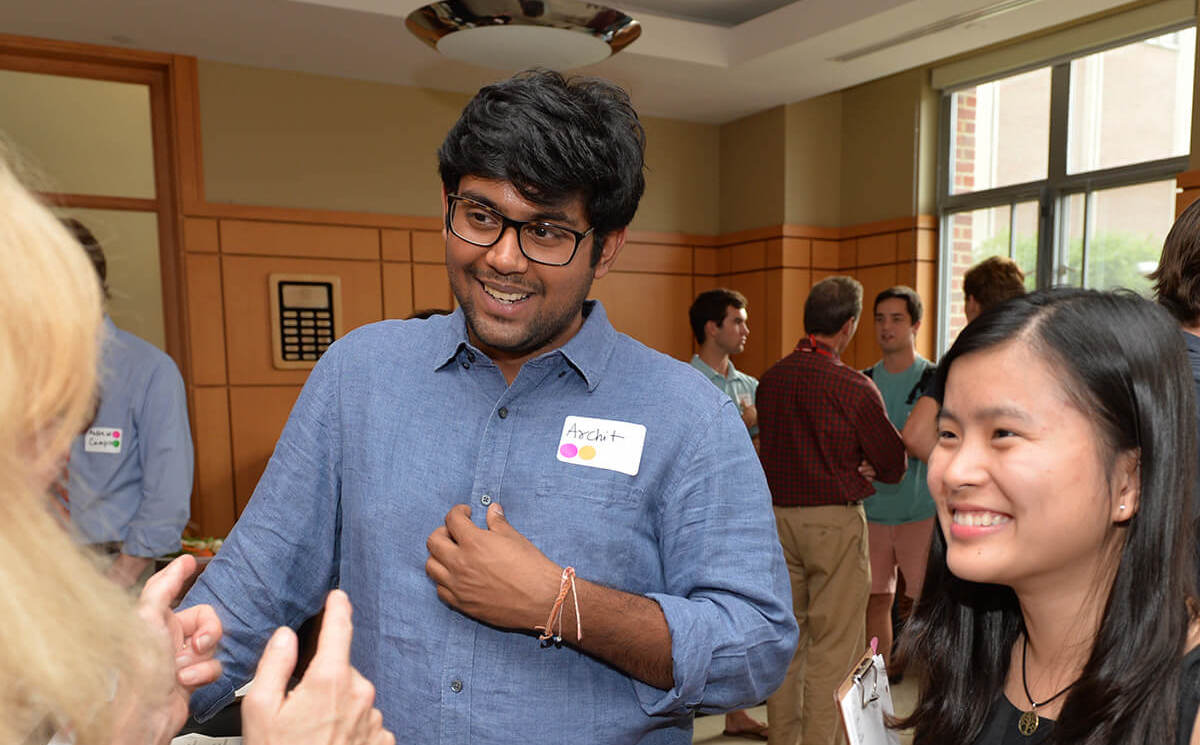 Starting with your first year on campus, and continuing five years after graduation, you'll learn to combine your academic knowledge, values, and habits with the career-oriented skills, networks and experiences you need to be the architect of your own life.
And you'll build the foundation of all of this, as you work with the Knowlton Center team, faculty, coaches and staff across Denison to help answer three pivotal questions:
What kind of life do I want to lead?
How do careers and professions fit into those lives?
How do I use my time in college to develop the skills, values, habits, experiences and networks to get started?
The Knowlton Center for Career Exploration
You can tap Knowlton Center resources for career exploration over the entire four years of your time at Denison, and for five years after graduation.
Denison Connecting
Denison Connecting adds the power of almost 40,000 alumni and friends to your career network, getting together at events around the world to network and learn from fellow alumni and industry experts.
Fellowships &
Off-Campus Study
Off-campus study opportunities and academic engagement & research further your experiences at Denison and beyond.
Featuring upcoming events and other opportunities for Denison alumni, parents, friends, students and faculty/staff to connect.
Skills of a Liberal Arts Education
Students indicated how their experience at Denison has contributed to skills, knowledge and personal development in ways that connect to our core student learning outcomes. (Sources: College Senior Survey 2018; National Survey of Student Engagement 2017; EBI Resident Survey 2014)
Interactive!
Use the interactive graph to the left to learn more about how students who responded felt about their Denison education.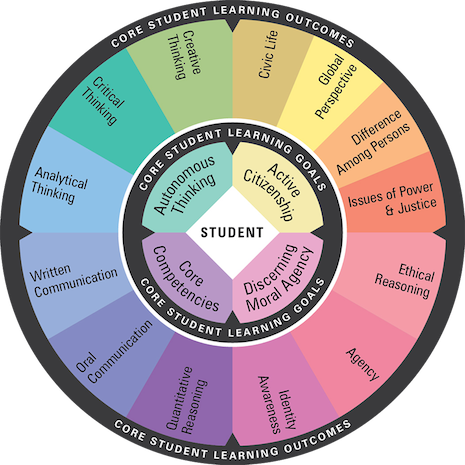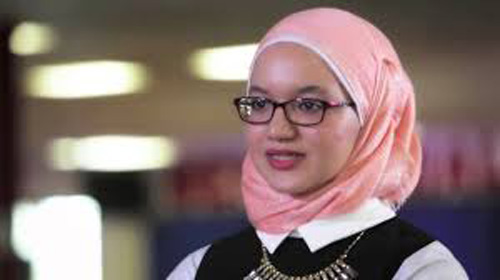 Denison students are highly engaged in the co-curriculum, and 75% of Denison seniors report having held a formal leadership role in a student organization, which is significantly higher than students at similar institutions.
The Denison curriculum places a high emphasis on students' ability to write well. Denison students reported writing significantly more than students at peer institutions (measured in number of pages).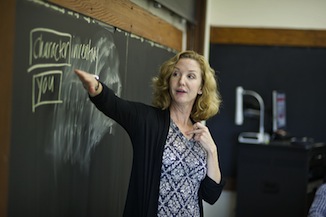 Denison professors are scholars in their fields but also are masters in the crafts of teaching and advising. Denison seniors rated the quality of their interactions with their faculty advisors significantly higher than students at other Carnegie institutions.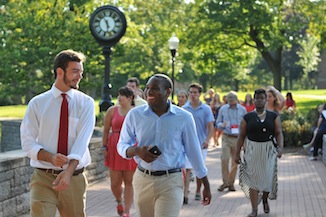 Denison is a pluralistic community. The Denison experience provides opportunity to dialogue and learn from others. Denison students report dialoguing with others who are different than them (in terms of race, economic background, and political views) significantly more often than students at similar institutions.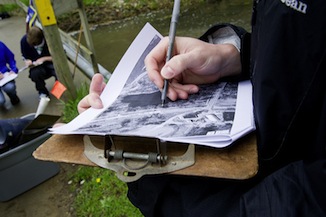 Denison students actively engage in the opportunities offered by Denison. In comparison to seniors at Carnegie institutions, Denison seniors were significantly more likely to have conducted research with faculty, completed an internship or field experience, or studied abroad.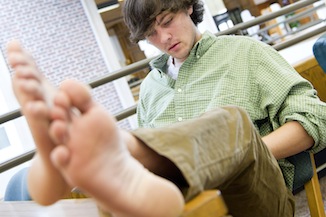 In comparison to seniors at other Carnegie institutions, Denison students were significantly more likely to say that their college experience contributed to knowledge, skills and personal development in: writing clearly and effectively, speaking clearly and effectively, and thinking critically and analytically.
A Rigorous
Curriculum
Denison provides an intellectually rigorous curriculum. Denison seniors were significantly more likely to report that their coursework emphasized higher-order thinking than seniors at similar institutions, which are represented here as the Carnegie classification. Specifically, Denison students were more likely to report:
Analyzing an idea, experience, or line of reasoning in depth by examining its parts.
Evaluating a point of view, decision, or information source.
Forming a new idea or understanding from various pieces of information.
Integrative
Learning
A Denison education is not about rote memorization of facts. In fact, Denison students are significantly more likely than students at similar institutions (represented here as Carnegie) to report that their coursework prompts reflective and integrative learning. Specifically, Denison seniors were significantly more likely to report having:
Combined ideas from different courses when completing assignments.
Connected your learning to societal problems or issues.
Included diverse perspectives (political, religious, racial/ethnic, gender, etc.) in course discussions or assignments.
Examined the strengths and weaknesses of own views on a topic or issue.
Connected your ideas from your courses to your prior experiences and knowledge.
---
Note: These graphs compare Denison data to "Carnegie" and "National."  As classified by the Carnegie Commission on Higher Education, Denison's Carnegie Classification is Baccalaureate Colleges—Arts & Sciences, thus comparing Denison to a group of similar institutions, mostly comprised of small, private colleges.  "National" represents the data from all 983 institutions participating in the National Survey of Student Engagement in 2017.