Our alumni
success story.
The Denison experience is unlike any other. We prepare our students for lives of professional, personal, and civic success. Data from our 2017 administration of the National Survey of Student Engagement reveal ways in which the Denison curricular and co-curricular experience prepares students for successful lives after college.
A Rigorous
Curriculum
Denison provides an intellectually rigorous curriculum. Denison seniors were significantly more likely to report that their coursework emphasized higher-order thinking than seniors at similar institutions, which are represented here as the Carnegie classification. Specifically, Denison students were more likely to report:
Analyzing an idea, experience, or line of reasoning in depth by examining its parts.
Evaluating a point of view, decision, or information source.
Forming a new idea or understanding from various pieces of information.
Integrative
Learning
A Denison education is not about rote memorization of facts. In fact, Denison students are significantly more likely than students at similar institutions (represented here as Carnegie) to report that their coursework prompts reflective and integrative learning. Specifically, Denison seniors were significantly more likely to report having:
Combined ideas from different courses when completing assignments.
Connected your learning to societal problems or issues.
Included diverse perspectives (political, religious, racial/ethnic, gender, etc.) in course discussions or assignments.
Examined the strengths and weaknesses of own views on a topic or issue.
Connected your ideas from your courses to your prior experiences and knowledge.
Note: These graphs compare Denison data to "Carnegie" and "National." As classified by the Carnegie Commission on Higher Education, Denison's Carnegie Classification is Baccalaureate Colleges—Arts & Sciences, thus comparing Denison to a group of similar institutions, mostly comprised of small, private colleges. "National" represents the data from all 983 institutions participating in the National Survey of Student Engagement in 2017.
Denison students are highly engaged in the co-curriculum, and 80% of Denison seniors report having held a formal leadership role in a student organization, which is significantly higher than students at similar institutions.
The Denison curriculum places a high emphasis on students' ability to write well. Denison students reported writing significantly more than students at peer institutions (measured in number of pages).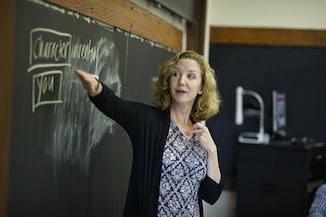 Denison professors are scholars in their fields but also are masters in the crafts of teaching and advising. Denison seniors rated the quality of their interactions with their faculty advisors significantly higher than students at other Carnegie institutions.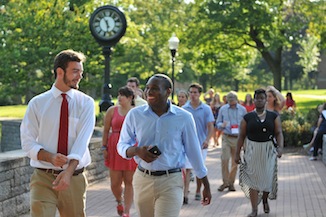 Denison is a pluralistic community. The Denison experience provides opportunity to dialogue and learn from others. Denison students report dialoguing with others who are different than them (in terms of race, economic background, and political views) significantly more often than students at similar institutions.
Denison students actively engage in the opportunities offered by Denison. In comparison to seniors at Carnegie institutions, Denison seniors were significantly more likely to have conducted research with faculty, completed an internship or field experience, or studied abroad.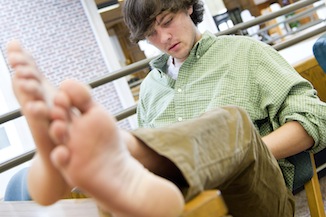 In comparison to seniors at other Carnegie institutions, Denison students were significantly more likely to say that their college experience contributed to knowledge, skills and personal development in: writing clearly and effectively, speaking clearly and effectively, and thinking critically and analytically.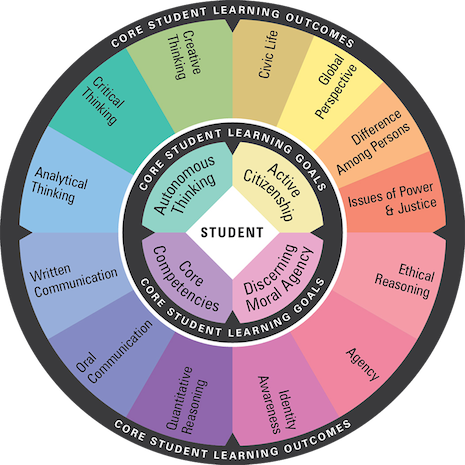 Skills of a Liberal Arts Education
Students indicated how their experience at Denison has contributed to skills, knowledge and personal development in ways that connect to our core student learning outcomes. (Sources: National Survey of Student Engagement 2017; EBI Resident Survey 2014)
Interactive!
Use the interactive graph to the left to learn more about how students who responded felt about their Denison education.
Preparing Students for Life After Denison
Featuring upcoming events and other opportunities for Denison alumni, parents, friends, students and faculty/staff to connect.
My Experience at Denison...
Bachelor's Degree from Denison
Professional
"My Denison education has allowed me to excel in my first job as I brought a valuable set of liberal arts skills to my career. The most tangible aspects of my Denison education that have been effective in my work-life are my abilities to problem solve, conduct research, write professionally, and express myself in a clear and concise manner. My Denison education provided me the space and opportunities to develop my professional skills in a variety of different settings, which has set me apart from my peers in the workplace."
Personal
"My time at Denison allowed me to better understand who I am as a person and what I need to do to take care of myself (mentally, physically, emotionally, etc.). By the time I left Denison I better understood what it meant to care for myself and the tactical actions I needed to take to support my health and well-being. I attribute a large portion of this to the resources that were available to me through [the Whisler Center for Student Wellness]. Additionally, Denison provided me a safe space to explore who I am and what I am passionate about. This has allowed me to develop interests in, and connections to, similar communities outside of Denison. The best example of this is the fact that I grew into myself as a member of the LGBT community through my involvement in Outlook, and I have since established myself as a member of LGBT-related groups in both my work-life and community."
Civic
"I am engaged with issues of both my local community and more global concerns. I intentionally sought out a smaller, more passionate neighborhood that would provide me an opportunity to more closely interact with my community. I am involved through service as well as social activities in my local community and within the city on the whole. I have become MORE engaged in global concerns since I left Denison… I became the most engaged with local and global issues through my academics at Denison. I was able to craft a curriculum for myself that really let me explore the things I was the most interested in. Denison also gave me the skills and opportunities to develop myself as a citizen, allowing me to understand my responsibilities and passion. Through this I have become a more active citizen and have taken an interest in advocating for the things I feel are most important to me in my world (whether that is on a micro or macro scale)."
Bachelor's Degree from Denison
Sociology/Anthropology, Communication
CEO of Student Intuition, Inc.
Personal
"The world around us increasingly demands critical thought and engagement. That perspective, I would argue, is a gift the liberal arts instills best. That lifelong learning is not a slogan, but a challenge that very few truly take on. Our relationships, our work, our institutions are so infinitely complex that the curious and critical mind is a near-requirement for achieving our personal ends."
Bachelor's Degree from Denison
Multi-Intensive Special Education Teacher; Graduate Student at Miami University
Professional
"Denison taught me how to "learn how to learn", communicate effectively, problem solve, and interact with others at a professional level, thereby allowing me to feel comfortable in any situation. Denison has allowed me to be a competitive candidate for job opportunities because I learned valuable skills that I use daily in my professional life."
Civic
"I have been engaged with my local community on multiple levels, including purchasing a home in the neighborhood which I teach so I am truly a part of that community. I also have gotten more involved with Special Olympics and Habitat for Humanity on local, national, and global campaigns. I learned how to actively be a supportive member of a community at Denison and balance my time so that I am able to work full-time, get a master's degree, volunteer, and have a family all at the same time."
Bachelor's Degree from Denison
Pursuing PhD in Mathematics, Purdue University
"My training in math and physics at Denison (including summer research opportunities) prepared me well to handle graduate coursework and research. The liberal arts curriculum at Denison also strengthened my interpersonal skills. And in academia, relational skills are just as important as research skills."
Bachelor's Degree from Denison
Operations Coordinator, Ascension Healthcare Management
"My Denison experience helped prepare me for success in many ways. I learned how to properly communicate both efficiently and effectively, and I also honed my ability to think outside of the box. The different classes that were made available while I was a student (such as learning how to use Excel pivot tables) provided me with the different skills needed in the professional world. This along with a plethora of other things helped prepare me for my new career, and I urge every student to take advantage of the opportunities that Denison provides."
Bachelor's Degree from Denison
History & International Studies
English Teaching Assistant, The Fulbright Program, Bulgaria
This past year I taught the English language to 8th through 12th-grade students in eastern Bulgaria, a challenge for which Denison most certainly helped me prepare. In addition to leading students in speaking and writing exercises, I was also expected to teach about my own "American experience," an experience significantly shaped by my time at Denison.
My four years at Denison helped me sharpen the intellectual tools and practical skills to appreciate other cultures and global narratives. My Geography classes with Professor Frolking, and courses in my two majors, History and International Studies, piqued my curiosity about how other people live and think. My senior research projects in History and International Studies pushed me to analyze a subject inside and out and consolidate what I had learned into a (not so short) cumulative paper and final presentation to faculty and fellow classmates. Winter break trips to Washington D.C., Atlanta, and Birmingham introduced me to the complexities of education and immigration outside of Ohio and my native Minnesota. I have Denison to thank for introducing me to classmates hailing from Granville, Ohio to Seoul, South Korea. These assorted intellectual and social opportunities that Denison has offered me have ultimately strengthened my planning, writing, speaking, evaluating, and coaching skills which have been key responsibilities as a teacher in a foreign community.
Denison helped me prepare tremendously for the post-graduate chapter of my life by emphasizing the values of life-long learning, embracing and succeeding in uncomfortable situations, and demonstrating compassion regardless of my profession.
Bachelor's Degree from Denison
"Attending Denison University has been one of the best decisions I have made. At a most fundamental level, Denison has prepared me for the academic rigors of medical school. Beyond memorizing the facts, my professors taught me to actively engage and be critical of the material and to extrapolate information to real-life situations. These skills have allowed me to not only memorize the large content presented in medical school but also understand clinical implications to better serve my future patients. Second, Denison has increased my awareness of cultures and identities other than my own. I had the opportunity to experience other cultures, religious and political beliefs, and biases. These experiences along with the emphasis on community service at Denison have allowed me to be more civically engaged in my community during medical school and help advocate for medically-underserved people. Third, through classroom discussions, on-campus employment, and great mentorship from faculty and staff, I observed and was asked to display professionalism. Growing in these skills has been very beneficial as a medical student because I am always wearing the "white coat," whether in the classroom, clinics, or community. And last, Denison emphasizes building relationships like no other institution, which has allowed me to better connect with my peers and be conscious of engaging patients as human beings rather than as duties of the job. Overall, the relationships and skills I gained from attending Denison have benefited me in so many ways and will continue with me the rest of my life."
Bachelor's Degree from Denison
Area Coordinator/First-Year Experience Coordinator, Davidson College
"A Denison education is truly invaluable. It may sound like a cliché MasterCard tagline, but I do believe that it's impossible to measure the many ways that Denison has shaped my life. I attribute my success in graduate school and in my first professional position to the great instruction and opportunities in the classroom. Denison helped me meet people from very different backgrounds, and to appreciate difference. It helped me take a myriad of interests and find a common theme to connect them all. Denison challenged me to be comfortable with ambiguity and complexity in situations lacking clear answers. Furthermore, it taught me that most situations, in fact, do not have one clear truth. My education helped me challenge the status quo, feel empowered to impact the larger community, and take risks."
How are
Denisonians
doing after graduation?
Outcomes by Academic Major
We encourage students to explore and to take full advantage of the liberal arts. The very core of the liberal arts is that we prepare students to be successful in whatever profession they choose to pursue by providing them with skills in critical thinking, effective written and oral communication, leadership and civic engagement, and individual agency. Through these core outcomes, we prepare students to live and lead in a complex, global society.
Notable Alumni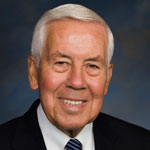 Former U.S. Senator, 1996 Presidential Candidate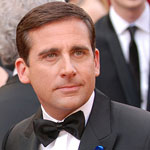 Emmy-winning and Oscar-nominated actor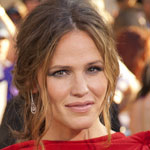 Golden Globe and SAG Award-winning actress