Our alumni
success story.
The Denison experience is unlike any other. We prepare our students for lives of professional, personal, and civic success. Data from our 2017 administration of the National Survey of Student Engagement reveal ways in which the Denison curricular and co-curricular experience prepares students for successful lives after college.
A Rigorous
Curriculum
Denison provides an intellectually rigorous curriculum. Denison seniors were significantly more likely to report that their coursework emphasized higher-order thinking than seniors at similar institutions, which are represented here as the Carnegie classification. Specifically, Denison students were more likely to report:
Analyzing an idea, experience, or line of reasoning in depth by examining its parts.
Evaluating a point of view, decision, or information source.
Forming a new idea or understanding from various pieces of information.
Integrative
Learning
A Denison education is not about rote memorization of facts. In fact, Denison students are significantly more likely than students at similar institutions (represented here as Carnegie) to report that their coursework prompts reflective and integrative learning. Specifically, Denison seniors were significantly more likely to report having:
Combined ideas from different courses when completing assignments.
Connected your learning to societal problems or issues.
Included diverse perspectives (political, religious, racial/ethnic, gender, etc.) in course discussions or assignments.
Examined the strengths and weaknesses of own views on a topic or issue.
Connected your ideas from your courses to your prior experiences and knowledge.
Note: These graphs compare Denison data to "Carnegie" and "National." As classified by the Carnegie Commission on Higher Education, Denison's Carnegie Classification is Baccalaureate Colleges—Arts & Sciences, thus comparing Denison to a group of similar institutions, mostly comprised of small, private colleges. "National" represents the data from all 983 institutions participating in the National Survey of Student Engagement in 2017.
Denison students are highly engaged in the co-curriculum, and 80% of Denison seniors report having held a formal leadership role in a student organization, which is significantly higher than students at similar institutions.
The Denison curriculum places a high emphasis on students' ability to write well. Denison students reported writing significantly more than students at peer institutions (measured in number of pages).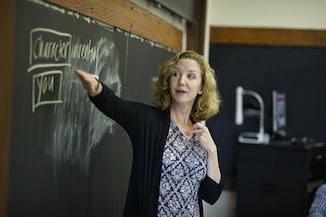 Denison professors are scholars in their fields but also are masters in the crafts of teaching and advising. Denison seniors rated the quality of their interactions with their faculty advisors significantly higher than students at other Carnegie institutions.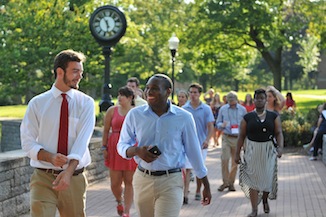 Denison is a pluralistic community. The Denison experience provides opportunity to dialogue and learn from others. Denison students report dialoguing with others who are different than them (in terms of race, economic background, and political views) significantly more often than students at similar institutions.
Denison students actively engage in the opportunities offered by Denison. In comparison to seniors at Carnegie institutions, Denison seniors were significantly more likely to have conducted research with faculty, completed an internship or field experience, or studied abroad.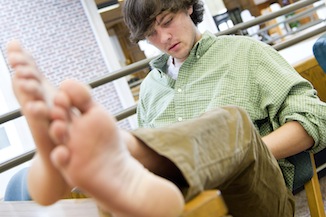 In comparison to seniors at other Carnegie institutions, Denison students were significantly more likely to say that their college experience contributed to knowledge, skills and personal development in: writing clearly and effectively, speaking clearly and effectively, and thinking critically and analytically.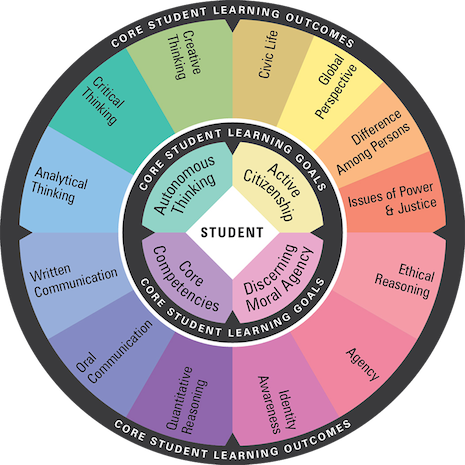 Skills of a Liberal Arts Education
Students indicated how their experience at Denison has contributed to skills, knowledge and personal development in ways that connect to our core student learning outcomes. (Sources: National Survey of Student Engagement 2017; EBI Resident Survey 2014)
Interactive!
Use the interactive graph to the left to learn more about how students who responded felt about their Denison education.
Preparing Students for Life After Denison
Featuring upcoming events and other opportunities for Denison alumni, parents, friends, students and faculty/staff to connect.
My Experience at Denison...
Bachelor's Degree from Denison
Economics and International Studies
Claims Analyst II, Nationwide Insurance
Coming to Denison I was undecided about what career path I wanted to pursue after college. The liberal arts experience allowed me to gain versatile experience that is transferable throughout many fields. Gaining valuable writing skills, presentation of research, and participation in various clubs and organizations prepared me to grow in the corporate world. My Denison connections and education ultimately helped me get a job with Columbus' biggest employer, Nationwide Insurance. My role as a Claims Analyst has allowed me to travel to other states and assess catastrophic losses after weather disasters and while in Columbus, I get to use the skills I obtained in my economics courses and analyze claims data as well as brainstorm with other associates on how we can improve our processes. Thanks to all my extracurricular involvement and collaborations with organizations on campus during my time at Denison, I am able to bring these skills to the conference room and contribute to Nationwide's growth and development.
Bachelor's Degree from Denison
History & International Studies
English Teaching Assistant, The Fulbright Program, Bulgaria
This past year I taught the English language to 8th through 12th-grade students in eastern Bulgaria, a challenge for which Denison most certainly helped me prepare. In addition to leading students in speaking and writing exercises, I was also expected to teach about my own "American experience," an experience significantly shaped by my time at Denison.
My four years at Denison helped me sharpen the intellectual tools and practical skills to appreciate other cultures and global narratives. My Geography classes with Professor Frolking, and courses in my two majors, History and International Studies, piqued my curiosity about how other people live and think. My senior research projects in History and International Studies pushed me to analyze a subject inside and out and consolidate what I had learned into a (not so short) cumulative paper and final presentation to faculty and fellow classmates. Winter break trips to Washington D.C., Atlanta, and Birmingham introduced me to the complexities of education and immigration outside of Ohio and my native Minnesota. I have Denison to thank for introducing me to classmates hailing from Granville, Ohio to Seoul, South Korea. These assorted intellectual and social opportunities that Denison has offered me have ultimately strengthened my planning, writing, speaking, evaluating, and coaching skills which have been key responsibilities as a teacher in a foreign community.
Denison helped me prepare tremendously for the post-graduate chapter of my life by emphasizing the values of life-long learning, embracing and succeeding in uncomfortable situations, and demonstrating compassion regardless of my profession.
Bachelor's Degree from Denison
Studying Professional Culinary Arts at the International Culinary Center, New York
When I think back to my time at Denison (it's just been over a year), I often think about how similar the "Real World" is to the life I lived on campus, to life on the hill. I learned it's all about perspective. A job working at a bank or a startup in New York is essentially the same thing as working as an RA or leading a campus organization. You have a set of responsibilities, goals to reach and a community to be a part of. Through this lens, almost everything I did at Denison was a testing ground for what my journey in the "Real World" would be. In essence, it was an easier, more forgiving environment that promotes making mistakes and learning from them.
If I look at the "skills" that I learned at Denison, the ones that have helped me the most are my ability to question and break down complex problems, build personal and close relationships within communities and to be curious. These three skills or abilities have helped me grow immensely in the last year and will forever challenge me, allowing me to perfect them every day. There are definitely other baseline skills such as effective writing that should not be taken for granted. But of all the skills, if you can sit in a room and stop a discussion because you had an insightful question that was phrased in an impeccable manner, one that helped others understand the topic more clearly, you have taken a step in the right direction. That is what I learned at Denison and still perfect every day.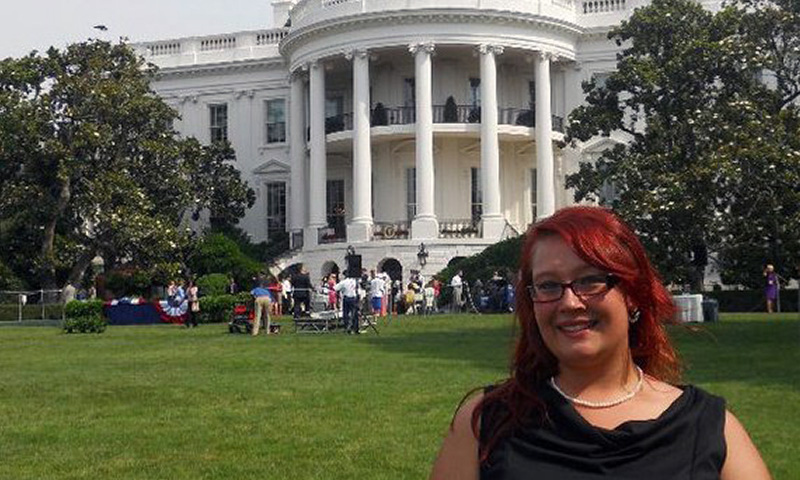 Bachelor's Degree from Denison
LSC Fellow Ohio House of Representatives Democratic Caucus The Ohio State University John Glenn School of Public Affairs
Professional
"My Denison education prepared me to deal with people from a variety of backgrounds and perspectives as I began my adult life and career. Like most Denisonians, my Denison education was not only in the classroom. The level of expected community involvement is very high at Denison, so Denison taught me how to balance "work" with the other things I was passionate about being involved with. The quality of the liberal arts education that Denison provides is truly outstanding. The writing and researching skills that I honed at Denison keep me well above my peers both at work and when I was in graduate school. The ability to communicate clearly and efficiently in my writing has helped me excel professionally and provided me opportunities I wouldn't naturally pursue."
Personal
"During my time at Denison I made friends that I treasure and found passions and hobbies that I didn't know I had, but Denison does that to everyone! Specifically I learned the importance of creating a family of friends. Since so many of Denison's students are from out of state, and we all live on The Hill, it is crucially important to create a chosen family. Learning how to open up to people and ask for help when you need it is important, and very important as a young adult. Denison allows, and encourages, professors and staff to mentor students and create bonds with them, there for guidance and advice. Denison is full of some of the most wonderful people on earth, and creating my own chosen family while I was there taught me that you can have family no matter where you are geographically."
Civic
"Personally, while at Denison I was lucky enough to be able to study abroad. I chose to study in Germany partially because of some amazing classes I took at Denison about German history and culture. We have an amazing faculty who are experts in their field and are eager to open student's eyes to the "outside world." Denison encouraged me to engage with global issues through study abroad, and those experiences really influenced the rest of my education."
Bachelor's Degree from Denison
Marketing Leadership Program, Discover Financial Services
My Denison education has given me a breadth and depth across all subject matters, whereby I can respond and react to whatever situation I am placed in, and has given me an edge for success beyond college. My Denison education has ensured that I know not only about my Communication major, but also a little bit about Spanish, Psychology, Geology, Cinema, Accounting, and more (thanks to those GE requirements!) Therefore, a four-year Denison experience ultimately has us all prepared for moments of discomfort by having knowledge across all fields, while at the same time specializing in a field in which we are passionate.
Living on campus all four years fostered a caring community with people from different backgrounds, opinions, and beliefs, and prepared all graduates to face difficult conversations and deal with conflicting opinions. This type of experience gave me the opportunity to be in constant dialogue with others who differ from my own beliefs, to expand my knowledge, and to be open to new ideas and viewpoints. Denison has given me the tools and the passion to realize authentic communities of difference and empathy beyond the hill.
Denison's liberal arts education has allowed me to not only think holistically, to understand and solve problems, to take different opinions into consideration but to then also question. These outlooks crafted at Denison, ultimately have helped provide fresh new perspectives and business partner relationships skills within my current fast paced rotational program at Discover card.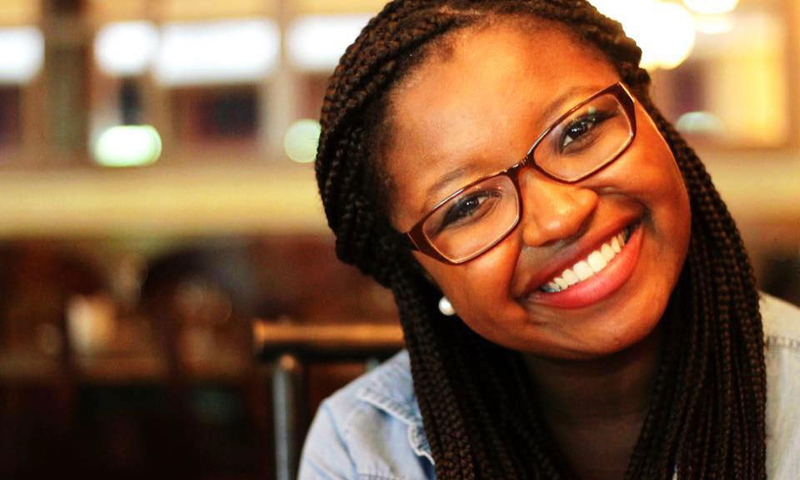 Bachelor's Degree from Denison
Assistant Director, Purdue University Office of Admissions
My Denison experience helped me become a more efficient communicator which is essential to my job in admissions at Purdue University. From presentations on research and constant engagement in the classroom, to assisting as a panelist and host in the Denison Admission Office, I learned how to effectively communicate with others. I am able to connect with students daily on a personal level about the college experience because I am able to reflect on the many opportunities Denison had to offer. Denison challenged me to think outside of the box and step outside of my comfort zone and I am so happy to have had the experiences that I did during my 4 years on the hill, because they helped shape me into the professional I am today.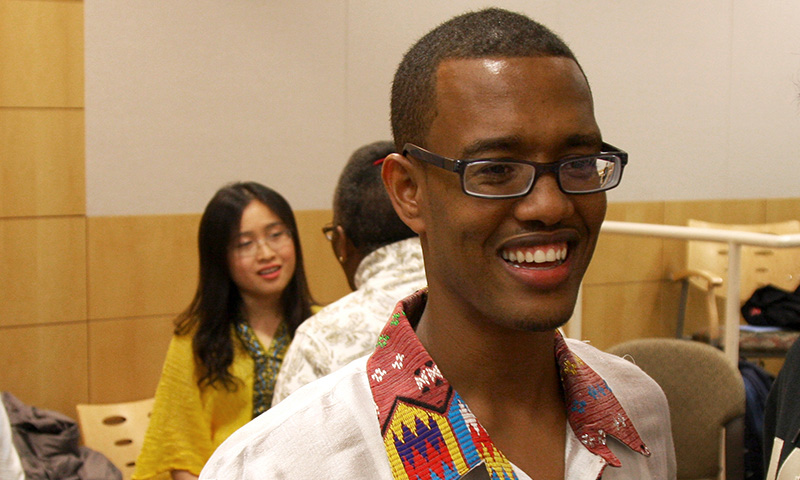 Bachelor's Degree from Denison
Analyst at Brown Brother Harriman
Professional
"As a Denison student, I was expected to think critically, write cohesively, grapple with some complex problems, and meet tight deadlines in and outside of the classroom. Because of those rigorous academic standards and training, I am now able to thrive in a very fast-paced and deadline driven environment. In addition, my Denison education has taught me how to apply acquired knowledge and analytical skills to new situations and career opportunities and that has been a great benefit to both my personal and professional life."
Bachelor's Degree from Denison
"Having the opportunity to participate in a wide variety of campus organizations provided me with a diverse set of experiences that helped prepare me for life after college. In addition, I would not have been able to undertake a French major—including a semester abroad—while still completing all of the pre-med requirements, without the advice and support of the staff and faculty at Denison."
How are
Denisonians
doing after graduation?
Outcomes by Academic Major
We encourage students to explore and to take full advantage of the liberal arts. The very core of the liberal arts is that we prepare students to be successful in whatever profession they choose to pursue by providing them with skills in critical thinking, effective written and oral communication, leadership and civic engagement, and individual agency. Through these core outcomes, we prepare students to live and lead in a complex, global society.
Notable Alumni
Former President, ESPN and ABC Sports
Indy 500 winner, Co-owner of Rahal Letterman Racing
President, COBCO Enterprises