Outdoor Orientation
Do you love the great outdoors? Up to 48 members of the Class of 2025 will take part in a unique and challenging backpack hike through the wilds of Kentucky. You will gather in groups of eight, each led by a faculty-student staff team, as you explore a beautiful and inspiring landscape of hills and forests. Spending time together during the three-day hike is a great opportunity to make new friends, learn more about Denison, and just have a lot of fun.
Safety & Experience
Prior hiking experience is not necessary. Participants' experience ranges from those who had previously hiked for weeks at a time to students who had never set foot on a trail or in a tent. Anyone with a moderate level of fitness and an interest in trying something new is encouraged to apply.
To maintain the quality of this small group experience and to minimize the risks, we ask that you abide by the following policies: non-prescription drugs, alcohol, and tobacco are not permitted on the trip. In addition, please do not use cell phones or other electronic devices on the trip.
Denison University is an equal opportunity provider and employer and a Permit Holder of the Red River Gorge Geological Area.
The Schedule
Arriving at Denison on Friday, August 20, you will spend the day moving into your dorm, learning or reviewing the basics of backpacking, checking gear, and getting to know other hikers. On Saturday, August 21, six groups of eight First-Year students and two leaders will travel to the Red River Gorge Geological Area in Kentucky. This region of natural beauty features moderately strenuous trails and a diversity of terrain. You will return to campus on Tuesday, August 24 for August Orientation, which begins on Thursday, August 26.
What equipment do I need?
Having all of your own equipment is not required.
Participants will need:
A pair of waterproof hiking boots with good ankle support
Rain gear
A flashlight
Hikers are encouraged to bring any additional equipment they have such as: a sleeping bag, tent, backpack, etc, but the university will provide necessary gear not brought by students.
A complete packing list will be provided to accepted participants.
Fees
The cost of DOO is $250. Denison-Columbus Alliance Scholars and those with significant financial need as determined by the Office of Financial Aid who wish to participate may have their fees waived.
Additional Details
You will move into your fall residence hall upon arriving on campus. Athletes in some fall sports might not be able to participate in DOO because of early practices. Check with your coach and be sure to check your email over the summer for forms to complete and additional information.
For more information, contact: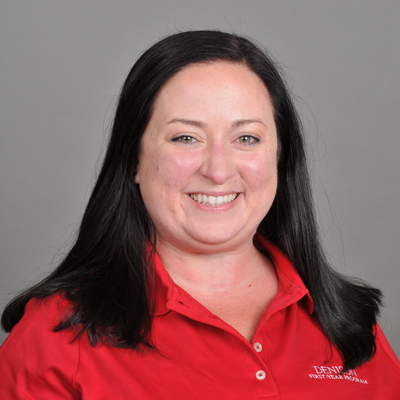 First-Year Program Coordinator
Staff
|
First-Year Experience