DCS Outreach, Student Posters at ACS, Awards and More!
Awards & Honors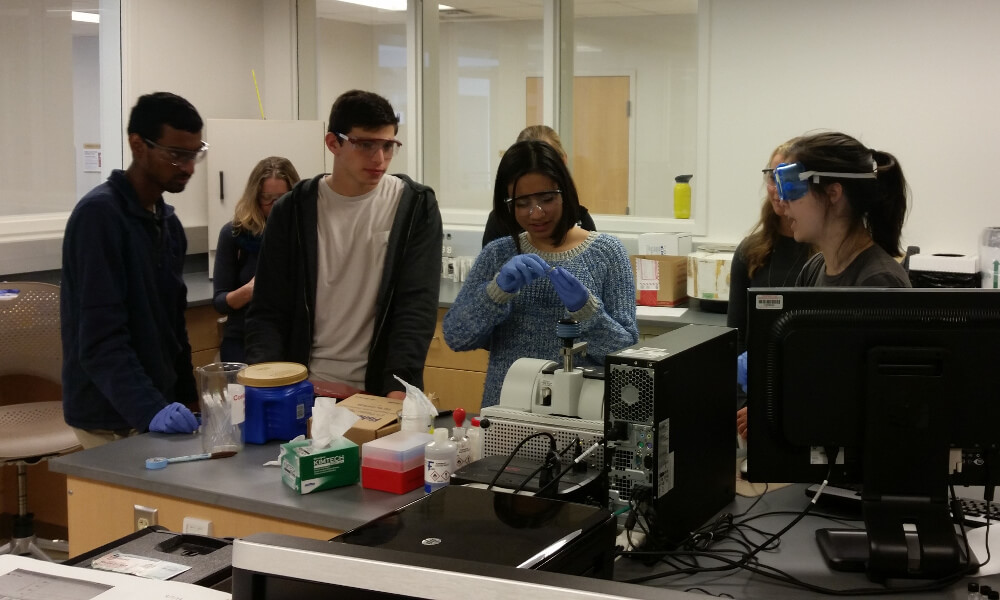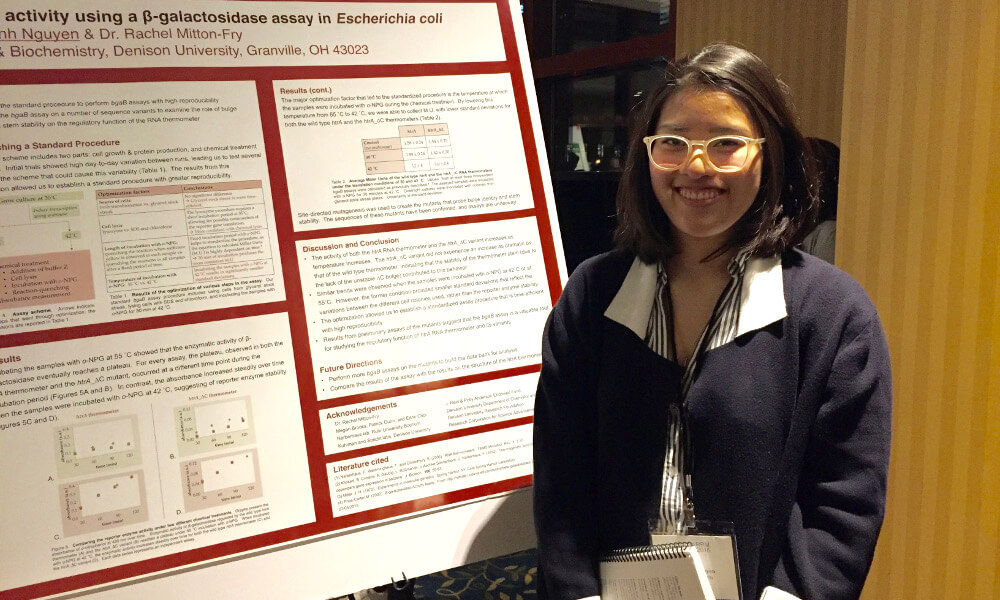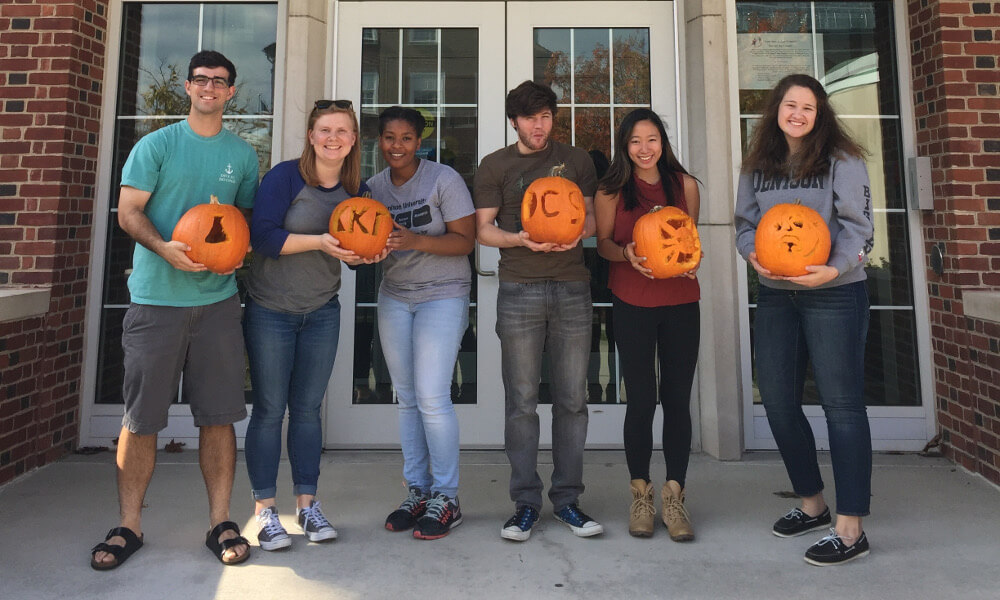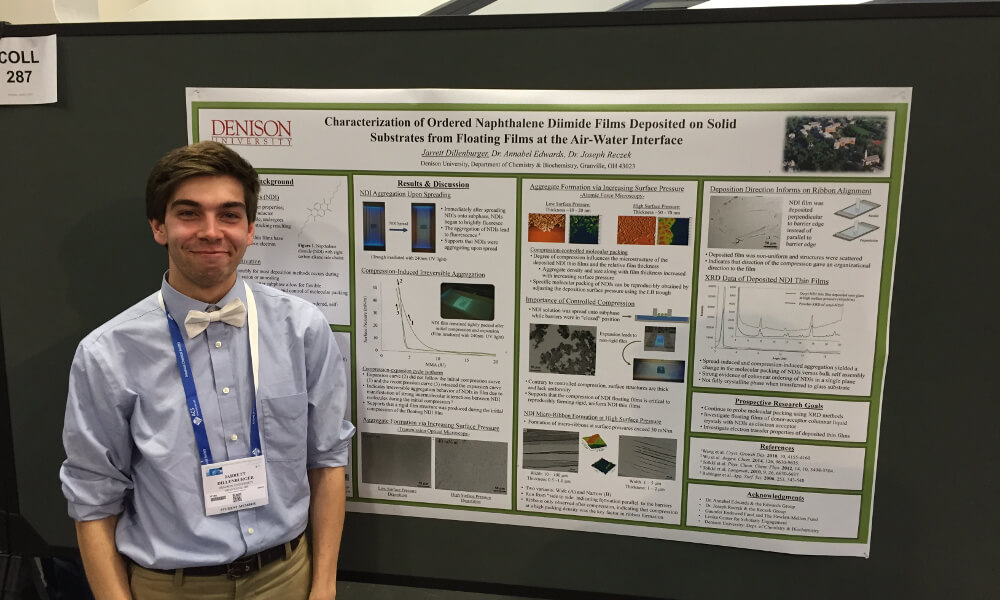 Chemistry and Biochemistry students have a lot to be proud of this academic year even before the official start of academic award season gets started. Before the year speeds to a close and we say goodbye to the class of 2017, it is fitting to highlight a year full of student engagement and awards.
Our student run outreach group, DCS (Denison Chemical Society), has had a banner year including the 6th annual Mole-a-thon (a 6.02 km run/walk to raise money for the American Chemical Society's Scholars Fund), pumpkin carving, ice skating, and demos galore. A new event this year was DU students hosting New Albany's AP science students in Ebaugh's instrumentation rooms to learn about modern instrumentation used in chemical research. In addition, DCS was awarded a $300 National Meeting Travel Grant for the 253rd American Chemical Society National Meeting held in San Francisco, CA.
This award helped a record sixteen Denison juniors and seniors headed west to present their faculty-mentored research at this year's ACS Spring national meeting. The group included Claire Barcelo '17, Tram Dao '18, Andrew Delahunty '18, Michelle Hill '17, Kim Huggler '17, Louis Morris '18, Yen Anh Nguyen '17, Harrison Ponce '18, Peter Rudd '17, Madeline Stern '18, Jack Sundberg '17, Megan Van Horn '17, Madeline Van Winkle '18, Mercedes Warren '18, and Linnea Wethekam '17 presenting posters in the Division of Chemical Education Undergraduate Research Session. Tram and Kim also presented their work in the popular Sci Mix poster session. Jarrett Dillenburger '17 presented his poster "Characterization of ordered naphthalene diimide films deposited on solid substrates from floating films at the air-water interface" in the Division of Colloid & Surface Chemistry poster session. Jarrett represented well the caliber of work done by Denison students when he brought home one of four student poster awards usually awarded to graduate student presenters.
Speaking of meetings and awards, senior Yen Anh Nguyen and junior Edric Choi presented their work with Dr. Rachel Mitton-Fry at the 18th Annual Rustbelt RNA Meeting in Cleveland, OH in October. Yen Anh's poster "Monitoring htrA RNA thermometer activity using a -galactosidase assay in Escherichia coli" received the Excellent Undergraduate Poster Presentation Award. Also in October, junior Madeline Van Winkle was honored for her oral presentation of her summer research in Professor Arjun G. Yodh's lab at the University of Pennsylvania at the Gulf Coast Undergraduate Research Symposium at Rice University.
Our hats are also off to Katherine Lindsay '20 who is an American Chemical Society 2016–17 Project SEED Scholar. Katherine conducted research with Michael Statnick and Susan Gackenheimer at Eli Lilly & Co. on "GPR120-mediated Effect on ACTH Secretion in AtT-20 Cells".
In addition, senior majors Kareha Agesa and Jarrett Dillenburger were awarded Denison Distinguished Leadership Awards for their leadership in Ebaugh and across the campus.
Ebaugh is also home to multiple Denison scholar-athletes. Five majors received the accolades as Denison Top-50 Scholar-Athletes. Congratulations are due to junior Thomas Olson (football) and sophomores Sarah Youngs (basketball), David Weimar (football), Charlotte Purnode (tennis) and Kevin Brown (tennis).
We will have more to celebrate during our department Spring Celebration of Students on April 26th starting at 4:30pm. We will honor all graduating seniors and department award winners from all classes.