Mindfulness Orientation
Want to learn how mindful practices can help sustain a vibrant college experience? Apply to Denison Mindfulness Orientation (DMO)!
Denison supports a holistic approach to wellness and well-being, which includes 5 dimensions: personal, intellectual, social, community, and financial. Mindful practices provide the opportunity for well-being in all dimensions, and can be practiced by anyone, anywhere. We acknowledge especially the benefits in stress-reduction that mindful practices provide, which can be useful in navigating a college experience.
This on-campus orientation is designed to provide up to 24 members of the Class of 2025 an introduction to mindful practices, and space to consider what mindful skills they might want to build throughout their Denison career. Participants will at least walk away with relationships that will help them acclimate to life at college (or maybe even a future roommate!), and we hope they will also learn the value of meditation, breathing, mindful movement, and self-awareness for sustaining their well-being on the college journey.
The Schedule
Students arrive on campus for Mindfulness Orientation on Friday, August 20. The program runs August 21-24. August Orientation begins Thursday, August 26.
Safety & Experience
No experience with mindful practices is necessary!
To maintain the quality of this small group experience and to minimize the risks, we ask that you abide by the following policies: non-prescription drugs, alcohol, and tobacco are not permitted on the trip. In addition, please do not use cell phones, or other electronic devices during the program.
What Do I Need to Bring?
A complete packing list will be sent to you with your acceptance packet over the summer.
Fees
The cost of DMO is $250. Denison-Columbus Alliance Scholars and students with significant financial need as determined by the Office of Financial Aid who wish to participate may have their fees waived.
Additional Details
You will move into your fall residence hall upon arriving on campus. Athletes in some fall sports might not be able to participate in DMO because of early practices. Check with your coach and be sure to check your email over the summer for forms to complete and additional information.
For more information, contact: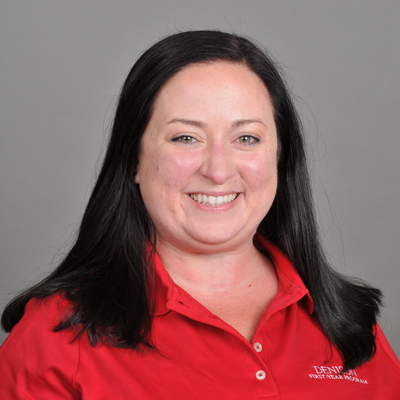 First-Year Program Coordinator
Staff
|
First-Year Program