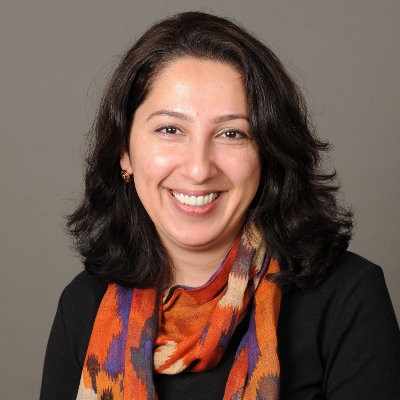 Zarrina
Juraqulova
Biography
While pursuing my doctoral degree I realized how much economics can be interesting and how this discipline shapes our daily life. Economics is everywhere. It explains our needs, choices, decisions, behaviors, resources, and so on.
In my teaching, I strive to help students learn the various concepts and tools within the field of economics so they know how to apply this knowledge towards solving actual problems. I enjoy teaching small classes at Denison University and interacting with interdisciplinary students who are motivated by love of learning and curiosity.
Degree(s)
B.A., M.A. in Economics, Technological University of Tajikistan. PhD in Economics, Washington State University.
Learning & Teaching
Courses
Econ 101: Introduction to Macroeconomics
Econ 102: Introduction to Microeconomics
Econ 240: Gender and Globalization
Econ 307: Introduction to Econometrics
Econ 440/462: Health Economics
Denison Summer Seminar "Transition in Central Asia: Statues and Mosques" (co-teach with colleague - professor Sohrab Behdad)
Academic Positions
Denison University
Assistant Professor of Economics, 08/2016 - present
Visiting Assistant Professor of Economics, 08/2015 – 05/2016
Washington State University
Instructor, School of Economic Sciences, 06/2014 – 05/2015
University of Idaho
Lecturer, College of Business and Economics, Fall 2013
Positions at International Organizations
Consultant, George Soros/Open Society Institute, Pre-selection reader for 2017 and 2018 Civil Society Leadership Awards Program, 2016-2017
Finance Officer, Winrock International Tajikistan/USAID funded Project "Water Users Associations Support Program," 2005-2009
Financial Management Consultant, World Bank Group, Project "Health Sector Fiduciary Capacity Assessment," Tajikistan, 2008
Economic and Community Development Advisor, United Nations Development Program/Communities Program, Tajikistan, 2004-2005
Program Associate, United Nations Development Program/Communities Program, Tajikistan, 2002-2004
Financial Reporting Officer, Red Crescent Society of Tajikistan, 2000-2002
Research
Applied Microeconomics, Applied Econometrics, Health Economics; Labor Economics, Gender Economics.
Details
My research areas include the study of impact of work-life programs on representation of female faculty and minorities in U.S. doctoral granting economics departments; fertility, family planning, health care and gender issues in countries of Central Asia and Russia.
Works
Publications
Juraqulova, Z. H. and E. B. Henry. 2020. Women's Bargaining Power and Contraception Use in post-Soviet Tajikistan. Central Asian Survey 39(4): 520-539.
E.B. Henry and Z.H. Juraqulova. 2020. Family Planning in the Republic of Tajikistan: A Review from Soviet Times to 2017. Central Asian Journal of Global Health 9(1).
Juraqulova, Z. H., J. McCluskey & R.C. Mittelhammer. 2019. Work-Life Policies and Female Faculty Representation across Academic Ranks. Industrial Relations Journal 50(2): 168-196.
Bartlett R.L. & Z.H. Juraqulova. 2017. The Allied Social Science Meetings: Diversity Versus Inclusivity. American Review of Political Economy 11(2): 150-169.
Juraqulova, Z. H., T. C. Byington, & J. A. Kmec. 2015. The Impacts of Marriage on Academic Career Success: Differences by Gender and Disciplines. International Journal of Gender, Science and Technology 7(3): 369-392.
R&R manuscript:
Juraqulova, Z.H., J.J. McCluskey & R.C. Mittelhammer. Promotional Achievement Characteristics of Economists: Does Being Agricultural or Female Matter? Revise and Resubmit. Applied Economic Perspective and Policy Journal.
Publication in progress:
Bartlett, R.L., Z.H. Juraqulova & A.L. Ziegert. Creating Career Opportunities for Female Economists (CCOFFE): Team Mentoring and Its Long-Term Impacts.
Service
Professional Memberships
American Economic Association (AEA)
International Association for Feminist Economics (IAEFE)
Southern Economic Association (SEA)
Eastern Economic Association (EEA)
Central Eurasian Studies Society (CESS)
Sociologists for Women in Society