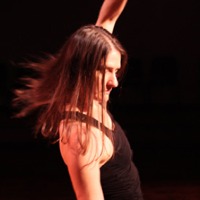 Sandra
Mathern-Smith
Biography
During her 32-years at Denison (1988-2020), Sandra was a teacher, choreographer and performer known for her innovative, cross disciplinary work in improvisation and collaboration, and her expertise as a performer. She taught our students, introducing many of them for the first time to post-modern dance, through her grounded, articulate, fluid, and often athletic contemporary dance technique, solo, duet, and group improvisation, performances in traditional and non-traditional spaces, choreography, and production. She was on the forefront of incorporating technology into her work, which has yielded dozens of cross/interdisciplinary collaborations in the dance field and on campus.
At Denison, Sandra choreographed 43 original works for student performance (many of these in unique site-specific locations across campus), and 38 professional works. She received 31 grants for choreographic research and production. Significantly, in 2015 Sandy initiated and led a faculty exploratory trip and four student travel seminars to Sri Lanka. These have resulted in a rich and broad-ranging partnership with Sri Lankan artists and scholars that continues to impact Denison and our Dance alumni.
Sandra's work has been supported and presented in the US and internationally, including artistic residencies at the Camac Centre D'Art (France), Atlantic Center for the Arts (Florida), and Chulitna Lodge Research Institute (Alaska). She was Visiting Scholar at the University of Visual and Performing Arts (Colombo) and Guest Artist at Geothe-Institut Choreography Camp (Kalpitiya). Her work has been performed at the Nomad Express International Multi-Arts Festival (Burkina Faso), where she was a guest teacher and mentor, at Dartington College of Arts (England), the Marnay Art Centre (France), as well as across the US.
Sandra is a recipient of a Fulbright Scholar Award from the US State Department, an Individual Excellence Award in Choreography from the Ohio Arts Council, and has twice received Ohio Individual Artist Fellowships in Choreography.
Degree(s)
B.A., Dance, Portland State University; M.F.A., Dance, University of Wisconsin, Madison