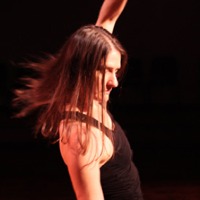 Sandra
Mathern-Smith
Biography
Sandra Mathern-Smith is a teacher, choreographer and performer committed to working collaboratively with artists and dancers through improvisation. She has worked with veteran improvisers Peter Bingham, Karen Nelson, K. J. Holmes, Chris Aiken, Rebecca Bryant, and David Beadle, as well as Butoh artist Katsura Kan. Her study of improvisation, including Contact Improvisation, Authentic Movement and Ensemble Thinking, is influenced by artist/teachers Nancy Stark Smith, Julyen Hamilton, Andrew Harwood, Nina Martin, Deborah Hay, and Barbara Dilley. Sandra's work often incorporates video-projected backdrops, live music and poetic text, in partnership with colleagues from an array of disciplines.
Sandra has completed artistic residencies at the Camac Centre D'Art (France), the Atlantic Center for the Arts (Florida), and Chulitna Lodge Research Institute (Alaska). Her work has been performed at the Nomad Express International Multi-Arts Festival (Burkina Faso), Dartington College of Arts (England), in Marnay-sur-Seine (France), the Conduit Dance Guest Series (Oregon), Texas Dance Improvisation Festival, RAD Festival (Michigan), and elsewhere. At Denison University, Sandra is Professor and Chair of Dance, where she teaches modern/postmodern technique, improvisation, performance, choreography and production, and courses in collaborative art using interactive technologies. During summers, Sandra has lead annual Denison student travel seminars to Sri Lanka and was a Visiting Scholar at the University of Visual and Performing Arts (Colombo) and guest artist at the Geothe Institut Sri Lanka Choreography Camp (Kalpitiya), fall 2017.
Sandra has received a Fulbright Scholar Award from the US State Department, an Individual Excellence Award in Choreography from the Ohio Arts Council, has twice received an Ohio Individual Artist Fellowship in Choreography, and has been awarded over 25 grants from the Ohio Arts Council, Arts Midwest, Target Foundation, Greater Columbus Arts Council, Wisconsin Arts Board, and the Portland Metropolitan Arts Commission, among others.
Degree(s)
B.A., Dance, Portland State University; M.F.A., Dance, University of Wisconsin, Madison