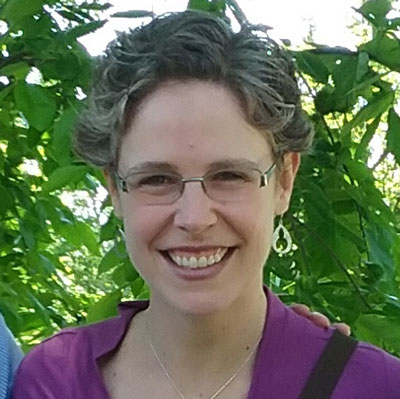 Megan
Threlkeld
Biography
As a graduate of a small liberal arts college (Lawrence University, in Appleton, Wisconsin) and a lifelong Midwesterner, I am delighted to be at Denison, where I enjoy working closely with students and colleagues from across campus.
Degree(s)
B.A., Lawrence University; M.A., Ph.D., University of Iowa
Learning & Teaching
Courses
W101 (First-Year Writing Workshop): Whose History?
HIST 192/WGST 223: U.S. Women's History
HIST 195: The U.S. and the World, 1890-present
HIST 205: The Titanic in History and Memory
HIST 205: Protests of the 1960s
HIST 392/BLST 332: The Fourteenth Amendment and the Meanings of Equality
HIST 430 (Senior Seminar): The United States Becomes a World Power, 1890-1950
AC 101: Advising Circle
Academic Positions
Professor of History, 2020-present
Associate Professor of History, 2014-2020
Assistant Professor of History, 2008-2014
Research
Details
For the last fifteen years I have been a historian of U.S. women's international activism. My first book examined U.S. and Mexican women's efforts at cooperation in the era of the Mexican Revolution. My second, which will be published in 2022, analyzes what women in the first half of the twentieth century meant when they called themselves "citizens of the world." I argue that when they used the language of citizenship on the global stage, they were demanding the right to participate in shaping a world government that would end war among nations and, they believed, secure greater equality for women.
Over the last few years I have also developed a strong interest in U.S. legal history, especially constitutional history. Since 2014 I have taught an upper-level course on the Fourteenth Amendment, and I have published articles in the Journal of Supreme Court History and the Journal of Policy History on court cases related to conscientious objection to military service. Those cases in turn have inspired me to examine broader legal challenges to the draft during the Vietnam era. I will spend a sabbatical year in 2021-2022 pursuing research on this topic.
Works
Publications
Citizens of the World: U.S. Women and Global Government, 1900-1950 (forthcoming in Spring 2022 from University of Pennsylvania Press).
"Women's Politics in International Context," in America in the World, 1900-1945, eds. Brooke L. Blower and Andrew Preston, vol. 3 of The Cambridge History of America in the World, ed. Mark Philip Bradley (forthcoming in 2021 from Cambridge University Press), 360–380.
"'The War Power is Not a Blank Check': The Supreme Court and Conscientious Objection, 1917-1973," Journal of Policy History 31, no. 3 (July 2019): 303–25.
"'Chaos, War, or a New World Order?' A Radical Vision of Peace and World Government in the 1930s," Peace & Change 43, no. 4 (October 2018): 473–97.
"Education for Pax Americana: The Limits of Internationalism in Progressive-Era Peace Education," History of Education Quarterly 57, no. 4 (November 2017): 515–41.
"Twenty Years of Worlds of Women: Leila Rupp's Impact on the History of U.S. Women's Internationalism," History Compass 15, no. 6 (June 2017). doi: 10.1111/hic3.12381.
"Citizenship, Gender, and Conscience: United States v. Schwimmer," Journal of Supreme Court History 40, no. 2 (July 2015): 154–71.
Pan American Women: U.S. Internationalists and Revolutionary Mexico (University of Pennsylvania Press, 2014).
"How to 'Make This Pan American Thing Go'? Interwar Debates on U.S. Women's Activism in the Western Hemisphere," in Women and Transnational Activism in Historical Perspective, eds. Kim Jensen and Erika Kuhlman (Republic of Letters, 2010), 173–92.
"The Pan American Conference of Women, 1922: Successful Suffragists Turn to International Relations," Diplomatic History 31, no. 5 (November 2007): 801­–28.
Service
Professional Memberships
American Historical Association
Organization of American Historians
Coordinating Council for Women in History
Society for Historians of American Foreign Relations
American Society for Legal History
Professional Service (includes Denison Service)
Dissertation Prize Committee, Society for Historians of American Foreign Relations, 2020-2023
Council, Society for Historians of the Gilded Age and Progressive Era, 2020-2023
Early Career Faculty Mentor (Denison), 2019-2021
Student Research Grants Committee (Denison), 2018-2021
Director of the Denison Writing Program, 2016-2019
Book Review Editor, Women and Social Movements, 2014-2019
Other
Grants & Funding
R.C. Good Faculty Fellowship, Denison University, 2021-2022
Denison University Research Foundation Grant, 2019
R.C. Good Faculty Fellowship, Denison University, 2014-2015
Short Term Research Fellowship, New York Public Library, 2014
Denison University Research Foundation Grant, 2014
Faculty Research Grant, Ohio Academy of History, 2011
Samuel Flagg Bemis Faculty Research Grant, Society for Historians of American Foreign Relations, 2009
Honors & Awards
Michael G. and Barbara W. Rahal Endowed Professorship (2020-2025)
Student Collaborations
2020-2021:
Noelle Boyages, "African American Women and Title IX: Where is Title VI?" (Senior Research)
2017-2018
Sharon Kane, "College Women and Suffrage" (Senior Research)
Katie Landoll, "Denison in the Cold War World" (Senior Research)
2016-2017
Sharon Kane, "'The Stabilizing Core of Society': Domestic Ideology in Suffrage and Anti-Suffrage Plays" (Summer Research)
Rachael Barrett, "'They Don't Ask Us to Speak': Agency and Alliances in Progressive-Era Garment Workers' Strikes, 1909-1912" (Senior Research)
Amanda Felizardo, "World War II American Fashion: Patriotism, Femininity, and Agency" (Senior Research)
Grace Gilbert, "Sarah Grimké's Rhetoric: Religion, Abolition, and Marriage" (Senior Research)
2015-2016
Rachael Barrett, "The Fight for Married Women's Employment During the Great Depression" (Summer Research)
2013-2014
Allie Colina, "Flappers: A Social History of Young Women in the 1920s" (Senior Research)
Michaela Grenier, "Gender Equality for Whom? Analyzing Race in Women's Rights Activism in Norway" (Senior Research)
2012-2013
Hannah Fogt, "Analysis of Changes in Marital Rape Attitudes from the 1970s to 1990s" (Senior Research)
2011-2012
Hannah Miller, "Framing the First Ladies: An Analysis of Media, Power, and Womanhood" (Senior Research)
2009-2010
Aaron Babcock, "'In Their Image': Manifest Destiny and the American Mission in the Marshall Plan" (Summer Research)
Natalie Gross, "Genocide Unchecked: Passive U.S. Responses to the Mass Killings in Bosnia and Rwanda" (Senior Research)
Patrick Hewitt, "From Mixed-Use to Single-Use and Back: The Evolution of Columbus City Plans" (Senior Research)
Krista Slavicek, "The Temperance Movement: An Attack on Working-Class Culture and Institutions" (Senior Research)
2008-2009
Jane-Coleman Harbison, "Rhetoric and Spectacle: The Intersection Between Culture and Imperialism at the 1931 Paris Colonial Exposition" (Summer Research)
Kelli Housley, "Theodore Roosevelt and the Politics of Conservation" (Senior Research)