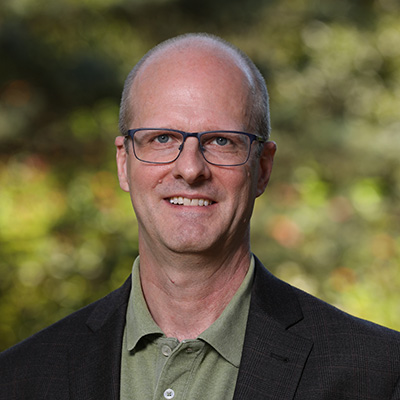 Jeff
Thompson
Dean of the Faculty
Professor of Biology
Tight Family Chair in the Natural Sciences
Degree(s)
B.A., Kalamazoo College; Ph.D., University of California, Los Angeles
Learning & Teaching
Academic Positions
Interim Dean of the Faculty, 2022-present
Professor, Department of Biology at Denison University, 2020-present
Associate Professor, Department of Biology at Denison University, 2009-2020
Assistant Professor, Department of Biology at Denison University, 2003-2009
Assistant Professor, Department of Biology at Georgian Court College, Lakewood, NJ, 1998-2003
Adjunct Instructor, Science Division at Anne Arundel Community College, Arnold, MD, 1997-1998
Postdoctoral Research Fellow, Department of Medicine at The Johns Hopkins University School of Medicine, Baltimore, MD, 1994-1998
Research
Molecular Geneticist — Investigations into epigenetic responses to DNA damage, using the yeast Saccharomyces cerevisiae as a model system.
Details
My research interests revolve around a branch of genetics called epigenetics. In short, epigenetics refers to non-DNA- based inheritable information that operates above-and- beyond the genetic instructions contained in cells. While genes serve as "recipes" to execute all cellular functions, epigenetic instructions can be thought of as "party planning guides", directing cells to effectively utilize specific genes based on environmental conditions. Since epigenetic instructions are inheritable, it means that offspring cells have the potential to "learn" how to best use their genes based on the environmental experiences of their "mother" cells. My lab is specifically interested in how epigenetic phenomena influence the response to DNA damage. We have found that yeast cells which survive a DNA damaging event give rise to offspring cells that are hyper-resistant to subsequent DNA damage. This suggests that epigenetic instructions are passed from "mother" to "daughter" cells to enable them to better cope with damage. We make use of various genetic and molecular techniques to identify and characterize the nature of these epigenetic instructions, and to understand the manner by which they influence DNA damage response processes.
Undergraduate research students play an integral role in my laboratory. Ranging from single summer experiences to multi-year efforts culminating in senior research projects, student researchers are active participants in pursuing the questions that my lab is investigating. Students who make substantial contributions to our research have the opportunity to present their work at professional conferences and to be co-authors on published papers. Anyone interested in pursuing research in my lab should contact me early in the fall semester prior to the year in which they are interested in doing research to discuss potential opportunities.
Past Lab Members:
Bhavana Huliyar (2022)
Lillian Morrow (2021-2022)
Claire Larsen (2018-2021)
Isabel Wellik (2020-2021)
Rachel Reardon (2016-2019)
Amanda Walsh (2016-2019)
LauraAnn Schmidberger (2016-2018)
Sarah Higdon (2015-2016)
Rachel Hoffman (2015-2016)
Elizabeth Bailey (2014-2015)
Sara Wilkes (2014-2015)
Andrea Karl (2013-2014)
Liesje Steenkiste (2013-2014)
Marguerite Strong (2013)
Arron Cole (2010-2013)
Jono Turchetta (2012-2013)
Dora Vines (2012-2013)
Tom Snee (2012)
Anna Boudoures (2010-2012)
Jacob Pfeil (2010-2012)
John Snee (2010)
Alyssa Rossodivita (2008-2010)
Megan Ansbro (2008-2009)
Jon Mecoli (2007-2009)
Ariel Lee (2007-2008)
Tasha Strande (2007-2008)
Ashley Albrecht (2006-2007)
Maggie Evans (2006-2007)
Andrew Keller (2005-2006)
Arzu Arat (2005)
Lindsey Bostelman (2004-2005)
Katie McHugh (2004-2005)
Leigh Stone (2004-2005)
Works
Publications
(principal investigator in regard to publications below; see resume for complete publication list)
* indicates undergraduate student co-author
Service
Professional Memberships
American Association for the Advancement of Science (since 2017)
Genomics Education Partnership (since 2007)
Sigma Xi Scientific Research Society (since 2007)
Genetics Society of America (since 2000)
Beta Beta Beta Biology Honor Society (since 1998)
Phi Beta Kappa (since 1988)
Professional Service (includes Denison Service)
Faculty Leadership Group (2020-present)
Chair of the Faculty (2021-2022)
President's Medalist Selection Committee (2020-2022)
Vice-Chair of the Faculty (2020-2021)
Senior Administrative Review Committee, chair, (2020-2021)
COVID-19 Response Team (2020)
Denison University Biological Society faculty coordinator, (2019-2022)
General Education Competency Committee (2017-2020)
Biology Department Chair (2013-2016)
Finance Committee (2012-2014, vice-chair 2012-2013, chair 2013-2014)
Phi Beta Kappa, President of Theta of Ohio Chapter (2007-2013)
Sigma Xi Chapter member (since 2007, Vice President 2013-2016, President 2019-present)
Faculty Development Committee (2010-2013, chair 2012-2013)
Anderson Scholarship Selection Committee (2007-2008, 2010, 2019)
Board of Trustees Student Affairs Committee (2008-2009)
Denison Scientific Association co-organizer (2008-2009)
Board of Academic Integrity (2007-2009)
Campus Affairs Council (2007-2009)
Board of Trustees Enrollment Committee (2005-2007)
Other
Grants & Funding
Denison University Research Foundation Grant, 2020; $6,347
Denison University Research Foundation Grant, 2017; $9,362
National Institutes of Health R15 Academic Research Enhancement Award (1R15GM093849-01), 2010-2013; $317,852
Great Lakes Colleges Association New Directions Grant, 2010 (co-written with Jessen Havill); $3,765
Denison University Research Foundation Grant, 2010; $5,506
Denison University Research Foundation Grant, 2009; $1,474
Denison University Research Foundation Grant, 2006; $6,329
Honors & Awards
Tight Family Chair in the Natural Sciences, 2019-2024
R.C. Good Faculty Fellowship, 2016-2017