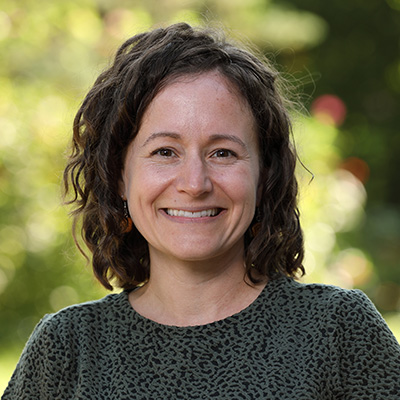 Emily Nemeth

'04
Associate Professor
Chair of Educational Studies
Biography
Emily A. Nemeth is an Associate Professor and Chair of the Department of Education at Denison University. She teaches courses on early, adolescent, and community literacies, teaching and social change, gender and sexuality, and qualitative research methodologies.
Nemeth's research explores the intersection of literacies and engaged pedagogies within school and community spaces. Her work focuses on and honors the literacies that are leveraged, co-created, and expressed in social justice efforts among young people and adults, as well as the learning spaces that facilitate and constrain these efforts. Relatedly, her publications have focused on the textual resources and learning opportunities of critical service-learning, emergent communities of practice in problem-posing education, and more recently, the role out of school time programs in strengthening anti-bias education.
She is a co-author of Where Is the Justice? Engaged Pedagogies in Schools and Communities (Teachers College Press; 2021); and co-editor of Pursuit of Liberation: Critical Service-Learning as Capacity Building for Historicized, Humanizing, and Embodied Action (Information Age Publishing, 2022).
Nemeth's research has appeared in the Journal of Community Engagement and Scholarship, Theory Into Practice, eJournal of Public Affairs, Practical Literacy, and Journal of Literacy Research.
Emily is slowly learning to play the piano and loves spending time outside with friends and family.
Degree(s)
B.A., Denison University; M.Ed., University of Massachusetts Amherst; Ph.D., The Ohio State University
Learning & Teaching
Courses
EDUC 290: Qualitative Inquiry
EDUC 312: Literacy and Learning
EDUC 330/QS 330: LGBTQ+ Identities In and Beyond Schools
EDUC 345: Language, Literacy, and the Politics of Prose
EDUC/BLST/WGST 390: Critical Pedagogies
EDUC 421: Senior Seminar
QS 101: Introduction to Queer Studies
Works
Publications
Nemeth, E. & Hill, H. (2021). Visions of childhood, notions of rurality, and anti-bias education: Emerging educators strive for praxis. Journal of Community Engagement and Scholarship.
Nemeth, E. (2019). From community garden to classroom and back again: Nurturing literacy through contextualized learning. Practical Literacy: The Early and Primary Years, 24(2), 21-23.
Patterson, A., Kinloch, V., & Nemeth, E. (2017). The stories they tell: Giving, receiving, and engaged scholarship with/in urban communities. eJournal of Public Affairs, 6(2), pp. 12-30.
Nemeth, E. A. & Winterbottom, C. (2016). Communities of practice: Youth and social justice service-learning. In A. S. Tinkler, B. E. Tinkler, V. M. Jagla & J. R. Strait (Eds). Service Learning to Advance Justice in a Time of Radical Inequality, pp. 299-319. Information Age Publishing.
Nemeth, E. (2016). Interweaving communities: The push and pull of literature in critical service-learning work. In C. Winterbottom & V. Lake (Eds.), Praxeological Learning: Service-Learning in Teacher Education, pp. 27-49. Nova Publishers.
Nemeth, E., & Graves, K. (2016). E.D. Hirsch, Jr., Cultural Literacy: What Every American Needs to Know (1987). In Joseph L. DeVitis (Ed.), Contemporary Educational Classics: A Reader, pp. 173-183. Peter Lang Publishing.
**2016 Critics Choice Book Award, American Educational Studies Association
Kinloch, V., Nemeth, E., & Patterson, A. (2015). Reframing service-learning as learning and participation with urban youth. Theory into Practice, 54(1), 39-46.
Blackburn, M. V., Clark, T. C., & Nemeth, E. A. (2015). Examining queer elements and ideologies in LGBT-themed literature: What queer literature can offer young adult readers. Journal of Literacy Research, 47(1), 11-48.
Nemeth, E., Kinloch, V., Butler, T., Washington, T. & Reed, P. (2014). Transformative service-learning initiatives in urban schools and local communities: Learning from challenges. In V. Kinloch & P. Smagorinsky (Eds.). Service-Learning in Literacy Education: Possibilities for Teaching and Learning, pp. 3-26. Information Age Publishing.
Service
Professional Memberships
Board Member, Secretary: Children's Defense Fund's Freedom Schools of Licking County
Board Member, Secretary: The Freedom School in Licking County
Vice Program Chair: Experiential Education and Community Engagement: Scholarship and Practice SIG within the American Educational Research Association