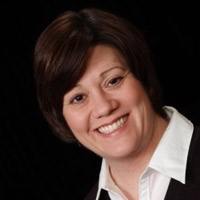 Susan
Larson
Biography
Susan Larson is the founder and artistic director of the Newark-Granville Youth Symphony. From 2006 to 2010 Ms. Larson was Director of Orchestras for the Newark City Schools in Newark, Ohio. In 2009 her string orchestra, the Newark High School Sinfonia, was awarded first runner up for the National Orchestra Cup at Lincoln Center. This honor earned her orchestra a front page story in the New York Times and an invitation to the White House. The Newark-Granville Youth Symphony was chosen to perform at the John F Kennedy Center in 2011 and for the Ohio Music Educators Association Convention in 2009. Susan previously taught for 15 years as Director of Orchestras for the Bexley City School District, during which time her orchestras also won national recognition and invitations to perform at the White House, London, England, and at international orchestra festivals. The Bexley Elementary Honors Orchestra and Middle School Orchestras, under the direction of Ms. Larson, were also chosen to perform for the Ohio Music Educators Association Convention in 1994 and 1998.
Ms. Larson has been a clinician and conductor for school ensembles throughout Ohio. She is on the board of the Ohio String Teachers Association and is a member of the National Conductors Guild, the Ohio Music Educators Association and the Suzuki Association of the Americas. Susan currently is a violin, viola and chamber music instructor for the Denison University Suzuki Program. She has also served as conductor of Women in Music Symphony Orchestra and as music director for productions at Otterbein College.
As an active professional violinist, Susan has performed with the Akron Symphony Orchestra, Canton Symphony Orchestra, Ohio Light Opera, Westerville Civic Symphony, the Blossom Music Festival, and the Si Yo Chamber Music Society. She has also performed on stage with Barry Manilow, Barry White, the Electric Light Orchestra, the Trans-Siberian Orchestra, The Moody Blues, and Gene Bertoncini. Ms. Larson is currently a member of the Newark-Granville Symphony Orchestra.
Susan Larson earned her BS in Music Education and violin performance at Kent State University, with violin studies under Ma Si-Hon and Stephanie Sant'Ambrosio. Her graduate work has been at The Ohio State University and the University of Wisconsin.