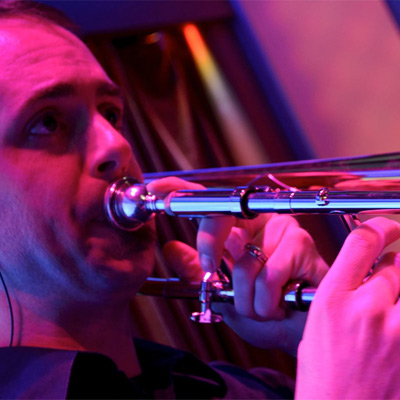 Ryan
Hamilton
Affiliated Studio Instructor - Low Brass, Brass Ensemble
Biography
Ryan is a versatile and active trombonist and educator. A former member of the Glenn Miller Orchestra, he currently is a member and soloist with the Columbus Jazz Orchestra. He can be heard as a soloist on their latest recording, Come Together.
He is also a member of the Cathedral Brass Ensemble, Vaughn Wiester's Famous Jazz Orchestra, Yumbambe, as well as his own trio/quartet. In addition he performs with the HooDoo Soul Band and pit orchestras of Broadway Columbus; has shared the stage with such performers as Frankie Valli, Bill Dobbins, Johnny Mathis, Spoon, the Temptations, Jiggs Whigham, and the O'Jays; and world tours with the Guy Lombardo Orchestra. You can hear him as a soloist on a recent recording by Still Motion, in addition to recordings by the Glenn Miller Orchestra, Wet Darlings, New Basics Brass Band, Jesse Henry, and the Famous Jazz Orchestra.
As an educator he teaches low brass and jazz trombone studies at Denison. He also teaches jazz trombone and jazz studies at Capital University and jazz trombone at Otterbein University. He is also the director of the Columbus Youth Jazz Workshop, an honors ensemble for young jazz musicians. In the summer he is on faculty at the annual Miami Valley Jazz Camp. Previous teaching positions include at Kenyon College, Mount Vernon Nazarene University, and as jazz faculty at Music For All's Summer Symposium.