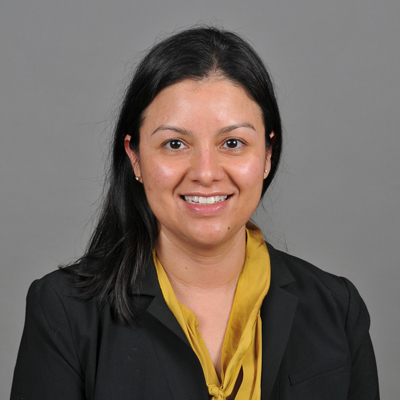 Melissa
Huerta
Biography
Melissa Huerta joined Denison's Department of Modern Languages in 2014. Huerta teaches courses on the Spanish language as well as Latin American and Latinx culture and literature. Her research explores Latina/x Cultural experiences and representation in theatre, performance, and television. She has published in Modern Drama and Chicana/Latina Studies: The Journal of MALCS. Huerta's current research focuses on the representation of Latina/x reproductive decision-making in popular culture, such as theatre and television. 
Degree(s)
B.A., University of Minnesota, Twin Cities; M.A., Marquette University; Ph.D. University of Illinois, Chicago
Learning & Teaching
Courses
SPAN 112, Second Semester Spanish
SPAN 211 Third Semester Spanish
SPAN 213, Oral Communication Skills
SPAN 220, Introduction to Literary Analysis
SPAN 325, Survey of Latin American Literature
SPAN 335, Survey of Latin American Culture
SPAN 425, Seminar in Latin American Literature
SPAN 435, Seminar in Latin American Culture
LACS 201: Introduction to Latin American and Caribbean Studies
Research
Domestic Latino/a studies with an emphasis on the intersections of race, class, language, gender, and sexuality in Latina theatre and performance.
Works
Publications
Articles
"Latina/x Abortion Narratives in Popular Culture." Forum: Roe vs Wade at 50, Rachel Weingarten, editor. Feminist Studies, 48:3 2023
"Writing and Staging Our Latinx Bodies: Utopian Performatives in Teatro Luna." Modern Drama, 64 (1), pp. 88–108, 2021.
"Reading Audiences, Reading Materials: Reception in Tanya Saracho's El Nogalar." Aletria, Belo Horizonte, v. 29, n. 1, p. 53-72, 2019.
"Time to Speak Out:" Towards Conocimiento in Tanya Saracho's Kita y Fernanda. Chicana/Latina Studies: The Journal of Mujeres Activas en Letras y Cambio Social. Vol. 17, Issue 2, Spring 2018.
Book Chapters
"This is how I was born on the operating table of an abortion clinic:" Coatlicue State and Reproductive Decision-Making in Teatro Luna." Representing Abortion, ed. Rachel A. Johnston Hurst. London: Routledge, 2020.
"Between and Beyond the Mediated and the Material in Teatro Luna's Generation Sex." Latina Outsiders: Remaking Latina Identity, ed. Grisel Y. Acosta. London: Routledge, 2019. 99-105.
Books
Representing Latina/x Reproductive Decision-Making. Lanham: Lexington Book, 2022.
Reference Entry
"Cherríe Moraga." 50 Key Latin American and Latinx Theatre Artists, eds. Paola Hernandez and Analola Santana. London: Routledge, 2022