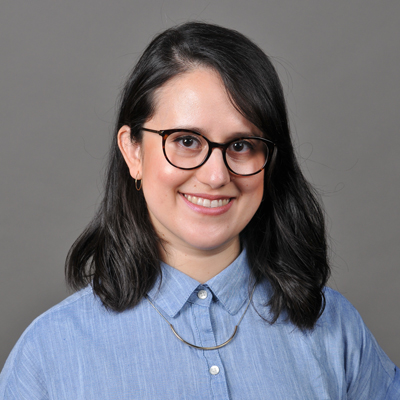 Julia
Fernandez
Biography
Julia Fernandez joined the department of Art History and Visual Culture in 2020. Her research focuses on modern and contemporary Latinx and Latin American art with a special interest in the graphic arts and connecting crosscultural and transnational solidarity networks. Her current manuscript analyzes the creation of transnational artistic networks among U.S. and Mexican artists in the early to mid 20th century from global art historical perspective, focusing on the legacy of the Taller de Gráfica Popular in the Chicano and Black Freedom Movements during the 1960s and 70s.
She has curated and co-curated exhibitions at the UCLA Chicano Studies Research Center, LA Plaza de Cultura y Artes in Los Angeles, California, and UC San Diego's University Art Gallery in La Jolla, California. She was a 2014 Smithsonian Latino Museum Studies Program fellow—working alongside Taína Caragol at the National Portrait Gallery, for the exhibition "One Life: Dolores Huerta," and Research Assistant for the traveling exhibition Dolores Huerta: Revolution in the Fields/Revolución en los Campos for Smithsonian Institution Traveling Exhibition Service (SITES).
Fernandez has presented her academic work in various professional conferences including the College Art Association (CAA) Conference, the Latino Art Now! Conference, the Conference of Ford Fellows, PCA/ACA (Popular Culture Association/American Culture Association) National Conference, Open Engagement, and the Mujeres Activas en Letras y Cambio Social (MALCS) Summer Institute. She was also invited to speak at the Smithsonian American Art Museum, for a scholarly Symposium in conjunction with the exhibition Tamayo: The New York Years, organized and curated by E. Carmen Ramos in 2017. Fernandez's research and work are funded by the Mellon Mays Undergraduate Fellowship, Social Science Research Council, Ford Foundation Predoctoral Fellowship, and the Luce/ACLS Dissertation Fellowship for American Art.
At Denison, Professor Fernandez is passionate about connecting works of art with social events from the past and present. Students in her classes utilize social history and formal analysis to uncover disregarded or erased histories. Often focusing on public mediums, Professor Fernandez encourages her students to trace artistic networks that traverse spatial and temporal boundaries.
Degree(s)
B.A. Art History, University of California, Los Angeles; M.A., Ph.D. Art History, Theory, and Criticism, University of California, San Diego
Learning & Teaching
Courses
AHVC 141/LACS 141: Latin American Art and Visual Culture
AHVC 240/LACS 200-02: Chicano/a/x Art
AHVC 240/LACS 200-02: Mexican Art Across Borders
AHVC 213/LACS 200-02/WGST 213: Women Artists in the Movement
AHVC 310/LACS 310/BLST 310: History of Radical Printmaking