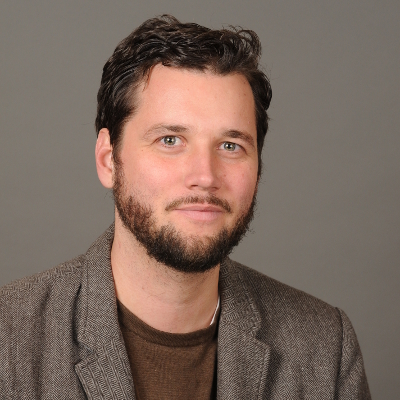 Jesse
Schlotterbeck
Biography
Jesse Schlotterbeck received his Ph.D. in Film Studies from the University of Iowa in 2010 and began a tenure-track appointment with the Cinema Department in 2011. His research focuses on American film genres – in particular, the musical, the biopic, and film noir. The Spring 2020 semester he is teaching Film Aesthetics and Analysis (CINE 104) and Documentary Film and Media (NJ 250).
The British Film Institute/Palgrave anthology Schlotterbeck contributed to (Howard Hawks: New Perspectives, edited by Ian Brookes) was short-listed for the Kraszna-Krausz Foundation's Best Moving Image Book Award in 2017. Most recently, he co-edited a special issue of Film Criticism (October 2017) on the Romanian New Wave.
His publications in print include:
"Adapting an 'American' Football Biopic: Knute Rockne: All American." In Sport, Film, and National Culture, edited by Sean Crosson, 21-31. London: Routledge, 2020.
"A Different Kind of Rock Doc: Performance, Persona, and Stardom in Anvil! The Story of Anvil and Last Days Here." In Heavy Metal at the Movies, edited by Gerd Bayer, 37-50. London: Routledge, 2019.
"The 'House of Death' in Print and On-Screen: Double Indemnity as Journalism, Fiction, and Film" in Film Noir Prototypes: Origins of the Movement, edited by Alain Silver and James Ursini, 320-335. Milwaukee, WI: Applause, 2018.
"'The Dynamism of Violent Death': Low-Key Lighting, Censorship, and Violence in Film Noir." In Film Noir: Light and Shadow, edited by Alain Silver and James Ursini, 308-315. Milwaukee, WI: Applause, 2017.
"A Hard Day's Night as a Post-Studio Era Musical Biopic." Quarterly Review of Film and Video 33, no. 6 (April 2016): 567-579.
"Hawks's 'Unhawksian' Biopic: Sergeant York." In Howard Hawks: New Perspectives, edited by Ian Brookes, 67-81. London: BFI/Palgrave, 2016.
"Masculinity, Race, and the Blues in the Bizpic Cadillac Records." In Anxiety Muted: American Film Music in a Suburban Age, edited by Tony Bushard and Stanley Pelkey, 188-204. London: Oxford University Press, 2014.
"I'm Not There: Transcendent Thanatography." In The Biopic in Contemporary Film Culture, edited by Tom Brown and Belén Vidal, 227-242. London: Routledge, 2013.
"Radio Noir in the USA." In A Companion to Film Noir, edited by Helen Hanson and Andrew Spicer, 423-439. London: Blackwell, 2013.
"The 'Split' Biography: Man in the Mirror: The Michael Jackson Story." In Michael Jackson: Grasping the Spectacle, edited by Chris Smit, 67-80. Burlington, VT: Routledge/Ashgate, 2012.
"Documenting Horror: The Use of Sound in Non-Fiction 9/11 Films." Altre Modernità (September 2011) (online)
"Killing Noir? – The Adaptation of Robert Siodmak's The Killers to Radio." Journal of Adaptation in Film and Performance 3, no. 1 (March 2010): 59-70.
"Non-Urban Noirs: Rural Space in Moonrise, On Dangerous Ground, Thieves' Highway, and They Live by Night." M/C – A Journal of Media and Culture 11, no. 5 (October 2008) (online)
"What Happens When Real People Start Getting Cinematic? Laguna Beach and Contemporary T.V. Aesthetics." Scope: An Online Journal of Film and Television Studies, no. 12 (October 2008) (online)
"Trying to Find a Heartbeat: Narrative Songs in the Pop Performer Biopic." Journal of Popular Film and Television 36, no. 2 (Summer 2008): 82-90.
Additional essays appear in Film Noir: The Directors (Limelight, 2012), Movies in American History: An Encyclopedia, and The Concise Routledge Encyclopedia of the Documentary Film. 
Dr. Schlotterbeck has served on the Student Research Grants Committee and the Academic Standing Board at Denison. He has also worked as a June Orientation faculty advisor, a meditation instructor at The Open House, a planner and leader for the Philadelphia Arts pre-orientation trip, and as a group facilitator for the Restorative Justice initiative.
Degree(s)
B.A., Oberlin College; M.A., Ph.D., University of Iowa