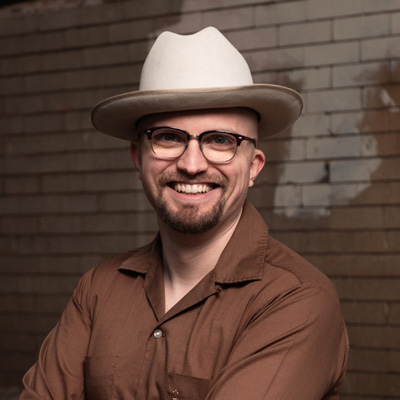 Hayes Griffin

'10
Affiliated Studio Instructor - Banjo, Mandolin
Biography
Hayes Griffin is a multi-instrumentalist and music educator living in Columbus, OH. Hayes holds degrees in music from Denison University (2010) and New England Conservatory of Music (2012), where he studied under the direction of legendary mandolin pedagogue John McGann.
After graduating from NEC, Hayes spent over ten years on the road touring with Canadian fiddler April Verch, then progressive bluegrass band Newtown, whose album Harlan Road featured Griffin's guitar work and debuted at #8 on the Billboard Bluegrass Charts. During this time, Hayes taught hundreds of guitarists and mandolin players at camps and workshops across the United States, Canada, and Europe.
Additionally, Hayes made his mark in 2020 as one of the preeminent scholars of swing mandolinist Tiny Moore with the release of his Tiny Moore Tuesday series on YouTube. The same year, Hayes partnered with Swedish mandolinist/educator Magnus Zetterlund to become the second instructor on MandolinSecrets.com, where he serves an audience of thousands of musicians, exploring topics ranging from swing mandolin, bluegrass guitar, ear training, and mindfulness practices.
Hayes is a proud member of the GHS Strings Artist Family.
Degree(s)
B.A., Denison University; M.M, New England Conservatory of Music