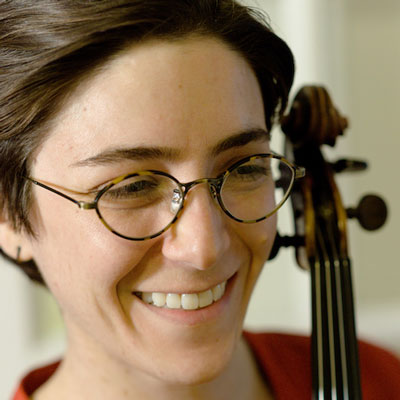 Hanna
Hurwitz
Assistant Professor
Coordinator of String Studies
Biography
Playing with "live-wire splendor" (The New York Times) violinist, Hanna Hurwitz, comes from a family of literary and performing artists. As a musician who equally enjoys performing classics of the repertoire as well as new music of our time, Hanna's recent activities have included performances with Ensemble Dal Niente, Argento Chamber Ensemble, Mivos Quartet, Lucerne Festival Academy, and Slee Sinfonietta. She is a performing artist at the Washington Island Music Festival, and has been a guest artist and member of resident chamber ensembles at international festivals such as the SoundSCAPE Festival in Italy, the Valencia International Performance Academy in Spain, the Ritsos Project in Greece, and the Festival Internacional Cervantino in Mexico.
Among her most recently undertakings, Hanna co-founded a new ensemble, the Zohn Collective. The group has already released a studio recording under the Oberlin Music label and has been awarded grants by the National Endowment for the Arts and the Mid Atlantic Arts Foundation. The group has also performed as resident ensemble at the Festival de Mayo in Mexico and expects a second recording release under Albany Records. In addition, Hanna can be heard as the featured violinist in both Cantos, the Bridge Records recording of music by Ricardo Zohn-Muldoon and in Diaries, the Urtext release of music by Carlos Sanchez-Gutierrez.
Hanna also enjoys an active and varied teaching career. Currently, she is Assistant Professor of Music and Coordinator of String Studies at Denison University. Previously, Hanna held positions at Northern Kentucky University and the University at Buffalo. She also served as Teaching Assistant to Charles Castleman at the Eastman School of Music, and Academic Assistant to the Miró Quartet at the University of Texas at Austin. Additionally, Hanna taught for two years at Buffalo String Works, a non-profit organization that provides free individual and group lessons to children of refugee families.
Degree(s)
Hanna holds a Bachelor's Degree and Performer's Certificate from the Eastman School of Music, a Master's Degree from The University of Texas at Austin, and a Doctorate of Musical Arts with a minor in Performance Psychology from the Eastman School of Music