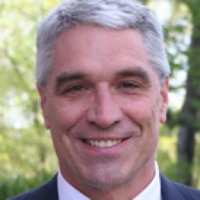 Gregg
Parini
Professor, Head Swimming Coach
Biography
Gregg Parini has been the head men's and women's swimming coach at Denison since the fall of 1987. Since taking over both Denison programs, Parini has gone on to build one of the most consistently successful programs in the history of Division III athletics.  Under Parini's watch his teams have captured three national championships, 13 national runner-up finishes in addition to Denison's current streak of 52 consecutive top-10 national finishes.
A nine-time NCAA National Coach of the Year, Parini's men's swimming & diving team won its second-consecutive Division III national championship in 2012, outdistancing second-place Kenyon by 81 points.  Over the course of the four-day meet, Denison's men set six NCAA Division III records.
In 2011 the men's team shocked the swimming & diving world when they snapped Kenyon College's 31-year streak of national championships.  The Big Red ended the streak by rallying from 36 points down on the final day only to win by one point, which was the closest finish in the history of the NCAA swimming & diving championship.
The national championship was the second of Parini's career.  The first came in 2001 when his women's squad snapped Kenyon's streak of 17-consecutive national titles in Buffalo, N.Y. In addition to his success in the coaching ranks, Parini's career as an educator and Associate Professor at Denison has been equally impressive.  In May of 2011 he was honored by the Collegiate Swimming Coaches Association of America as the recipient of the National Collegiate and Scholastic Trophy which is the highest award bestowed by the CSCAA.  In 2007 he was awarded the Charles A. Brickman Teaching Excellence Award which is given annually to one faculty member who has demonstrated a vibrant interest in the learning process, as well as an understanding of teaching as a continuously evolving art form: someone who embraces the teaching and mentoring of students, not just as a profession, but as a calling.
Parini began his coaching career in 1984 as a volunteer assistant women's coach at Michigan State University where he earned his master's in counseling psychology. Since then he has held coaching positions for the Upper Arlington Swim Club, Mount Union College and East Lansing High School.
He is a 1982 graduate of Kenyon College where he was a member of Jim Steen's first national championship team in 1979. A tri-captain for the 1981-82 season, he led the team to its third NCAA crown in as many years. Parini was an 18-time All-American, a seven-time Division III National Champion, and left Kenyon with five national records. He was voted the team's most valuable swimmer in 1981 and Senior Athlete of the Year in 1982 by the Lords athletic department.  In 2002 he was inducted into Kenyon College's Athletic Hall of Fame.
In addition to his coaching efforts, Parini has also made an impact in the community of Granville. He is the founder, owner and director of The Swimming Clinic, a clinic for age-group swimmers. He is a volunteer Youth Baseball and Hockey coach for both the Granville Recreation Commission and the Newark Ice Hockey Association. He has served as a Youth Group Leader for the Trinity Episcopal Church. Also in Granville, he is the co-founder and co-director of the Red, White and Hoops Basketball Tournament for the Granville Recreation Commission.
Parini is currently a member of the College Swimming Coaches Association of America, the American Swimming Coaches Association, United States Swimming and the National Interscholastic Swimming Coaches Association.
Degree(s)
B.A., Kenyon College; M.A., Michigan State University