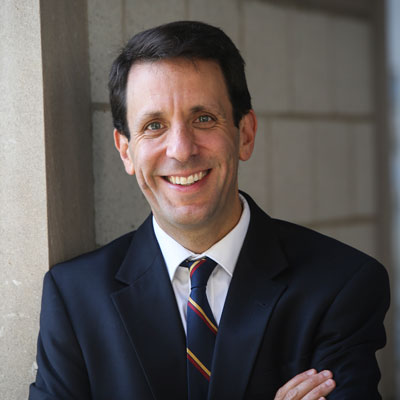 Adam J.
Davis
Professor
Director of the Lisska Center for Scholarly Engagement
Biography
Adam J. Davis is Professor of History and Director of Denison's Lisska Center for Scholarly Engagement, which serves as the campus hub for intellectual life, including supporting student and faculty research and those applying for competitive, national fellowships. During the 2017-18 academic year, he was a Visiting Fellow at Clare Hall, Cambridge University. He served as Chair of Denison's History Department from 2011-14, and held the William T. Utter/Clyde E. Williams, Jr. Endowed Professorship from 2012-18.
A historian of medieval Europe, Davis has wide-ranging interests in medieval ecclesiastical reform and religious life, medieval attitudes toward commerce, wealth, and poverty, and the history of charity and charitable institutions. He teaches survey courses on late antiquity and medieval Europe, as well as seminars on religion and society in medieval Europe; the Crusades; Jews and Christians in the Middle Ages; the twelfth-century Renaissance; and the history of the liberal arts from antiquity to the present. In 2016 he was awarded Denison University's Charles A. Brickman Teaching Excellence Award, "given each year to a faculty member who is a master craftsman in the profession."
Adam Davis's research explores the interplay between medieval ideas and institutions, social values and practices. His new book, The Medieval Economy of Salvation: Charity, Commerce, and the Rise of the Hospital (forthcoming from Cornell UP in December, 2019), explores the connection between the emergence of the medieval commercial economy and the rise of hospitals as new charitable institutions in the Latin West. It casts new light on the nature of Christian charity during Europe's first great age of commerce. His first book, The Holy Bureaucrat: Eudes Rigaud and Religious Reform in Thirteenth-Century Normandy (Cornell UP), brought together the intellectual and theological world of the University of Paris with the administrative and moral challenges a Franciscan archbishop faced while trying to reform the French clergy and laity. His recent publications include "Hospitals, Charity, and the Culture of Compassion," in Approaches to Poverty in Medieval Europe: Complexities, Contradictions, Transformations, c.1100-1500, ed. Sharon Farmer (Brepols, 2016); "The Social and Religious Meaning of Charity in Medieval Europe," History Compass 12.12 (December 2014); and "The Economic Power of a Hospital in Thirteenth-Century Provins," in Center and Periphery: Studies on Power in the Medieval World in Honor of William Chester Jordan, ed. Katherine L. Jansen, G. Geltner, and Anne E. Lester (Brill, 2013). His current research projects include a comparative study of medieval Jewish and Christian ideas about charity, wealth, and the afterlife; and a cultural and religious history of ambition in the medieval world. Davis has been the recipient of a year-long Fellowship from the National Endowment for the Humanities, a Bourse Chateaubriand (given by the French Embassy), two Robert C. Good Fellowships, as well as grants from the Mellon Foundation and the Lilly Endowment.
Degree(s)
B.A., Yale University; M.A., Ph.D., Princeton University