President's Speeches & Writings
Getting career exploration right: a whole-of-campus approach
October 9, 2017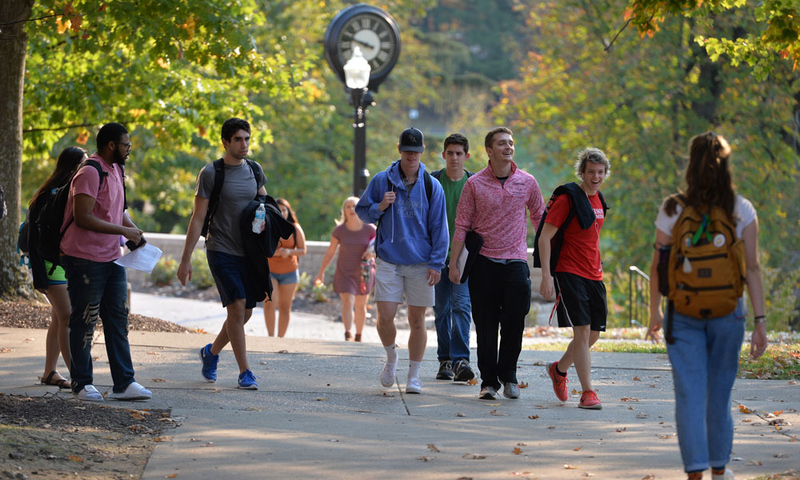 This article was originally published on LinkedIn.
Students come to college to learn how to be the architects of their lives. A great college education expands students' knowledge, opens their horizons, and tests and refines their aspirations. A transformative college education also gives students the skills, values, habits, networks and experiences needed to launch into successful lives.
Central to this process of building successful lives is the challenge of preparing students for careers and professions. What does it mean to be a college that gets this right?
Getting it right requires a whole-of-campus approach. We are talking about something bigger than career "services," which can be as simple as an office where a student can go their junior or senior year to find job leads and alumni connections.
Instead, we are talking about career exploration, a complex process that entails using part of a college experience to ask three interrelated questions:
What kind of life do I want to lead?
How do careers and professions fit into those lives?
How do I use my time in college to develop the skills, values, habits, experiences and networks to get started?
This work starts in the classroom with a grounding in the liberal arts, meaning an education that provides a depth and breadth of knowledge across the humanities, sciences and arts. A liberal arts education builds people who can communicate effectively, adapt in changing environments, work with diverse teams, engage in analytical and creative thinking, solve complex problems, and learn and synthesize new ideas. The skills, values and habits of the liberal arts are becoming more important (not less) as the professions are evolving. The need for these capacities is central and growing for every profession and organization.
A grounding in the liberal arts also opens students' world views, helping them understand the wide range of ways that people lead lives and build careers. When most students start college, they have a very limited scope of the true array of ways in which people live their lives. The liberal arts give students wide exposure to people, ideas, and cultures, as well as the tools to think anew for themselves. This potent combination opens options for them as they architect their own lives.
A recent Deloitte University Press study makes this point clear, arguing that the future of work will require curiosity, imagination, creativity, and social and emotional intelligence. Reading this report, like so many that have come out of consulting groups over the last few years, is like reading a description of a liberal arts education.
Students also need to have profession-specific skills. Organizations expect students to show up job- ready. This is true across the range of public and private sectors. At Denison, we did extensive research to better understand the professional pathways of our alumni. In particular, we have been using a five-year-out alumni survey to identify and focus on the gap our recent alumni are experiencing between the curriculum and career-launch readiness.
We are closing that gap in smart ways.
Academic programs are rooted in the liberal arts but also teach skills of great value in the workplace. And students at Denison also learn some profession-specific skills in programs like Global Commerce, Data Analytics, Financial Economics, Narrative Journalism, and Health, Exercise and Sport Studies.
Continually refining current academic programs in ways that connect the liberal arts to where the professions are going. For example, our Theatre Department has partnered with a professional theater company, Available Light, to hold master classes on campus. Our science departments are keenly aware of what students need for graduate school and are constantly refining the curriculum and summer research opportunities to meet those needs.
Core to all of this has been a campus-wide effort on mentorship. The Gallup-Purdue Index has found that students who have a mentor in college are twice as likely to be engaged professionally — which translates into being five times more likely to thrive in elements that shape well-being. We are working to define what kinds of mentorship matter and how different students need different kinds of mentors. We also are creating more pathways for students to find mentors early in their Denison experience.
This has become a focal point of our new Austin E. Knowlton Center for Career Exploration, which replaced our career services office. As I have written about elsewhere, the Knowlton Center is operating within a fresh framework. The focus is to:
Get students engaged early: Students need to see career exploration as a core co-curricular activity that should play a role at each step of their Denison experience.
Connect students with alumni and parents: Leverage our strong and loyal alumni and parent network to help students find coaches who can help them navigate internship and job search processes.
Use the entire 12 months: Capture the time between semesters (40% of the year) for internships, externships and career exploration programs.
Be prepared and close the gaps: Run programs, seminars, and workshops on skills needed to launch professionally. For example, through a Denison alumnus we worked with Collegis Education to develop a program called OnBoard that uses online modules to introduce students to 60 profession-specific skills.
Stick with them: Support students post-college through Denison Connecting — a program that offers real-time and virtual networking events in cities across the nation and abroad.
Knowledge gained during campus life has become our third major pillar supporting career exploration. This plays itself out differently given individual students' paths on campus. We are doing a lot of work with student organizations to help students develop good leadership and management skills. For example, we launched the Red Frame lab to help students learn to use design thinking to solve complex problems. Our athletic coaches have done a tremendous amount of work on mentorship to make sure students are learning good skills, values and habits as they participate in athletics.
Location also can matter. The energy and resources of an urban setting can provide big benefits for college students. The Columbus metropolitan region has become one of the fastest growing areas in the country. In response to a plethora of emerging opportunities, Denison has developed a new program called Radius that gives students opportunities to have internships in Columbus during the academic year. We also are working to better support faculty who want to embed Columbus excursions and projects into classes.
A final word: The reality is that students face a challenging job market. As the professions expand, students have more opportunities, but there also are bigger gaps between those who hit the on-ramps and those who miss them. Students need a more concerted effort by colleges to help them explore and launch. Getting this right requires a bigger vision than a single program or office can provide. It demands a comprehensive shift, involving the entire campus, to integrate career exploration thinking throughout the college experience.