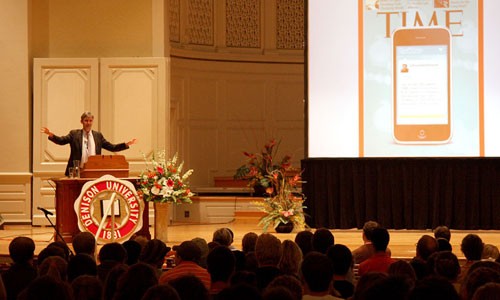 Dr. Conrad E. Ronneberg was a Professor of Chemistry at Denison University. He endowed the Ronneberg Lectureship in 1981 as a means to bring to campus outstanding scientists to lecture on a diverse range of topics. Dr. Ronneberg hoped these scientists would have real stature in the intellectual world and that they would increase the students' appreciation for science.
Historically, the Dr. Conrad E. Ronneberg Lecture Series has funded a mixture of well-known speakers for a larger audience and more specialized speakers for a smaller audience, often linked to specific science courses.
Procedures for Requesting Ronneberg Funds
Submit a proposal, that includes the following, via e-mail to the coordinator for the Ronneberg Lectureships.
Speaker's name & institutional affiliation & anticipated date(s) of the visit.
List of any classes or student groups he/she will likely visit.
If you plan to have the speaker give a "public" presentation, then list the potential topic and audience for this lecture (the audience can be students). A "public" event could be a brown bag lunch, an early evening talk, or some other format.
Name of faculty/department(s)/program(s) hosting the lecturer.
Include a budget with estimated costs for the portions of the visit that Ronneberg is asked to fund. This might include travel, lodging, and food for the speaker, meal or reception with students or faculty, and an honorarium. Ronneberg can partner with departments or programs to fund speakers.