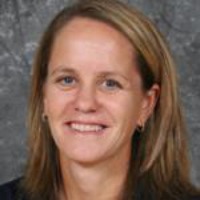 Sara
Lee
Professor, Senior Associate Director of Athletics
Head Women's Basketball Coach
Deputy Title IX Coordinator
Biography
Sara Lee has been at Denison University as a head coach since 1989. During her time she has served as both head women's basketball coach and head volleyball coach. She is currently the head women's basketball coach and Associate Director of Athletics.
Lee is Denison's all-time wins leader in both volleyball and women's basketball.  She is a multiple time winner of the North Coast Athletic Conference Coach of the Year award and her teams have been recognized on a national level on many occasions. In 2011, the Big Red completed the conference's first undefeated regular season (25-0) and went on to capture the 2011 NCAC Tournament for the sixth time out of the last seven seasons.  On Jan. 13, 2010 Lee recorded victory No. 300 of her career against Oberlin College.
In 1989 Lee came to Denison from Lake Erie College in Painesville, Ohio, where she was the head coach of women's volleyball, basketball and softball for two years. While at Lake Erie, she also served as the coordinator of women's athletics, an instructor of physical education, a residence hall director and an academic advisor.
A native of Moorhead, Minn., Lee enrolled at Moorhead State University after graduating from high school in 1982. She earned her B.S. in physical education from Moorhead State in 1986. Lee went on to earn an M.A. in athletic administration from Kent State in 1987. In 1995 Lee was inducted into the Moorhead State University Athletic Hall of Fame for her distinguished accomplishments and career both on and off the playing field.
Degree(s)
B.S., Moorhead State University; M.A., Kent State University