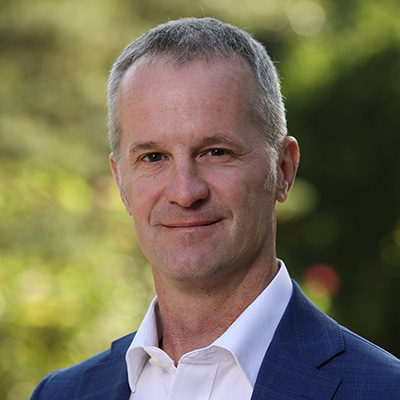 Matt
Kretchmar
Associate Professor
The George R. Stibitz Distinguished Professorship of Mathematics
Biography
After graduating from Penn State with a degree in Computer Engineering and a minor in Philosophy, Dr. Kretchmar worked as a software engineer at IBM to develop their first data warehousing project. In his graduate programs at Rensselaer and Colorado State, Dr. Kretchmar focused on a variety of artificial intelligence and machine learning techniques. His Ph.D. dissertation analyzed a robust (fault tolerant) reinforcement learning controller for a large HVAC system. Dr. Kretchmar teaches a wide range of courses across the computer science curriculum as well as introductory liberal arts mathematics courses. Dr. Kretchmar's classes often experiment with non-traditional pedagogies including a portfolio based system in his Sophomore Data Structures class, and a research paper based Artificial Intelligence seminar. He is also very interested in writing pedagogy and in first year student experiences; he served as Denison's Dean of First Year Students from 2007 to 2012.
Degree(s)
B.S., Penn State University; M.S., Rensselaer Polytechnic Institute; Ph.D., Colorado State University
Research
My primary research interests are in artificial intelligence and machine learning. I am interested in studying how people learn to solve complex problems and then capturing that same behavior in a computer algorithm.
Details
My research area is machine learning techniques. I concentrate in Reinforcement Learning, especially in building controllers for various dynamic systems. Additionally I work in the area of classification techniques including Kernel Machines and Support Vector Machines. I also dabble in games and game theory, and in discrete and combinatorial mathematics.
Works
Publications
Selected Publications:
Suspense at the Ballot Box. (with Nat Kell) The College Mathematics Journal, Vol 44, No 1. 2013.
Tree Traversals and Permutations. (with Todd Feil and Kevin Hutson) Congressus Numerantium, Vol 172. 2005.
Improved Automatic Discovery of Subgoals for Options in Hierarchical Reinforcement Learning. (with Todd Feil and Rohit Bansal) Journal of Computer Science and Technology.  October, 2003.
A Neighborhood Search Technique for the Freeze Tag Problem. (with Dan Bucatanschi, Blaine Hoffman and Kevin Hutson) Extending the Gap: Advances in Computing, Optimization, and Decision Technologies. 2007.
Other
Student Collaborations
Selected Student Research Projects:
Text Message Authorship Classification Using Support Vector Machines, Yifu Zhou, 2013.
A Reinforcement Learning Robotic Arm Controller, Taylor Kessler Faulkner, 2013.
An Analysis of Ballot Ordering for Final Tribal Councils in the Television Series Survivor, Nat Kell. 2010.
Kernel Methods for Image Processing, Dan Bucatanschi, 2006.