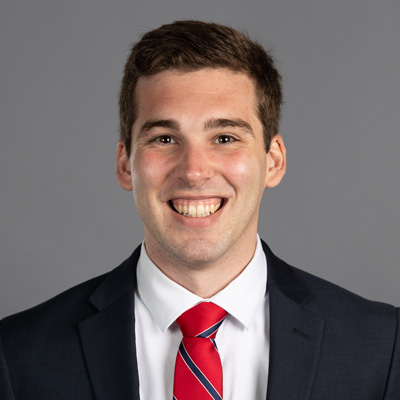 Nathan
Graves
Associate Dean of Student Support
Director of Orientation & First-Year Experience
Biography
Nathan Graves serves as the First-Year Dean and Director of Orientation & First-Year Experience. He provides assistance and advice to students as they navigate questions related to academic success and finding their place on The Hill. He enjoys working with incoming students and families making the transition to Denison University through June Orientation, Pre-Orientation experiences, and August Orientation. Beyond orientation programming, Nathan leads the Office of First-Year Experience in facilitating first-year programming, such as peer mentoring, Columbus Connection trips, First-Year Fridays, and the First-Year Council. He works closely with faculty, staff, and departments across campus to assist students in maximizing their time at Denison.
Prior to this role, he served as the Associate Director of New Student Programs at the University of West Georgia. In this role, he oversaw orientation programming, parent and family programs, and dual enrollment. Through graduate school, he worked in the Office of the Peabody Dean for Students and Equity, Diversity, and Inclusion at Vanderbilt University, and spent a summer working at Indiana University-Bloomington.
Degree(s)
M.Ed. Higher Education Administration, Vanderbilt University B. S. Special Education and Elementary Education, University of Evansville
Works
Presentations
Graves, N. & Sauls, T. B. (2019). Revamping Orientation Sessions Using Program Evaluation. Presentation, Association for Orientation, Transition, and Retention in Higher Education – NODA Annual Conference, Houston, TX.
Graves, N. & DeLucia A. (2019). Owning Your Imposter Syndrome Like A Srowtally Tacky Tourist. Presentation, Southern Regional Orientation Workshop, Myrtle Beach, SC.
Graves, N. & DeLucia, A. (2018). Houston, we have a problem! How did I get this job?. Presentation, Southern Regional Orientation Workshop, Orlando, FL.
Service
Professional Memberships
Association for Orientation, Transition, and Retention in Higher Education (NODA)
Phi Gamma Delta (FIJI)
Other
Honors & Awards
Denison University - Friend of Fraternity & Sorority Life Award (2022)
University of West Georgia Dr. Scot Lingrell Distinguished Mentor Award (2020)
University of West Georgia Employee of the Year (2019)
University of West Georgia Dr. Melanie McClellan Distinguished Service Award (2019)