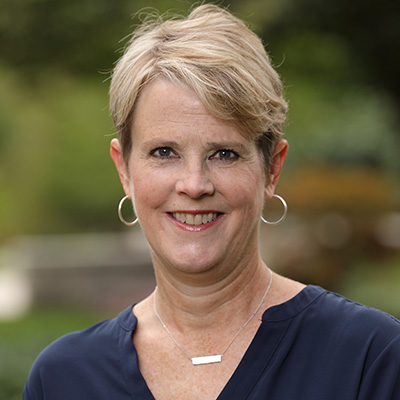 Katy A.
Crossley-Frolick
Executive Director, Center for Global Programs
Associate Professor
Biography
I joined the faculty at Denison in 2007 holding a doctorate in political science from Loyola University Chicago. My current research interests focus on post-conflict peacebuilding and statebuilding, transitional justice, international organizations, human rights, and German foreign and security policy. I serve as the faculty advisor to several student organizations, including the Denison Democrats, Denison's Model United Nations Club and Denison University's UNICEF Chapter.
Every other fall I supervise the preparation of students to participate in the American Model United Nations (AMUN) simulation. Attendance at this simulation is part of my course, POSC 344, the United Nations and World Problems. The simulation gives students the opportunity to apply what they learn in the course over several days. Over the past few years Denison students have represented Lithuania, Zimbabwe, Malaysia, Serbia, Saudi Arabia, Pakistan, Spain, Tunisia, and Colombia. Students have won numerous awards at the conference recognizing their excellence in representing these various countries. Over 1500 university students from the U.S and abroad attended the AMUN conference, representing approximately 100 UN Member States.
I have also supervised several senior and summer research projects, including: 

"The Czech Presidency of the European Union and the Lisbon Treaty: Critical Junctures and the Challenge of Leadership," Michelle Tverdosi '10; "Recognition as Intervention in Civil Conflict: The Case Studies of Kosovo and East Timor," Leslie Marshall '10; "The Responsibility to Protect and US Foreign Policy Decision-Making," Evan Johnson '11; "The Role of Artists in Political Change in Northern Ireland During the Troubles," Erin Saul '11; "Processes of Democratization, Peacebuilding, and Transitional Justice in Guatemala," Sydni Franks '13 [in collaboration with Dr. Gladys Mitchell-Walthour], "Breaking Borders: Computer Mediated Communication and Transnational Activism" Brenda Falkenstein '14.
Degree(s)
B.A., North Central College; M.A., Ph.D., Loyola University
Learning & Teaching
Courses
Comparing Democratic States and Societies (POSC 120)

Introduction to International Politics (POSC 122)

Selected Topics in International Politics (POSC 141)
Transitions to Democracy (POSC 330)
The United Nations and World Problems (POSC 344)

Human Rights in Global Perspective (POSC 345)

European Union (POSC 346)

Foreign and Security Policy in Western Europe (POSC 348)

The Iraq War (POSC 402)