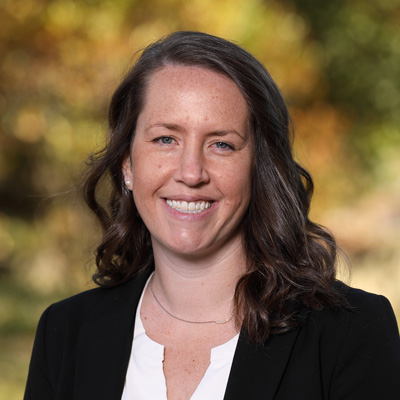 Jesse Leary Yeager

'10
Associate Director of Admission
Coordinator of Transfer Admission
Biography
Hometown: Cincinnati, OH
Undergraduate major: Anthropology & Sociology
Hobbies/activities: In my free time, you can find me cultivating my veggie garden, mentoring students through YoungLife Licking County, and chasing around my small toddler, Matilda.
Fun fact: I played on Denison's women's varsity soccer team for four years ("Yeah, Red!").
Something I love about Denison: One thing I love about Denison (and, Granville!) are the Saturday morning farmers' markets in the spring, summer, and fall. Students and locals alike get to sample the bounty of our local family farms while catching up with friends and neighbors in the most picturesque and quaint setting. It's the best!
Advice to prospective students: Don't let your college admission decisions (whether they be positive or disappointing) be a referendum on who you are as a person and all the work you have done in high school. Selective college admission can be complex and challenging; don't let this process put a verdict on who you are as a person or student.
Degree(s)
B.A. (Denison University), M.A. (Michigan State University)