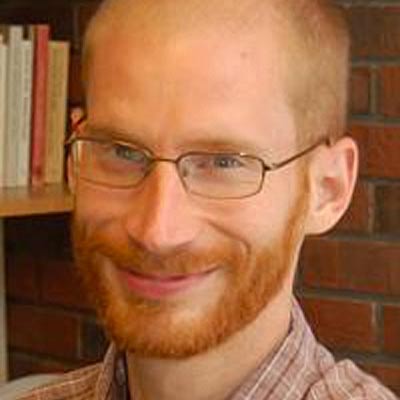 Jason
Busic
Associate Professor
Associate Chair, Department of Modern Languages
Biography
Jason Busic joined the Department of Modern Languages in 2012 after teaching at St. Michael's University, VT, for three years. Jason earned his doctorate from the Department of Spanish and Portuguese at The Ohio State University in 2009 with a concentration in Medieval and Early Modern Peninsular Studies and a secondary concentration in Colonial Studies. Prior to attending The Ohio State University, Jason completed his undergraduate work and a master's degree in Spanish from Ohio University. His research focuses on the intersection between language, religion, and culture in the formation of identity, particularly in the medieval Mediterranean and early modern Iberia. His publications explore this theme in Christian-Muslim encounter and dialogue as communicated in catechism, apology, and the manuscript tradition of biblical translation from Latin into Arabic. Jason teaches at all levels of the Spanish curriculum including beginning and intermediate Spanish, introduction to literary analysis, and Peninsular culture surveys and seminars.
Degree(s)
M.A., Ohio University; Ph.D., Ohio State University
Learning & Teaching
Courses
SP 111, First Semester Spanish
SP 112, Second Semester Spanish
SP 211, Intermediate Spanish
SP 215, Advanced Writing and Grammar
SP 220, Introduction to Literary Analysis
SP 320, Survey of Spanish (Peninsular) Literature
SP 330, Survey in Peninsular Culture
SP 420, Seminar in Peninsular Literature
SP 430, Seminar in Peninsular Culture
Research
Jason Busic studies medieval and early modern Spain. He is particularly interested in Christian-Muslim relations, the role of language in the formation of religious identities, and how these communities influence each other's theological thought.
Works
Publications
Peer Reviewed
"Between Latin Theology and Arabic Kalām: Samson's Apologeticus contra perfidos (864) and Ḥafṣ b. Albar al-Qūṭī's Extant Works (fl. Late Ninth/Early Tenth Centuries)." Medieval Encounters 25.5-6 (2019): 553-80.
"From Medieval to Early Modern, from Christian to Muslim: Difficult Boundaries in the Arabic Gospels and Paul's Epistles of Biblioteca Nacional de España MS 4971 (Sixteenth-Century Spain)." Journal for Early Modern Cultural Studies 18.4 (2018, actual date of publ. Sept. 2019)
"Negotiating Language and Religion in Umayyad Córdoba: Ḥafṣ b. Albar al-Qūṭī's Arabic Psalter." Monographic Issue I. Places of Encounter: Language, Culture, and Religious Identity in Medieval Iberia. Ed. Yasmine Beale-Rivaya and Jason Busic. eHumanista 41 (2019): 19-39.
"Medieval Complexity: Convivencia and the Construction of Religious Identity in Mozarabic Apology." Enarratio: Publications of the Medieval Association of the Midwest 21 (2017, actual date of publ. Jan 2019)
"Christian Theology in Arabic and the Mozarabs of Medieval Toledo: Primary Texts, Main Themes, and Potential Problems." A Companion to Medieval Toledo. Ed. Yasmine Beale-Rivaya and Jason Busic. Leiden: Brill, 2018.
"Religious Identity, Language, and Exegesis: The Mozarabs and an Arabic Gospel." La corónica 46.2 (2018): 5-31
"Christianity, Islam, and Muḥammad in the Mozarabic Liber denudationis (XI or XII Century)." Revisiting Convivencia in Medieval and Early Modern Iberia. Ed. Connie Scarborough. Newark, DE: Juan de la Cuesta, 2014.
"Order and Resistance in the Polemical and Catechetical Literature of Early Modern Spain (1515-1599): Christians, Muslims, and Moriscos." Hispanic Review 82.3 (2014): 331-58.
"Polemic and Hybridity in Early Modern Spain: Juan Andrés' Confusión o confutación de la secta Mahomética y del Alchorán (1515)." Journal for Early Modern Cultural Studies 12.1 (2012): 85-113.
Others
"Catecheses mystagogicae pro aduenis ex secta Mahometana. Ad parochos, & potestates" and "Pedro Guerra de Lorca." Christian-Muslim relations 1500-1900. Ed. David Thomas and Luis Bernabé Pons. Leiden: Brill, 2015.