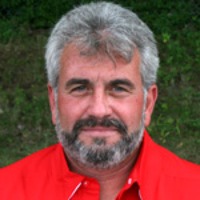 Jack
Hatem
Assistant Professor
Head Football Coach
Biography
Jack Hatem has served as the head football coach since 2010. Prior to that, he had spent five seasons as an assistant football coach at Denison. In 2011 Hatem guided the Big Red to a 5-5 record and a 4-2 mark in the North Coast Athletic Conference that resulted in a third-place finish in the league standings.   In the spring of 2012, Hatem and his Denison staff were selected to coach the South team at the third annual Ohio Army National Guard Senior Bowl. On April 13, the South squad, coached by Hatem, defeated the North, 21-7 at Columbus Crew Stadium.
Prior to coming to Denison, Hatem spent 13 years as a high school football head coach. He also served three seasons as the head baseball coach at his alma mater, The University of Rio Grande. Hatem graduated from Rio Grande in 1982, earning his bachelor's degree in health and physical education. He also holds a master's degree in physical education from Ohio University (1992). A two-time Ohio High School Football Coach of the Year, Hatem brought 25 years of coaching experience and 13 years as a head coach at the high school level to the Denison program. A native of Lancaster, Ohio, and a graduate of Fisher Catholic High School, Hatem was named head football coach at Fisher in 1992. Over the course of three seasons, he led the Fighting Irish to a 22-9 record, including the program's third undefeated season in school history in 1993. That year, Hatem earned his first Ohio High School Coach of the Year recognition and guided his Fisher squad to its first-ever state playoff appearance.
From 1995 to 1997, Hatem served as head football coach at Highland High School in Sparta, Ohio, and in 1998, he took over a struggling New Albany High School football program, quickly turning it into one of the top programs in central Ohio. Hatem was named Ohio High School Football Coach of the Year again in 1999 after guiding New Albany to a 9-1 record, the program's best season dating to 1966.
In addition to his accomplishments on the football field, Hatem also has had considerable success on the baseball diamond. A former baseball standout at Fisher Catholic, Hatem served as head baseball coach at Rio Grande for three seasons, shortly after his graduation from the college. While he was an assistant football coach at Bishop Watterson High School in Columbus, Hatem also served as head baseball coach there. In 1991, he led Watterson to its second state baseball championship.
Degree(s)
B.S., Rio Grande University; M.S., Ohio University