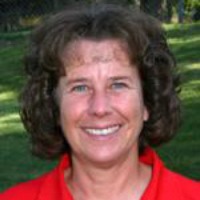 Gail
Murphy
Assistant Professor, Head Women's Soccer Coach
Biography
Since 1997 Gail Murphy has built Denison women's soccer into one of the premier programs in all of NCAA Division III. A two-time NSCAA Regional Coach of the Year honoree, Murphy is one of the winningest active coaches in college soccer. Before Denison, Murphy spent four years at Southwestern University in Texas, where she took a first-year program to a top-10 regional ranking in just two seasons.
While at Southwestern, Murphy was selected as Coach of the Year by the Southern Collegiate Athletic Conference. Murphy then made the cross-country switch to Denison, leading the Big Red back to regional and national prominence. The Ohio Collegiate Soccer Association has twice named Murphy its Coach of the Year (1997, 1999).
From 1983 to 1991 she coached Los Alamos (N.M.) High School, where her teams played in the finals of the state tournament five times, winning three championships. She began her college coaching career in 1991 as a graduate assistant in Massachusetts.
Murphy earned her Bachelor of Science degree in Physical Education from the University of New Mexico in 1983 and her Masters of Science in Exercise and Sport Science from Smith College (Mass.) in 1993. Along with her soccer coaching duties, Murphy is an assistant professor on the faculty of Denison's Health, Exercise, and Sport Studies department.
Degree(s)
B.S., University of New Mexico; M.S., Smith College