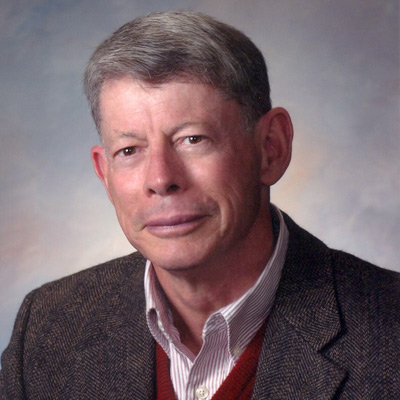 Emmett H.
Buell Jr.
Biography
The first holder of the Richard G. Lugar Chair in Public Policy (2006-2009), Professor Buell retired from teaching at Denison at the end of the 2007-2008 academic year. He also directed the Richard G. Lugar Program in Politics & Public Service from its inception in 1995 to the end of the 2008-09 academic year. Under its auspices approximately 130 Denison students interned in House and Senate offices and seventeen former members of the U.S. House visited campus for class visits and meetings with students. As holder of the Lugar Chair, he helped arrange lectures by the late Richard Holbrooke and Ambassador Christopher Hill, chief U.S. negotiator in nuclear disarmament talks with North Korea and later the U.S. envoy to Iraq.
Buell received his PhD from Vanderbilt University in 1972 after earning his M.A. and B.A at Louisiana State University. Except for 1980-81, spent as a visiting associate professor at Reed College, Buell taught his entire academic career at Denison after joining the faculty in fall 1969.
Now residing in Prescott, Arizona, Buell is working on a history of the Senate Foreign Relations Committee, a project that so far has resulted in two summers of research in Washington, D.C. at the Senate Library, Senate Historical Office, National Archives, and Library of Congress. His archival research also has taken him to the Lyndon B. Johnson Library at the University of Texas, the Bentley Library at the University of Michigan Ann Arbor, the Ohio State History Center, the Cline Library of Northern Arizona University. The projected book will focus on five prominent chairmen of the Foreign Relations Committee: Charles Sumner, Henry Cabot Lodge, Arthur Vandenberg, J. William Fulbright, and Richard Lugar with particular emphasis on their interactions with the executive branch and SFRC members.
While at Denison Professor Buell offered courses mainly in American government and politics, specifically on political parties, presidential nominations and elections, and Congress. Early in his Denison career he also offered courses on urban politics, public opinion, and political science methods. He won national recognition in political science for published work on presidential nominating politics and negative campaigning in general elections for president. Of his four books, the most recent is Attack Politics: Negativity in Presidential Campaigns Since 1960 (University Press of Kansas, 2008) with Lee Sigelman. A second, revised and updated edition of this work came out the following year in paperback with a new chapter on the 2008 election. Additionally, he has contributed chapters to books edited by other political scientists, most notably on the "invisible primary" and the New Hampshire primary for In Pursuit of the Presidency collections edited by William G. Mayer. His articles have appeared in the Journal of Politics, American Journal of Political Science, American Politics Quarterly, Urban Affairs Quarterly, Social Science Quarterly, and Journal of Law & Politics.  Buell also gained recognition in the discipline for extensive review essays on books about the presidential elections of 1984, 1992, 1996, 2000, and 2004 — all published in the Journal of Politics. Many other book reviews by him have appeared in the American Political Science Review, Journal of Politics, Presidential Studies Quarterly, and elsewhere.
Outside of the classroom, Buell led several political science classes to New Hampshire for close encounters with presidential aspirants during the primary season. On numerous occasions a student or two accompanied him on drives from Granville to the Southwest, usually retracing the Santa Fe Trail with stops at historic sites, museums, national parks, and campgrounds. The high point of many of these trips was a grueling hike in New Mexico's Bandelier National Monument replete with overnight wilderness camping. In June 2007, Buell accompanied the Mt. Denison Expedition climbing team to Alaska, where he served as treasurer and trouble-shooter for the second successful ascent of a mountain named for the college. Two months later, he summited Long's Peak, the tallest mountain in Rocky Mountain National Park at over 14,000 feet.  Since retirement, with Matt Steinke ('08) he has scaled Humphrey's Peak, the tallest mountain in Arizona at 12,600 feet; hiked 20 miles in the desert wildness to Keet Seel ruin in Navajo National Monument; explored and camped in Chiricahua National Monument; and completed many more hikes in the Prescott area. Weather permitting, he regularly takes "Publius," his golden retriever, up nearby Thumb Butte, a 3.5-mile hike featuring a steep elevation gain.
During his time at Denison, Buell worked out the gym most days of the week and played racquetball with a hundred or more students. Several of these rivalries exceeded one hundred games: 185 with Neil Canfield '06, 176 against Aaron Norton '03, and 175 against James Dunson '02). In retirement, Buell continues regular workouts at the Downtown Prescott Athletic Club.
Degree(s)
B.A., M.A., Louisiana State University; Ph.D., Vanderbilt University