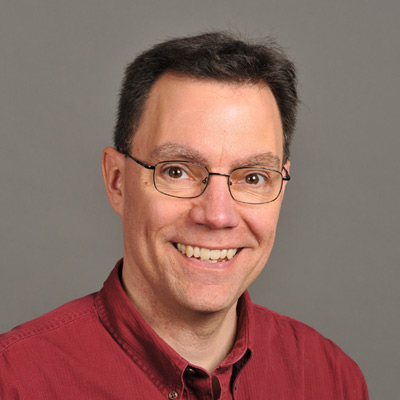 Doug
Spieles
Biography
Dr. Doug Spieles (B.S. Biology, University of Dayton; M.S., Ph.D. Environmental Science, The Ohio State University) is a native or northwest Ohio. As a graduate student, Doug worked first in environmental entomology and then in wetland ecology. His dissertation work was completed with advisor Dr. Bill Mitsch, one of the leading wetland experts in the U.S.
From 1998 to 2002, Dr. Spieles was an assistant professor of environmental science at Southwest State University in Marshall, MN. While in this position, he helped guide the formation of a new environmental science program, which involved curriculum design, course development, recruitment, advising, and teaching.
In his scholarship, Dr. Spieles focuses on the ecological development of constructed wetlands, primarily from the point of view of community and ecosystem ecology. He also has interests in geographic information systems and conservation. Doug is a member of the Society of Wetland Scientists, the Association for Environmental Studies and Sciences, the Ecological Society of America and the Licking Land Trust.
Doug is the author of the 2010 book Protected Land: Disturbance, Stress and American Ecosystem Management (Springer) and contributing author for the 2016 volume Invertebrates in Freshwater Wetlands: An International Perspective on their Ecology (Springer).
Doug joined Denison's Environmental Studies Program in 2002 and has been instrumental to the program both in teaching (Science & the Environment, Geographic Information Systems, Wetland Ecology and Ecosystems Management) and in developing an analytical laboratory facility in Barney, which is used for water, soil, and biotic analyses in both curricular lab exercises and scholarly research projects.
Degree(s)
B.S., University of Dayton; M.S., Ph.D., Ohio State University
Learning & Teaching
Courses
ENVS 102 Science and the Environment
ENVS 222/223 Geographic Information Systems
ENVS 274 Ecosystem Management
ENVS 301 Environmental Practicum
ENVS 310 Wetland Ecology
ENVS 401 Senior Project
Research
Ecological development of constructed ecosystems; stress, disturbance and ecosystem management; ecology, evolution and environmentalism; spatial analysis of ecosystems.
Details
I study the ecological development of constructed wetlands. The number of constructed and restored wetlands in North America is growing through mitigation for legal compliance and conservation efforts, but we still know very little about ecosystem assembly. I study the communities that develop in newly created or restored wetlands and the nutrient and energy flow through those communities. Some of my work describes research at this level: nutrient flow through constructed wetlands (Ecological Engineering Vol. 14), invertebrate community development in constructed wetlands (Wetlands Vol. 20 No. 4), and energy flow through the primary and secondary production of developing wetlands (Ecological Modelling Vol. 161). Such community/ecosystem level research is valuable in that it contributes to our understanding of freshwater wetland structure and function and as it improves our ability to successfully restore or create wetlands. I'm also interested in ecosystem structure and function at larger spatial scales, as published in the Journal of Freshwater Ecology 28(5) and ISRN Ecology 2011:1-10.
Works
Publications
Ruhi, A., G.W. Fairchild, D.J. Spieles, G. Becerra-Jurado, and D. Moreno-Mateos. 2016. Invertebrates in created and restored wetlands. Pp. 525-564 in Batzer, D. and D Boix, eds. Invertebrates in freshwater wetlands: an international perspective on their ecology. Springer, New York. 645 pp.
Spieles, D.J. 2010. Protected Land: Disturbance, Stress, and American Ecosystem Management. Springer, New York. 164 pp.
Spieles, D.J. and J. Horn.  2009.  Macroinvertebrate community structure in created wetlands of different successional stage. Aquatic Ecosystem Health and Management 12(3)320-329.
Spieles, D.J.  2009.  Book Review: David Orr, Earth in Mind.  Journal of Environmental Psychology 29:168-170.
Spieles, D.J. and J.W. Mora.  2007.  Detrital sequestration and decomposition as measures of ecosystem function in created wetlands.  Journal of Freshwater Ecology 22(4):571-579.
Spieles, D.J., M. Coneybeer, and J. Horn.  2006.  Community structure and quality after ten years in two central Ohio mitigation bank wetlands.  Environmental Management 38:837-852.
Spieles, D.J.  2005.The role of biomanipulation in aquatic ecosystem restoration. In: Burk, A.R. (ed.)Progress in Aquatic Ecosystems Research.Nova Science Publishers, Inc. pp. 59-82.
Spieles, D. J.  2005.  Vegetation development in created, restored, and enhanced mitigation banks of the United States.Wetlands 25(1):51-63.
Spieles, D. J. and W. J. Mitsch. 2003. A model of secondary production and trophic structure in constructed wetlands. Ecological Modelling 161: 183-194.
Spieles, D. J. and G. Cunfer. 2002. Collaborative integration of GIS in co-curricular undergraduate research. Council on Undergraduate Research Quarterly September 2002, pp.41-44.
Spieles, D. J. 2001. Wetlands. In: Amato, A.J., J.T. Timmerman, and J.A. Amato (eds). Draining the Great Oasis: An Environmental History of Murray County, Minnesota. Crossings Press, Marshall,Minnesota. 282 pp.
Spieles, D. J. and W. J. Mitsch. 2000. Macroinvertebrate community structure in high and low nutrient constructed wetlands. Wetlands 20 (4): 716-729.
Spieles, D. J. and W. J. Mitsch. 2000. The effects of season and hydrologic and chemical loading on nitrate retention in constructed wetlands: A comparison of low and high nutrient riverine systems. Ecological Engineering 14: 77-91.
Spieles, D. J. and D. Horn. 1998. The Importance of Prey for Fecundity and Behavior in the Gypsy Moth (Lepidoptera: Lymantriidae) Predator Calosoma sycophanta (Coleoptera: Carabidae). Environmental Entomology 27 (2): 458-462.
Selected Publications
The fate of planted stock in the vegetation and seed bank of a young mitigation wetland, presented at the Society of Wetland Scientists Annual Meeting, Madison, WI 6/09
More precious than oil: water and international crisis, presented at Sigma Xi Science Café, Denison University, Granville, OH 10/08
Spatial analysis of Ohio wetland mitigation banks, presented at the Society of Wetland Scientists Annual Meeting, Sacramento, CA 6/07 and the Annual Meeting of the Ohio Biological Survey, Columbus, OH 11/06
Organic Sequestration and Decomposition as Measures of Funciton in Created Wetlands, Presented at the Ecological Society of America Annual Meeting, Memphis, TN 8/06
Indicators of Ecosystem Structure and Biotic Integrity in Mitigation Wetlands, Presented at the Environmental Bioindicators Conference, Baltimore, MD 4/06
An Assessment of the Floristic and Macroinvertebrate Communities of Two Ten-Year-Old Mitigation Banks, Presented at the Society of Wetland Scientists Annual   Meeting, Charleston, SC, 6/05
Mitigation Banks: Compensatory Creation and Restoration of Wetlands, Presented at the Ecosystems Center, Marine Biological Laboratory, Woods Hole, MA 11/04
Ecological Development of Mitigation Bank Wetlands, Presneted for the Denison Scientific Association, Denison University 11/04 and for the University of Dayton Department of Biology, 10/04
Vegetation Development in Created, Restored, and Enhanced Mitigation Banks of the United States, Presented at the Ecological Society of America Annual Meeting, Portland, OR 8/04 and at the Society of Wetland Scientists Annual Meeting, Seattle, WA 7/04
A Model of Macroinvertebrate Trophic Structure and Oxygen Demand in Freshwater Wetlands, Presented at the Society of Wetland Scientists Annual Meeting, New Orleans, LA 6/03
The Black Swamp: A Case Study of Ecological Succession and Human Inhabitation, Presented at the American Society for Environmental History Annual Meeting, Providence,RI, 3/03
Spatial Analysis of Waterfowl Habitat in a Restored Prairie Wetland, Presented at the National Wetlands Symposium, Indianapolis, IN 10/02
From Till to Tile: Environmental History of Murray County, Minnesota, Presented at PipestoneNational Monument, Pipestone, MN 5/02
Fire on the Prairie: Inspiration and Innovation in Teaching Science, Presented at the Minnesota Science Teachers Annual Conference, Willmar, MN 4/02
Macroinvertebrate Community Structure in High and Low Nutrient Constructed Wetlands, Presented at the 22nd Annual Meeting of the Society of Wetland Scientists, Chicago,IL 6/01
Active Learning in the Undergraduate Classroom: Co-curricular Undergraduate Research, Presented at the Collaboration for the Advancement of College Teaching and Learning, Minneapolis, MN 2/01
The Effects of Season and Hydrologic Loading on Nitrate Retention in Constructed Wetlands, Presented at the 20th Annual Meeting of the Society of Wetland Scientists, Norfolk, VA 6/99
Regional River Monitoring: Student-led Analysis of the Redwood River, Lyon County, Minnesota, Presented at the Annual Conference of the Minnesota State Colleges and Universities Center for Teaching and Learning, Minneapolis, MN 5/99 
Other
Honors & Awards
Ohio EPA Surface Water Improvement Fund Grant (co-author); $40,000, 2010
Robert C. Good Faculty Fellow, Denison University, 2009
Denison University Anderson Summer Research Advisor 2005, 06, 07, 08, 10, 11, 13
Great Lakes College Association Academic Leadership and Innovation Institute, 2007
Fraternity Faculty Appreciation Award, Denison University, 2007
Clean Ohio Grant, Spring Valley Property Acquisition (co-author), $558,500; 2006
Ohio Biological Survey Travel Grant, $500; 2006
Denison University Research Foundation Grant, $6250; 2006
Mellon Foundation Dyad Grant, $1000; 2005
Hughes Foundation Early Research Experience for Undergraduates (Advisor) 2004
Establishing Undergraduate Student Research Internships in Environmental Landscape Analysis;
$9,915 awarded by the Minnesota Space Grant Consortium 2000
Ecological Research at Clearwater Lake, Minnesota; lodging and facilities for
undergraduate research awarded by the Clearwater Lake Board of Directors 2000
Undergraduate Research and GIS Analysis of the Black Rush Lake Restoration;
$20,600 awarded by the Bush Foundation/MN State Colleges and Universities 2000
Teaching Awards: Southwest State University Faculty Honor Roll 2000, 2001
Professional Improvement Grant; $800 awarded by Southwest State University 4/99
Regional River Monitoring; $2500 awarded by the Minnesota State Colleges and
Universities Center for Teaching and Learning 10/98
Ohio State University Environmental Science Graduate Assistantship, 1996-1998
Ohio Agriculture Research and Development Center Graduate Fellowship, 1994-1996