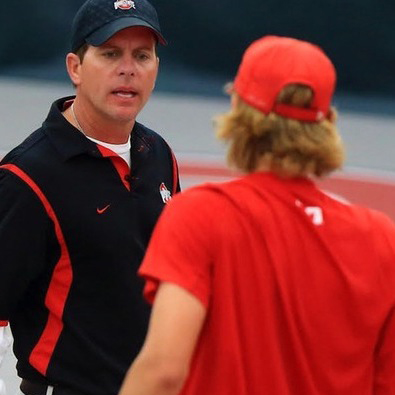 David M. Schilling

'89
Assistant Professor
Head Tennis Coach
Biography
A 1989 Denison graduate and one of the most accomplished tennis players in the history of the program, David Schilling returns to Denison after 20 years as an assistant coach at Ohio State. With Schilling on staff, Ohio State ascended to the top of the Big Ten and became a top-five program at the NCAA Division I level. Schilling leaves the Buckeyes riding a streak of 14 consecutive Big Ten championships, dating back to 2019. Since 2016 Ohio State men's tennis has compiled a record of 146-16 (.901). In 2018, the Buckeyes advanced to the Division I national championship match. As Denison's new Head Tennis Coach, Schilling is excited to build upon the work of his predecessor, long-time Head Coach Peter Burling, and is looking forward to bringing his own results-oriented player development program to Denison.
Degree(s)
BA Denison University (1989), MA Ohio State University (2004)
Learning & Teaching
Courses
Physical Education Tennis classes at both Ohio State University and Kenyon College.
Academic Positions
Head Men's Tennis Coach - Kenyon College
Assistant Men's Tennis Coach - Ohio State University
Other
Honors & Awards
2014 ITA Regional Assistant Coach of the Year - Ohio State University
1994 NCAC Coach of the Year - Kenyon College