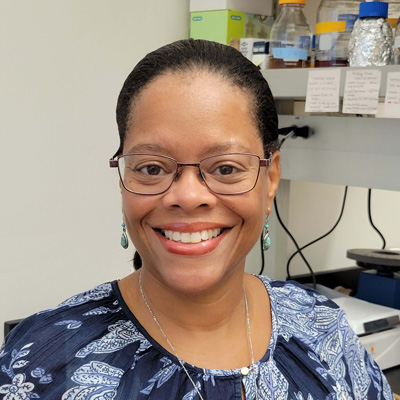 Ayana
Hinton
Associate Provost for Diversity, Equity and Inclusion (DEI)
Director of Denison Forward
Deputy Title IX Coordinator
Associate Professor
Degree(s)
B.S.E., University of Michigan; Ph.D., Wayne State University School of Medicine
Learning & Teaching
Courses
Eukaryotic Cell Biology, Cell & Molecular Biology, and other advanced courses in the Biology department
Academic Positions
Assistant Professor, Department of Biology at Denison University , 2010-present
Adjunct Faculty, Department of Science - Biological Science Program at Bunker Hill Community College, Boston, MA, 2009
Research
Role of acid pumps in cancer metastasis using human breast cancer cells as a model system and assembly of these pumps using S. cerevisiae as a model system.
Details
Tufts University School of Medicine, Boston, MA
Post-doctoral Fellow, Laboratory of Dr. Michael Forgac, 2004-2010
Wayne State University
Pre-doctoral student, Laboratory of Dr. Sharon Ackerman, 1999-2004
University of Michigan
Undergraduate Independent Study Research, Laboratory of Dr. Levi Thompson, 1994-1996
Research Focus
I am interested in the way proteins interact and how those interactions play a role in promoting cellular function. My research focuses on interactions involving a protein called the Vacuolar H+-ATPase. The basic function of this protein is to maintain proper pH levels within cellular compartments and this function has been exploited by single and multi-cellular organisms to support many important physiological processes such as movement of cargo within cells, neurotransmitter signaling, sperm maturation, and bone remodeling. During the course of some diseases and infections, the V-ATPase is co-opted to help the progression of the disease. To carry-out all of these functions the V-ATPase must interact with many different proteins.
One project in my lab is focused on understanding how the V-ATPase interacts with special proteins called molecular chaperones so that it can be assembled. Subunits of the V-ATPase have dedicated assembly factors, but little is known about the specific interactions that are important for assembly. Many other essential proteins within the cell are built from smaller subunits, thus understanding assembly of the V-ATPase will increase our general understanding of how multi-subunit proteins are built.
Another project focuses on the role the V-ATPase is playing in breast cancer metastasis. I and others have published studies that suggest the V-ATPase may be a potential target for reducing the spread of breast cancer. Certain breast cancer cells have re-targeted the V-ATPase to a new location in the cell to help with the spread of the cancer from an initial site of growth to a new site. Currently students are looking at what effect reducing the cellular activity of these re-targeted V-ATPases will have on activation of another type of protein that is necessary for cancer spread. In the future we will expand our research to examine the protein interactions that are needed to target V-ATPases to their proper location in order to get a better understanding of how cancer cells are able to re-target them.
Works
Publications
Hinton A, Sennoune SR, Bond S, Fang M, Reuveni M, Sahagian GG, Jay D, Martinez-Zaguilan R, Forgac M. . 2009. Function of a subunit isoforms of the V-ATPase in pH homeostasis and in vitro invasion of MB231 cells.. J Biol Chem. v. 284 no. 24 p. 16400-8
Hinton A, Bond S, and Forgac M.. 2009. V-ATPase functions in normal and disease processes.. Pflugers Arch Eur J Physiol.. v. 457 no. 3 p. 589-98
Cipriano DJ, Wang Y, Bond S, Hinton A, Jefferies K, and Forgac M.. 2008. Structure and regulation of the vacuolar ATPases.. Biochem Biohpys Acta.. v. 1777 no. 7-8 p. 599-604
Hinton A, Zuiderweg E.R.P, and Ackerman S.H.. 2003. A Purified Subfragment of Yeast Atp11p Retains Full Molecular Chaperone Activity. . J Biol Chem.. v. 278 no. 36 p. 34110-34113
Hinton A, Gatti D.L., and Ackerman S.H. . 2004. The Molecular Chaperone, Atp12p, from Homo Sapiens: In Vitro Studies with Purified Wild Type and Mutant (E240K) Proteins.. J Biol Chem.. v. 279 no. 10 p. 9016-9022
Presentations
Hinton A. 2009. Role of V-ATPases in Tumor Cell Invasiveness. Colgate University. Hamilton, NY
Hinton A. 2008. Role of V-ATPase subunit a isoforms in Tumor Cell Invasion. Tufts University. Boston, MA
Hinton A, Sennoune S, Bond S, Martinez-Zaguilan R, and Forgac M . 2009. of V-ATPase a Subunit Isoforms in pH Homeostasis and In Vitro Invasion of Human Breast Cancer Cells. Gordon Conference Session on Molecular and Cellular Bioenergetics. Andover, NH
Hinton A, Bond S, and Forgac M. 2008. Role of V-ATPase a Subunit Isoforms in In Vitro Invasion of Human Breast Cancer Cells. IRACDA Conference. Chapel Hill, NC
Hinton A, Gatti D, and Ackerman S. 2003. In vitro studies with the molecular chaperones, Atp11p and Atp12p. Gordon Conference Session on Molecular and Cellular Bioenergetics. Meriden, NH
Other
Honors & Awards
Fellowships
Training in Education and Critical Research Skills Fellowship, 2007 – 2010
National Research Service Award Minority Fellowship, 2001 – 2004
Initiative for Minority Student Development Fellowship, 1999 – 2001