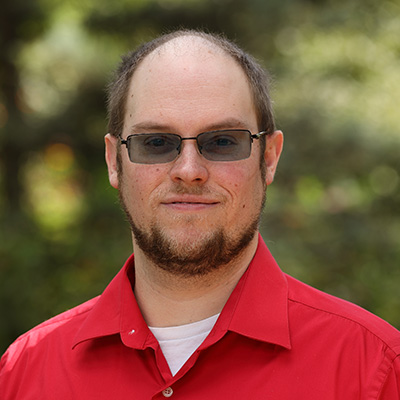 Anthony
Bonifonte
Biography
As a math major at Oberlin College, I set a career goal to be a liberal arts college professor. After completing my degree in Operations Research at Georgia Tech, I joined Denison in 2017. As a teacher, I try to excite and inspire students and to demonstrate the diverse ways data is used today and will be used in the future. If you take a class with me, you may see a collection of statistical and mathematical puzzles, riddles, and games that build out-of-the-box thinking necessary for problem solving. As a researcher, I believe in interdisciplinary collaborations that simultaneously solve real world problems and expand mathematical concepts. I enjoy working with students on research projects of their own choosing or introducing them to my work in the healthcare field. Prior students I have mentored have gone on to graduate school and won academic grants. I live with my wife Ondrea and our variety of reptile and mammal pets. I have a massive bo ard game collection, enjoy nature hikes, and hope to open a pizza shop after retiring.
Degree(s)
Ph.D. Operations Research Georgia Tech 2018, M.S. Operations Research Georgia Tech 2015, B.A. Mathematics Oberlin College 2011
Learning & Teaching
Courses
DA 101 - Intro to data analytics
DA 200 - Data analytics colloquium
DA/MATH 220 - Applied Statistics
DA 301 - Data analytics practicum
DA 350 - Advanced methods for data analytics
DA 401 - Data analytics seminar
MATH 425 - Applied probability
Research
I use tools from data analytics, optimization, probability and stochastics, mathematical modeling, data science, statistics, and simulation to solve problems of social good and healthcare.
Details
Collaborating with medical professionals, I have developed data-driven mathematical models of blood pressure and cardiovascular disease. I have improved risk prediction models and built tools to recommend optimal blood pressure treatments. My current focus is on the opioid epidemic, from both a predictive and prescriptive lens.
Works
Publications
Bonifonte, A., Ayer, T., Haaland, B., & Wilson, P. W. "An Analytics Approach to Guide Randomized Controlled Trials in Hypertension Management". Forthcoming in Management Science.
Bonifonte, A., Merchant, R., & Deppen, K. "Morphine Equivalent Total Dosage as Predictor of Adverse Outcomes in Opioid Prescribing". Pain Medicine (2021): pnab249
Ayer, T., Zhang, C., Bonifonte, A., Spaulding, A., & Chhatwal, J. "Prioritizing Hepatitis C Treatment in U.S. Prisons" Operations Research 67.3 (2019): 853-873.
Bonifonte, A., Ayer, T., Veledar, E., Clark, A., & Wilson, P. W. "Antecedent blood pressure as a predictor of cardiovascular disease." Journal of the American Society of Hypertension (2015) 9(9): 690-696.
Norback, J., Utschig, T., Bonifonte, A., and G. Ross. "Final Results of Reliability testing for the Norback-Utschig Presentation Scoring System". ASEE, 2014.
Bonifonte, A., Garcia, E. "Improving Geographic Access to Methadone Clinics". Under review.
Bonifonte, A., Garcia, E., Ngo, H. "Optimal route planning for mobile narcotic treatment programs". Work in progress.
Other
Honors & Awards
Graduate Instructor of the Year, Georgia Tech 2015
Best Healthcare Student Paper, 2nd place, IISE, 2017
Pierskalla Best Paper Award, Finalist, INFORMS 2016