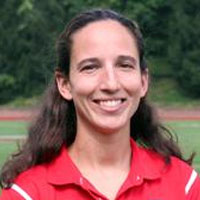 Amanda
Daniels
Assistant Professor, Head Women's Lacrosse Coach
Biography
Amanda Daniels enters her first season as the head women's lacrosse coach at Denison in 2014. Daniels comes to Denison after five seasons as the head women's lacrosse coach at Morrisville State College (N.Y.).
At Morrisville State, Daniels posted a 41-41 record while leading the Mustangs to the program's first North Eastern Athletic Conference regular season and tournament championship in 2012.  That season she was named the NEAC Coach of the Year after her squad posted a program-best 13-6 record after going 9-0 in conference play.
Prior to her head coaching stint at Morrisville State, Daniels spent one year as the assistant women's lacrosse coach and assistant women's soccer coach at Hamilton College (N.Y.).  While at Hamilton, Daniels helped guide the women's lacrosse team to a 21-1 record and the program's first NCAA Division III Championship in 2008.  As a member of the women's soccer coach staff at Hamilton in 2007 that team would go on to post a 16-2-2 record while advancing to the NCAA Division III Tournament quarterfinals.
A 2003 graduate of Le Moyne College in Syracuse, N.Y., Daniels was a four-time first-team All-Metro Atlantic Athletic Conference selection in women's lacrosse.  She was a part of two MAAC Tournament championship teams and two NCAA Division I Tournament teams in in 2002 and 2003.  She served as a team captain in 2003 and left Le Moyne with 190 career points.  Daniels was also a four-year member of the women's soccer team at Le Moyne where she led the Dolphins in scoring as a senior.
After graduating Cum Laude with a bachelor of arts in English and communication, Daniels would go on to receive a masters' degree in New Media from Syracuse University's esteemed SI Newhouse School of Communications in 2004.  While attending graduate school, Daniels spent one season as a part-time assistant coach at Le Moyne.
Following graduate school, Daniels would spend one year as the head lacrosse coach at Uppingham School in Rutland, England.  After returning to the United States in the fall of 2005, Daniels accepted a position with Windstar Studios as an account executive, video editor and script writer.  In 2007 Daniels would make her return to coaching at Hamilton.
Denison women's lacrosse boasts one of the top winning percentages of any NCAA Division III program at 372-169-4 (.686).  Daniels is the 10th head coach in the program's 38-year history.
Degree(s)
B.A. LeMayne College; M.S. Syracuse University, SI Newhouse School of Communication