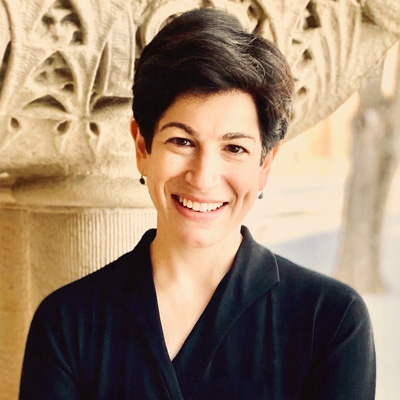 Alexandra
Schimmer
Vice President & General Counsel
Secretary of the Board of Trustees
Biography
Alexandra Schimmer is Vice President and General Counsel for Denison, and Secretary of the University's Board of Trustees.
An accomplished lawyer and institutional leader with extensive higher education, public service, and private practice experience, Schimmer served as Solicitor General for the State of Ohio (and prior to that, the Chief Deputy Solicitor General), conducting all of the state's appellate litigation, briefing and arguing dozens of cases in the U.S. Supreme Court, the federal courts of appeals, and the Ohio Supreme Court, and advising state officials and agencies on a broad range of legal issues. In this role, Schimmer also represented all of Ohio's public colleges and universities and advised Ohio's public university presidents, boards, and other leaders on higher education issues.
Prior to her work at Denison, Schimmer served as the Deputy General Counsel for The Ohio State University, leading the day to day provision of legal services for the state's flagship public research university, its academic medical center, four regional campuses, and three global gateways, in India, China, and Brazil, and leading litigation and providing counsel on the full range of regulatory, legislative, and compliance issues.
Schimmer is a graduate of Princeton University and the Yale Law School, and was a Fulbright Fellow to England, where she earned an M.Phil. at the University of Cambridge. Following law school, Schimmer clerked for federal judges in New York and Ohio and then became a litigator and appellate lawyer with the Vorys law firm in Columbus, where she represented Fortune 500 companies and nonprofits, including colleges and universities, and devoted significant time to civil and criminal pro bono work.
Schimmer served for 9 years as Ohio Commissioner to the national Uniform Law Commission, a volunteer role by appointment of Ohio's governor. In this role, she worked extensively on criminal justice reform efforts, including the Uniform Collateral Consequences of Conviction Act, designed to address and relieve undue barriers to successful reentry after involvements with the criminal justice system.
An expert in constitutional issues, labor and employment law, research compliance and entrepreneurial activities, criminal law, campus safety and internal investigations, national security issues, Title IX, Clery Act, antitrust, privacy law, student and faculty affairs, and health care issues, Schimmer also currently serves on the Board of Directors of the National Association of College and University Attorneys.
Degree(s)
B.A. Princeton University, M.Phil. Cambridge University, J.D. Yale Law School