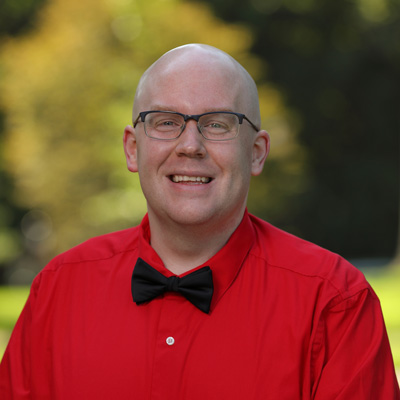 Adam
Wood
Biography
As the Assistant Director of Residential Communities & Housing, I work directly with the Community Coordinators and with the Community Advisors, in our efforts to help cultivate inclusive communities on-campus, where students feel connected, safe, and that they belong on-campus. It's my hope that our team can create communities where students feel that Denison is their "home away from home".
Prior to arriving at Denison, I worked full-time as a Residence Hall Director at Bowling Green State University. Additionally, I also worked as a Residence Director at Westminster College, while working towards obtaining a M.Ed. from Kent State University.
I'm from a small town in Northeastern Pennsylvania (just an hour north of Scranton, PA). In my spare time, I enjoy baking, planning out trips to visit family and friends, and attending (and sometimes performing) in drag shows.
Degree(s)
B.S., Mansfield University of Pennsylvania; M.Ed., Kent State University
Works
Presentations
Shaal, T. & Wood, A. (2018, October). Surviving the Blades: Taking the Pain out of Working with Parents and Families. GLACUHO Annual Conference, Bloomington, IN.
Service
Professional Memberships
American College Personnel Association's Commission for Student Conduct and Legal Issues Directorate Board Member, 2021 - Present
American College Personnel Association (ACPA) Member, 2019 - Present
Great Lakes Association of College and University Housing Officers (GLACUHO) Member, 2016 - Present