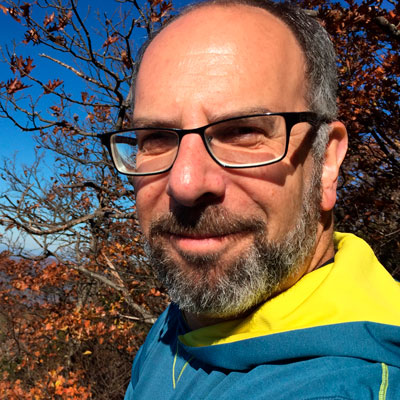 Abram
Kaplan
Anne Powell Riley Professor
Program Director
Biography
Abram Kaplan started his environmental career at Oberlin College, where he was one of the very first Environmental Studies majors in a program just being formalized. He spent two years after college working as a so-called "beltway bandit" in the computer industry of Northern Virginia, and then resumed his environmental training at UW-Madison, where he earned a Master's degree in Land Resources and a certificate in Energy Analysis and Planning. From there, he went to UNC-Chapel Hill and earned his Ph.D. in City and Regional Planning. His doctoral dissertation focused on the diffusion of photovoltaics in the electric utility industry, based on a national survey of managers at utility companies. Dr. Kaplan was hired as the founding director of Denison's Environmental Studies Program in 1993.
Dr. Kaplan teaches core courses in the ENVS major as well as a variety of topical seminars that span social science and artistic perspectives. His seminars include Environmental Dispute Resolution, Environmental Politics and Decision Making, Environmental Planning and Design, and an arts-based research course called Farmscape: Artistic Perspectives on the American Food System. Generally speaking, these topics courses are offered on an alternating-year basis.
Dr. Kaplan's primary scholarship is in both 2-D and 3-D modes of fine art photography. The latter includes direct printing techniques on metal, wood and other materials to create immersive works that encourage viewer participation. He has exhibited 2D work in more than 40 regional and national juried exhibitions, with jurors from leading contemporary art museums. His six solo exhibitions have examined social and cultural themes connected to the U.S. food system and the generation of electricity. His work in arts-based research seeks to catalyze conversations about controversial socio-political issues, such as climate change. Dr. Kaplan has presented papers at both national and international professional conferences on these ideas. For more information, see his fine arts web site at www.abramkaplan.net.
Kaplan is the founding coordinator of Denison's Faculty Ombuds Program, now in its third year of operation, providing confidential workplace support for interpersonal conflicts. He is also president of the board for reDirect, a small 501c3 that fosters supportive environments to help non-profit organizations function effectively. You can see their website at redirect.org.
Degree(s)
A.B., Oberlin College; M.S. University of Wisconsin-Madison; Ph.D., University of North Carolina-Chapel Hill