On Being A College That Unlocks The Potential Of Students
December 16, 2016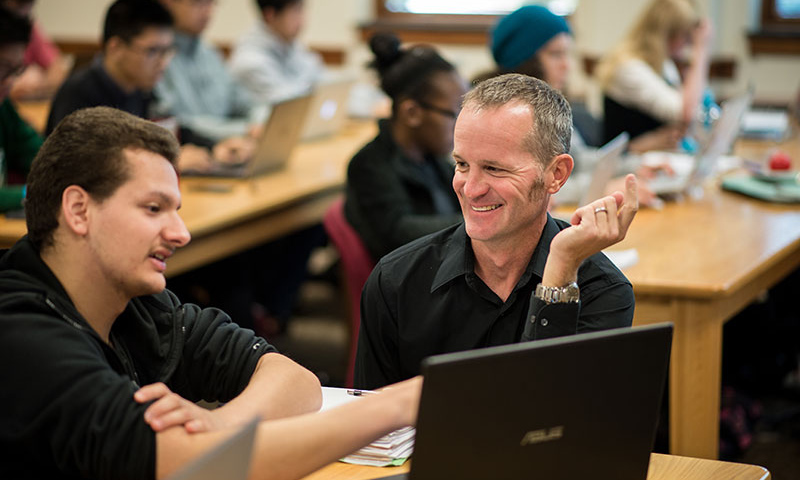 One of the books making the rounds in policy circles and public discourse is J.D. Vance's memoir Hillbilly Elegy, which chronicles Vance's journey from living in a struggling working class community to becoming a Yale-educated attorney.
Vance's memoir is a stark reminder of the power of a college education. The book struck a chord with me, because I often am asked the question, "Is college still worth it?"
The simple response: College graduates will earn about 66% more over their lifetime than non-college graduates.
But not all college experiences are of equal value. A better question is — what defines a great college experience? A few recent pieces of research shed light on the topic.
The first comes from The Gallup-Purdue University study of college graduates, which is probably the first sizeable longitudinal study of the connection between the college experience and success in life. The study examined people at every phase of their lives, as well as alumni from every type of college.
The conclusions are clear: for college to have a lasting, positive impact on students' lives, several key things need to occur. I have condensed them into three points.
First, early in their academic career students have to connect to a faculty member who cares about them, connects with them, and knows how to catalyze them in ways that help them to become academically engaged, excited and confident. In other words, students need a faculty mentor.
Second, students have to be involved in a co-curricular activity in some depth and across time, allowing them to develop good management, leadership and life skills, values and habits.
And third, students need an opportunity to pull everything together through some type of experiential opportunity — research projects, capstone experiences, internships, and so forth.
What is most interesting is how common these features are at most strong liberal arts colleges, and yet how remarkably uncommon they can be across the rest of the higher education landscape.
The original report states, "For example, if graduates had a professor who cared about them as a person, made them excited about learning, and encouraged them to pursue their dreams, their odds of being engaged at work more than doubled, as did their odds of thriving in their well-being." Gallup estimates this happens for between 22 and 27 percent of college students nationwide. At Denison, however, about 92 percent of our students report having connected with a faculty or staff mentor in a meaningful way.
The Gallup report also finds that, depending on the indicator, about a third of graduates agree they had either a meaningful internship or job, worked on a long-term project, and/or were actively involved in an extra-curricular activity. At Denison, it is difficult to find a student who has not been involved in a co-curricular activity, worked on a research project and/or completed an internship. In fact, our focus is often on convincing our students to do less.
The second piece of research comes from the sociologists Dan Chambliss and Christopher Takacs, who spent 10 years following 100 students through a liberal arts college. The data forms the basis for their book, How College Works. What they find is that education is a relational process. My favorite passage states:
People, far more than programs, majors or classes, are decisive in students' experiences of college. … So students who want to both enjoy college and get the most from it in the long run must find at least a few good friends, and a couple of great teachers. A great mentor — a trusted adult advisor, if one can be found, adds a tremendous advantage. (How College Works, p.163)
But perhaps the most interesting statement in the book is, "College works when it provides a thick environment of constant feedback, driven by the establishment and maintenance of social relationships."
It's pretty simple. Students need to be in an environment with plenty of face-to-face relationships with faculty, peers, and others. Writing improves when professors sit with a student and go over the prose. Speaking improves when a student is in small classes and must engage. Ethical development comes when students confront and learn to resolve personal conflicts with their peers.
Chambliss and Takacs stress faculty mentorship. They write that when it comes to faculty-student interactions, "remarkably small actions can at least potentially produce huge results, noticeably even years later."
They also extend this to peer-to-peer interactions, highlighting something that Andrew Delbanco so aptly calls lateral learning. Students learn from one another. Students need to be on a campus where they are mentored by one another, where they can connect, collide, and catalyze one another. They need to bump up against difference and learn from a multiplicity of social interactions.
Simply put, college matters when students (1) find faculty mentors who inspire them to become deeply engaged; (2) explore passions while developing new ones; and (3) mix with peers, allowing lateral learning to happen across every facet of their college experience.
For the last two years, Denison has conducted an alumni survey of our graduates five years after graduation. Here is what we have found: 96 percent of our alumni are successfully on-boarded into the profession of their choice; 95 percent felt well prepared for their careers; and an overwhelming majority (92 percent) of respondents indicated that Denison contributed to their ability to lead a rich and fulfilling life—professionally, personally, and/or civically, either "quite a bit" or "very much."
I loved the following quote that came from this year's survey: "For me, the greatest asset of a Denison education is the close, personal relationships with Denison faculty and staff. At Denison, I always felt that I had faculty and staff looking out for me and going out of their way to help me succeed in school and in life, in the (then) present and the future. At Denison, these individuals really knew me and were invested in my personal and professional success—they weren't just teachers, friends, life coaches, and mentors, and I wouldn't be where I am without them."
Great college experiences are most likely to take place at colleges that focus on the things that matter. These colleges get the relationships right. In doing so, their students are able to engage in the life of the mind. They ask deep questions about the kinds of people they want to be and the kinds of lives they want to lead, and they acquire the skills, values, habits and networks needed to get started.
In a recent book, The Undergraduate Experience, a group of college presidents and higher education thinkers wrote that in order for college students to thrive, "everyone at the institution needs to be asking, how does my work contribute positively to our students learning."
These colleges tend to have six core themes:
Learning takes precedence (everybody is focused on learning, both undergraduate education and organizational growth);
Relationships are taken seriously;
High expectations are set;
The college is aligned, transforming silos into systems that support positive student experiences;
Improvement is a value and, hence, constant assessment and refinement takes place;
Leaders at all levels of the college share a sense of vision and purpose as it relates to undergraduate education.
When these things happen, college campuses become places where learning occurs everywhere. Clearly, it starts in classrooms, laboratories, studios, and faculty offices. Faculty mentors form the core of a great college experience. And then the learning needs to permeate across campus. Ideas discussed in classrooms become new lenses through which to explore campus life. New skills, values and habits are practiced in residential halls, on athletic teams, in arts performances, campus organizations, and through social interactions.
So the answer to the original question is "yes." College is worth it. But it's worth the most under certain conditions. This requires colleges to pay more attention to these facets of the undergraduate experience, and it requires students to take advantage of the opportunities afforded to them on our nation's outstanding college campuses.
Having been in higher education for a long time, and having two college-age children of my own, I am struck that we spend too much time focused on the process of getting into college (I have written about this elsewhere), and not enough time focused on taking advantage of what college has to offer. To get this right, it's important to remember that to get to the goal (outlined so well in the William Cronon's classic piece Only Connect), the college experience must be shaped by the wisdom expressed in the above-referenced publications.