Here are just a few notable speakers from past years:
Elizabeth Loftus,

expert on the psychology of memory and eyewitness testimony from the University of California, Irvine

Peter Schultz,

chemist & biomedicine scientist at the Scripps Research Institute

Tyrone B. Hayes,

endocrinologist, National Geographic Society Explorer, and activist for environmental health from U.C. Berkeley

Steven Strogatz,

math scholar & New York Times online columnist

Andrew Knoll,

Harvard naturalist & author of "Life on a Young Planet: The First Three Billion Years of Evolution on Earth"

Steve Squyres,

astronomer & recipient of the Carl Sagan Memorial Award
About the Series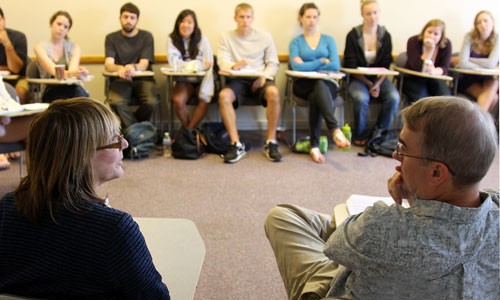 The Reid & Polly Anderson Lecture Series is an annual convocation featuring a top scientist in their field. The Andersons hoped that the speaker could reach a general audience, but the Anderson Lecture is regarded as the college's major science lecture of the year and is meant for a broad science audience. The Anderson Lectureship rotates among departments within the Science Division.
Typically the Anderson Lecturer is on campus for 1-2 days, attends a pre-lecture dinner in his/her honor, gives the Anderson Lecture, and visits with a few classes or student groups as coordinated by the host department.
The 2013-2014 Anderson Lecture was hosted by the Biology Department and featured Dr. Tyrone B. Hayes from the University of California, Berkeley. Dr. Hayes spoke about the influence of chemicals in environment on amphibians and humans during his lecture "From Silent Spring to Silent Night: A Tale of Toads and Men".
Lecture Schedule
2014-2015 — Department of Geosciences
2015-2016 — Department of Physics & Astronomy
2016-2017 — Department of Psychology
2017-2018 — Department of Chemistry & Biochemistry
2018-2019 — Department of Mathematics & Computer Science
2019-2020 — Department of Biology
Series Archives
2019 - 2020
2018 - 2019
2016 - 2017
2015 - 2016
2014 - 2015
2013 - 2014