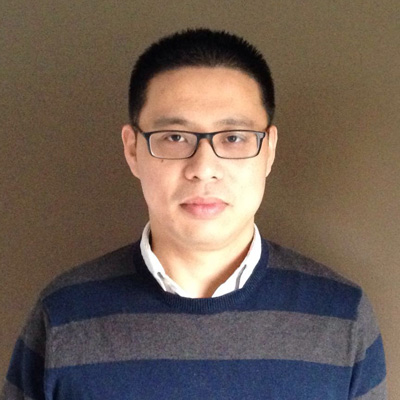 Xiao
Jiang
Biography
I started my career at Denison University in 2013. There are two aspects of my job that I appreciate and enjoy the most. First, the economics department here consists of scholars with various cultural and intellectual backgrounds. In here intellectual diversity is truly harbored and valued. I have been enjoying 100% academic freedom in my teaching and scholarship since the day one. Second, in Denison I am able to work closely with students both inside and outside of classroom. I am often inspired by my students and constantly growing intellectually with them.
Degree(s)
Ph.D., Economics, The New School for Social Research; M.A., Economics, University of Denver; B.A., Economics, Philosophy, Bucknell University
Learning & Teaching
Courses
Econ. 102: Introductory Microeconomics
Econ. 302: Intermediate Microeconomic Analysis
Econ. 423: International Trade
Econ. 440: The Microeconomics of Conflicts and Coordination
Econ. 461: Growth, Distribution, and Instability
Research
Details
As an intellectually curious individual, I have been working on wide-ranged research topics with verities of methodologies. In my research I like to combine ideas in classical political economy with modern quantitative techniques such as mathematical modeling, simulations and statistics. Most of my research addresses socially relevant issues such as uneven development, distributional conflicts and labor issues related to international trade.
Works
Publications
Peer Reviewed Publications and Book Chapters:
"Structural Transformation in Emerging Economies: Leading Sectors and the Balanced Growth Hypothesis" (2019) Oxford Development Studies, 2(47): 188-204 (With David Kucera)
"Patterns of Technical Change and De-Industrialization" (2018) PSL Quarterly Review, 71(285): 161-182. (With Luis Villanueva)
"China and the Great Trade Collapse: Employment Effects of Falling Exports to the EU and US" (2018) International Economics and Economic Policy 15(3): 629-659. (With David Kucera)
"Structural Change and Energy Use in China: A SAM-Based CGE Analysis" (2017) The Chinese Economy, 50: 405-424. (With Haider Khan)
"World Population Stabilization Through Smithian Increasing Returns to Labor: an update" (2017) Journal of Population Research 34(4): 387-407. (With Luis Villanueva)
"Value Added Erosion in Global Value Chains" (2016) Journal of Economic Issues 50(1): 288-296. (With Jose Caraballo)
"Employment Effect of Trade in Intermediate and Final Goods: An Empirical Assessment" (2015) International Labour Review 154(2): 147-164.
"Endogenous Cycles and Chaos in a Capitalist Economy: A Circuit of Capital Model" (2015) Metroeconomica 66(1): 123-157.
"Trade and Employment in a Vertically Specialized World" (2013) ILO Research Paper no. 5.
"Trade Expansion and Employment Generation: How Mercantilist Does China Have To Be?" (2013) International Review of Applied Economics 27(5): 557-573.
"From IO and Supply-and-Use to Social Accounting Matrix Analysis" (2018) in How To Measure and Model Social and Employment Outcomes of Climate and Sustainable Development Policies, Green Jobs Institutions Network, International Labor Organization (ILO): Geneva, Switzerland. (With Massimiliano La Marca)
"The Employment Effects of GVCs on Asian Countries and the Phenomenon of Value-added Erosion" (2017) in Production Networks in Southeast Asia, Lili Yan Ing and Fukunari Kimura (eds.). (With Jose Caraballo)
"Agent-Based Computational Economics: Simulation Tools for Heterodox Research" (2016) in Handbook of Research Methods and Application in Heterodox Economics, Frederic Lee and Bruce Cronin (eds.). (With Jonathan Cogliano)
"Industrial Policy in the Era of Vertically Specialized Industrialization" (2013), in Transforming Economies: Making Industrial Policy Work for Growth, Job and Development, Jose Manuel Salazar-Xirinachs and Richard Kozul-Wright (eds.). (With William Milberg and Gary Gereffi)
Other
Honors & Awards
R.C Good Fellowship –Denison University (2019)
The Edith Henry Johnson Memorial Award in Economics, Civil Affairs, and Education for Outstanding Dissertation – The New School for Social Research (2013)
Dissertation Fellowship – The New School for Social Research (2012)

Dean's Fellowship — The New School for Social Research (2008-2012)
Satish Raichur Award for Excellence in the Study of Political Economy — University of Denver (2007)
Student Collaborations
Jiang, X., and C., Nguyen'18 (2018) "A Revisit to the Forgotten Debate after Half-Century: Balanced versus Unbalanced Growth" The New School Economics Working Paper no. 17.