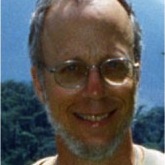 Tod
Frolking
Biography
Tod Frolking describes his teaching style as hands-on. "Let's go out into the field, pull up a soil core sample, and learn landscape history that way," he says.
In his 32 years at Denison, Frolking has led student groups on field studies everywhere from North Carolina's Outer Banks to the Sudbury Complex north of Georgian Bay, Ontario, to the former Soviet Union to Cuba. Locally, his research has helped clarify the origins of Granville's Alligator Mound, an ancient Native American earthwork; determined the timing of the cutting of Black Hand Gorge and the reversal of the Licking River drainage; and offered the first documented study of the ancient mastodon's diet through his work with an unearthed probosidean in nearby Heath.
Frolking's time in the classroom was spent teaching courses on physical geography, geomorphology, weather and climate, hydrogeology, and North American and world geography. In particular, World Regional Geography has made an impact on him. The subject matter excludes Anglo-America (the United States and Canada) and includes everyplace else.
"I've been teaching it for thirty years on and off," he said of the course. "It forces me to pay attention to everything going on in the world. That, at times, is depressing, but it's also incredibly interesting. Weather and Climate is great too. There's always new weather to talk about."
He held a number of posts at Denison, becoming an associate professor and chair of the then Department of Geology and Geography in 1990, working through the planning and construction of F.W. Olin Science Hall and the department's move there from Barney Science in 1994. He again served stints as chair beginning in 1998 and 2008. He was also director of the Environmental Studies Program from 2002 to 2005, an interdisciplinary academic program in which he was active upon his arrival on campus, and that he helped to formally establish as a major in 1994.
Frolking came to Denison from the University of Wisconsin-Madison, where he earned his M.S. (1978) and his Ph.D. (1985) in geography and soil science. He completed his undergraduate work in geography at the University of New Hampshire in 1973. He is the author of numerous scholarly publications ranging from late Quaternary landscape history to geoarchaeology to modeling soil biogeochemistry in different agroecosystems. Tod and his wife, Evelyn Hoyt Frolking, an instructor in Denison's English Department, co-authored the 2013 book, Homegrown: Stories from the Farm, which explores the food movement from the farmers' perspective.
In retirement, Frolking hopes to concentrate on his and Evelyn's plan to build a small cluster of energy efficient homes on their six-acres on the west side of Granville. He also hopes to travel and to continue a few research projects. He remains particularly interested in winter cover crops and how they add organic matter to soil and decrease erosion. A return to Cuba to complete a research project left unfinished years ago is likely on the horizon, as well.
At Denison's 175th Commencement exercises on May 14, 2016, Frolking was conferred with emeritus status. Below is his biography as published in the Commencement program.
Degree(s)
B.A., University of New Hampshire; M.S., Ph.D., University of Wisconsin
Research
Details
In broad terms, my research focuses on the complex interactions among landforms, soils and climate. I study the dynamic environments along the margins of the former great Laurentide ice sheets, with particular emphasis on glacial deposits and the genesis of soils and paleosols. Lately much of my attention has been on the timing of drainage reversals associated with the advance of ice sheets into the Appalachian Plateau in East Central Ohio. In addition, I have conducted collaborative archaeological research at several sites in central Ohio and have worked on the biogeochemical modeling of soil nitrogen. Our discovery of gut contents (with living intestinal bacteria) with the recovery of the Burning Tree Mastodon has added important information about the late glacial environment and megafauna diets. Much of my research has involved students, both as field assistants and in independent senior projects that contribute to my research program. Other student research projects I have advised cover a wide range of topics. Examples of recent student research projects include a presettlement map of Licking County vegetation, the origin and mineralogy of beach sands on Kelley's Island, coastal zone management in southern Sri Lanka, an analysis of lacustrine sediments of Glacial Lake Licking, and an assessment of soil nutrient loading at the Buckeye Egg Farm.
Works
Publications
Frolking, T.A.. Holocene Hydrology, Soil Development and Landscape Evolution of the Bikeri Vésztö-Mágor Area in the Körös Basin of Eastern Hungary. Submitted for publication in monograph on the Körös Regional Archaeological Project in the Monumental Archaeologica Series, Costen Institute of Archaeology, UCLA.
Gyucha, A., Duffy, P.R. and Frolking T.A. . The Körös Basin from the Neolithic to the Habsburgs: Linking settlement distributions with pre-regulation hydrology through multiple dataset overlay. In review. Geoarchaeology: An International Journal.
Yerkes, R., Sarris, A., Frolking, T., Parkinson, W., Gyucha, A., Hardy, M. and Catanoso, L.. 2007. Geophysical and Geochemical Investigations at Two Early Copper Age Settlements in the Körös River Valley, Southeastern Hungary . Geoarchaeology: An International Journal. v. 22 no. 8 p. 845-871
Frolking, T.A. and M.A. Pachell*. 2006. Glacial Lake Licking: Late-Glacial Drainage Diversions and the Formation of Black Hand Gorge, Licking County, Ohio. Ohio Journal of Science. v. 106 no. 3 p. 103-111
Frolking, S., Frolking, T., Xiao, X., Boles, S. and Milliman, T. . 2005. A generalized methodology for mapping agricultural land use and management at sub-national scales, including a case study of combining census data and remote sensing data to map cropping intensity in Vietnam. Report prepared for Land and Water Division, Food and Agricultural Organization of the United Nations 75 p..
Lepper, B.T. and Frolking, T.A.. 2003. Alligator Mound: Geoarchaeological and Iconographical Interpretations of a Late Prehistoric Effigy Mound in Central Ohio. Cambridge Archaeological Journal. v. 13 no. 2 p. 147-167
Stam, A. and Frolking, T.A.. 2003. Environmental Status of Cuba: The Cuban View. A course book for Environmental issues of Cuba (Denison May Term) based largely on interviews with Cuban experts (1999-2001), being modified and added to on a continuous basis.
Lepper, B.T., and Frolking, T.A.. 2003. Alligator Mound: Geoarchaeological and Iconographical Interpretations of a Late Prehistoric Effigy Mound in Central Ohio. Cambridge Archaelogical Journal. v. 13 no. 2 p. 147-167
Frolking, T.A. and Lepper, B.T.. 2001. Geomorphic and pedogenic evidence for bioturbation of artifacts at a multi-component site in Licking County, Ohio, USA. Geoarchaeology: An International Journal. v. 16 no. 3 p. 243-262