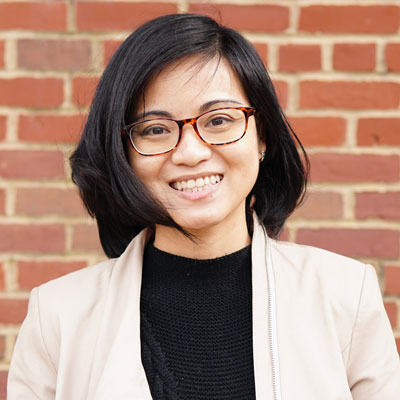 Nhu
Truong
Biography
Nhu Truong is an Assistant Professor in the Department of Politics and Public Affairs at Denison University. She is also a Mansfield-Luce Asia Scholars Network Fellow (2022-), a Rosenberg Institute Scholar (2022-2024), and a Center for Khmer Studies Senior Research Fellow (2022-).
Dr. Truong's research examines the repressive-responsive parameters of autocracies and democracies, repertoire of social contention, party and state formation, and political legitimation, with an area focus on Northeast Asia and Southeast Asia. She is completing a book manuscript on how China and Vietnam have responded to social unrest caused by land expropriation. Her work has appeared in the Journal of East Asian Studies, Problems of Post-Communism, and in edited books and policy studies, including Stateness and Democracy in East Asia and State of Land in the Mekong Region. Dr. Truong further engages with current policy and contemporary affairs in Asia through public commentaries on New Mandala and FULCRUM.
Prior to joining Denison University, Dr. Truong was a Postdoctoral Associate in the Council on Southeast Asian Studies at Yale University, a Shorenstein Postdoctoral Fellow on Contemporary Asia at Stanford University, a Young Southeast Asia Fellow selected by the Southeast Asia Research Group (SEAREG), and a New Faces in China Studies Fellow held at Duke University. She has previous experience in policy research and international development with the EastWest Institute, the Asia Foundation, and the Environmental Development Action in the Third World.
Degree(s)
PhD in Political Science, McGill University; MPA in International Development Policy & Management New York University, Robert F. Wagner Graduate School of Public Service; MA in Asian Studies, University of Texas at Austin; BA, Kenyon College
Learning & Teaching
Courses
PPA 102 Introduction to Policymaking in Democracies
PPA 122 Introduction to Global Governance
PPA 201 Sophomore Seminar: Representation and Its Discontents
POSC 339/EAST 345 Authoritarianism in East and Southeast Asia
Works
Publications
The Dragon's Underbelly: Dynamics and Dilemmas in Vietnam's Economy and Politics, by Nhu Truong, Tuong Vu, editors https://bookshop.iseas.edu.sg/publication/7831
*About the publication: This book shows why Vietnam has not become the dragon it is often touted to be. The team of authors include both long-time observers and junior scholars who present cutting-edge research on the latest trends as well as major challenges facing the country's economy and political system. As Vietnam seeks to escape from poverty and the legacies of mistaken socialist policies, its economy has become fully integrated into the global economy. Yet, without an effective and far-sighted leadership, it is still occupying a low position in the global value chains and becoming increasingly dependent on China. Politically, after three decades of reform, the Vietnamese Communist Party's grip on power has well adapted to the market economy, but is confronting deep vulnerabilities as observed in its eroding ability to control workers, the media, public universities, and state-owned enterprises. The book also includes a section that applies formal and statistical methods to compare Vietnam with China in two critical areas of political accountability and anti-corruption policy.
Political Transformation in Southeast Asia with Nhu Truong, Erik Martinez Kuhonta, Maggie Shum, and Megan Ryan
Season 1, Ep. 19, The Channel: A Podcast from the International Institute for Asian Studies (IIAS)
*On this episode, we welcome four guests to discuss democratic backsliding and rising authoritarianism in Southeast Asia, and also grassroots mobilizations in response to such phenomena. The first iteration of this group came together as a roundtable at the conference of the Canadian Council for Southeast Asian Studies in 2021. The convenor and chair of that roundtable was Nhu Truong. Nhu is Assistant Professor in the Department of Politics and Public Affairs at Denison University. She was joined by two more of our guests: Erik Martinez Kuhonta, Director of the Institute for the Study of International Development and Associate Professor of Political Science at McGill University; and Maggie Shum, Assistant Professor of Political Science at Penn State Erie. Our fourth guest, Megan Ryan, was not part of the original roundtable, but her research is right in line with the theme of rising illiberalism in the region. She is a PhD candidate in Political Science at the University of Michigan and was a 2020 United States Institute of Peace Scholar. In their conversation, the guests chat about political repression and resistance across Southeast Asia, comparing and contrasting different cases while always keeping the more global trend towards authoritarianism in view.