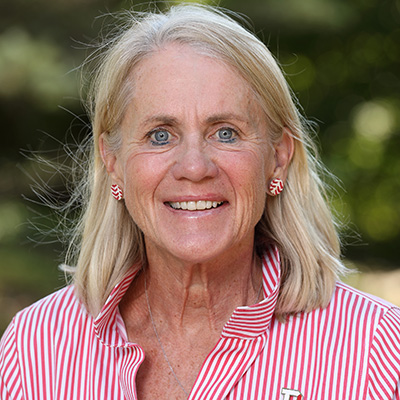 Nan Carney-DeBord

'80
Associate Vice President
Director of Athletics
Professor
Biography
Nan Carney-DeBord has served as the Director of Athletics and as the faculty chair of the Department of Health, Exercise & Sport Studies since 2011-12. A 1980 graduate of Denison University and a member of the college's Varsity D Association Athletics Hall of Fame, she returned to her alma mater in 2011 after spending 25 years as the head women's basketball coach and as a faculty member at Ohio Wesleyan University.
Prior to accepting the post to guide Denison's athletic department, Carney-DeBord was one of the winningest coaches in Division III women's basketball history, posting a career record of 433-227 while guiding Ohio Wesleyan to six NCAA Division III Tournament berths. The Battling Bishops captured five NCAC championships and she was a seven-time conference Coach of the Year. In 2001, she guided her team to the national semifinals of the NCAA Division III Tournament and was named the Women's Basketball Coaches Association Division III National Coach of the Year.
In 2009, Carney-DeBord became only the 33rd coach in Division III history to reach the 400-win mark. In addition to her time as the head women's basketball coach at Ohio Wesleyan, she spent six seasons (1985-1990) as the head field hockey coach at OWU where her teams posted a .714 winning percentage and began a streak of seven straight NCAA Tournament appearances that would eventually conclude in 1993. At Ohio Wesleyan, she also served as assistant athletics director from 1987 to 1993 and associate athletics director from 1993 through 2003.
Carney-DeBord was a four-year letter winner in basketball and field hockey at Denison. A wing and point guard in basketball, she was team captain and was named the team's Most Valuable Player as a senior. As a back on the Denison field hockey squad, she was a three-year captain and helped lead the 1979 team to a 12-3-1 record. In 1998, she was inducted in the Varsity D Association Athletics Hall of Fame at Denison. In addition to her bachelor's degree in physical education from Denison, Carney-DeBord earned a master's of arts in athletics administration from Kent State University.
Degree(s)
B.A., Denison University; M.A., Kent State University