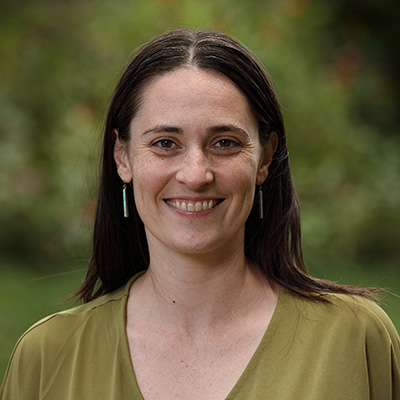 Mary Elizabeth
Beaton
Biography
Mary Beaton began teaching at Denison in 2017. She earned her doctorate in Hispanic Linguistics from the Ohio State University in 2015. She researches the interactions between social categories and phonetics (i.e. people's accents). She is particularly interested in variation in language between stigmatized and prestige linguistic forms. Her work focuses mainly on Spanish in the United States, including Puerto Rico. She is currently studying the Spanish spoken by Puerto Rican communities in Lorain, Ohio. She teaches courses at Denison across the Spanish curriculum from beginning language to advanced courses focusing on linguistic analysis.
Degree(s)
B.A., M.A., Ph.D., Ohio State University
Learning & Teaching
Courses
SP 111 Beginning Spanish 1
SP 112 Beginning Spanish 2
SP 211 Intermediate Spanish
SP 215 Advanced Writing and Grammar
SP 315 Foundations of Hispanic Linguistics
SP 415 Seminar in Language
Research
Sociolinguistics, phonetics, phonology - how people produce and perceive speech sounds. Focus on Spanish in the Caribbean and the United States.
Works
Publications
Beaton, Mary Elizabeth. (July 2020). Interpreting Accent Marks as Hiatus Indicators: Syllabification Intuitions for io Sequences in US Spanish. Cuadernos de Lingüística Hispánica 36.
Beaton, Mary Elizabeth. (April 2020). Heritage Spanish Speakers' Syllabification of -ear and -iar Verbs. Heritage Language Journal 17:1.
Beaton, Mary Elizabeth. 2016. Revisiting Incomplete Neutralization: The Case of Puerto Rican Spanish. University of Pennsylvania Working Papers in Linguistics 22:1.
Washington, Hannah B. & Mary Elizabeth Beaton. 2015. Pragmatics and indexicality: the case of favelado. Estudos Linguísticos 11, 177-195.
Beaton, Mary Elizabeth & Hannah B. Washington. 2014. Lexical Pejoration and Reappropriation in the Indexical Field: The Case of Favelado. Language Sciences.